If you think the on-demand economy is a new phenomenon, think again.

Case in point: Webvan. The once-lauded delivery startup quickly fell from grace when it triggered the dot-com burst in 2000. The company, which was once valued at $8 billion and holds the title of highest IPO in Silicon Valley history, attempted to create a universal delivery system where consumers could order groceries and other items online and have the items on their doorsteps in just an hour. However, through a series of small but crucial errors, Webvan faltered, eventually shuttering its doors and losing $850 million worth of funding.
Lesson learned (almost).
Far from marking the end of the on-demand economy, though, Webvan's legacy has become an important lesson for the myriad startups that have cropped up in recent years with plans to get instant delivery right. Companies and projects like Sprig, Google Express, and Instacart (from the founder of Webvan) all aim to tackle on demand in a different way.
Some of them are going to fail. And some already have. Living at the heart of all this growth and collapse, I've seen where on-demand contenders are repeating Webvan's mistakes (wrong target audience and pricing, complex infrastructure, and expanding too quickly) and where others need to go in order to start becoming profitable--and bring on demand to the mainstream.
What's at stake?
To make sense of the recent boom in on-demand services and the rise of e-commerce, one needs to understand what the driving force of the phenomenon is. The simple answer? Market opportunity, aka money. Consumer behavior has evolved and so have the companies that want to stay relevant. Looking back to the previous decade, total U.S. sales from e-commerce have grown from $27.6B in 2000 to $143.4B in 2009--a compound annual growth rate of 20.11%. As for this decade, e-commerce in the U.S. is expected to have an annual growth rate of 9.8% between 2013 and 2018. Overseas, Europe is expected to grow larger, with an annual growth rate of 12% within the same time frame, and China's e-commerce retail sales last year increased by 42.1% to $672 billion, accounting for over 40% of all global e-commerce retail sales, with the market expected to reach $1.57T by 2018.
Fun Fact: According to a Credit Suisse survey, e-commerce may become more popular in emerging markets than developed countries, with total annual retail sales forecasted up to $3.5T as internet access rises rapidly and disposable incomes expand.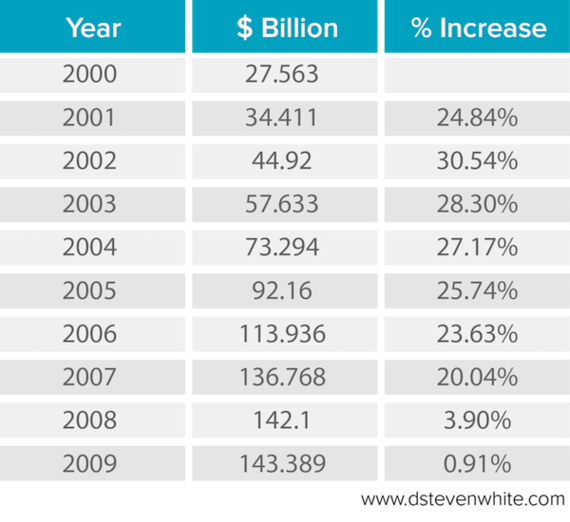 How the market is evolving to capitalize on e-commerce.
Robbie Whelan of The Wall Street Journal reports on the rise of online shopping that's causing warehouse builders to redraw the map of logistics hubs across the U.S. According to popular e-commerce market data, Amazon is one of the leading e-commerce platforms worldwide but is in no way resting on its laurels. In 2013, Amazon's senior management team proposed Project Dragon Boat--an aggressive global expansion of the company's Fulfillment By Amazon service, which provides storage, packing, and shipping for independent merchants selling products on the company's website. This would develop a global delivery network that controls the flow of goods from factories in China and India to customer doorsteps in Atlanta, New York, and London. The company also recently made a big move toward establishing its own global logistics and transportation network, showcasing its first cargo plane, "Amazon One," at the Seafair Air Show in Seattle. This Boeing 767-300 is the first of the fleet of 40 freight jets that the company plans to fly over the next two years. These moves look to turn FedEx and UPS into Amazon rivals but will also position the company against Chinese counterpart Alibaba Group Holding Ltd.
"We're excited to supplement our existing delivery network...by adding 20 planes to ensure air cargo capacity to support one- and two-day delivery for customers." 
- Dave Clark, Amazon VP of Worldwide Operations & Customer Service
Alibaba has aggressive plans of its own. In April, the company announced the acquisition of a controlling stake in Lazada, a leading e-commerce platform in Southeast Asia, marking Alibaba's expansion in the region. Because Alibaba seeks growth opportunities outside China, Lazada's growing consumer base in a region with a population of more than 550 million-- including around 200 million internet users--makes perfect sense.
Other industry news, like Walmart announcing its purchase of Jet.com, illustrates the aggressive means in which companies are quickly ramping up e-commerce capabilities as the market continues to grow. Even department stores like Macy's and Nordstrom have begun rolling out virtual fitting rooms--providing a hybrid experience of brick-and- mortar meets e-commerce. Macy's also recently announced that it will be closing 100 stores, as it continues to evolve and stave off competitors like Amazon.com.
The time to get it right was yesterday.
So while we're seeing smaller--and noticeably larger--companies evolve their e-commerce capabilities, we're reminded of the mistakes of yesteryear. Here are the three most important considerations successful on-demand companies need to take in order to secure lasting success:
1. Automation: Make it seamless to transfer information/data across the supply chain. The less time it takes, the more agility you adopt to respond to market changes.
2. Real-time knowledge sharing networks: Better end-to-end visibility gives you a single source of truth to rally around. This translates to inventory-level tracking to prevent stock outs, up-to-the-minute route information to circumvent shipping delays, and advanced notice of events that can put your supply at risk.
3. Multi-enterprise collaboration: When supply chain partners at all tiers of the supply chain can sense and respond to changes in a timely manner, they are better equipped to collaborate on shared goals for improving operational efficiency, reduce risk, or take advantage of opportunities.
What does the future of e-commerce entail?
It's two-fold. The sooner consumers get their hands on a product, the sooner they know whether they truly like it or not--and then communicate to the world (via Facebook, Twitter or a blog, for example). This helps the company that released the product react, by either increasing or decreasing production. In other words, the sooner a consumer gets a product, the sooner the company can make educated decisions on its supply chain strategy. Until then, they're making million-dollar decisions based on guesstimations.
On the other hand, it opens up the door to the reverse supply chain: a series of activities required to retrieve a used product from a customer and either dispose, recycle or reuse it. For a growing number of industries, reverse supply chains are becoming an essential part of business. In fact, many companies are being forced to set up such a system because of environmental regulations or consumer pressures (back to the first point).
Adapt or die.
No matter where your company is in the transition to supporting the on-demand economy, the race started long ago--and there are still several laps to go before the finish line. Assess where your organization is in the process, and act fast--or prepare to be beaten out by the competition. Take note of what industry leaders are doing, and find out what solution best fits your own company's needs. Different products and company sizes require different resources, strategies,and execution. At the heart of your strategy, be sure that end-to-end visibility is a cornerstone.
Without it, you're navigating in the dark.
Calling all HuffPost superfans!
Sign up for membership to become a founding member and help shape HuffPost's next chapter