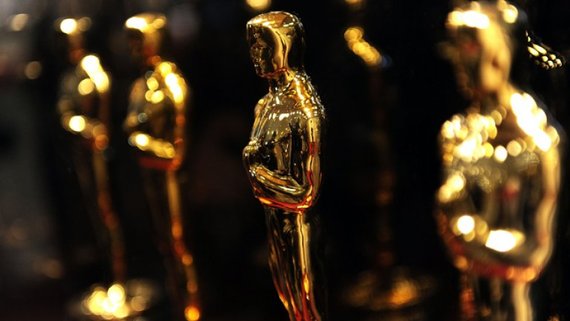 Andrew H. Walker/Getty Images
Every year I read dozens of "Oscar Predictions" articles from film critics who do their best to play clairvoyant for a month or two. And that's okay. Granted, these articles start to look identical after a while but it always makes me smile when I spot a tiny new addition in these prediction articles. It gives me a sense of fresh air, even if they turn out to be out of scope later. What truly makes me a happy monkey though is when Oscar voters go out on a limb and hand out a nomination to someone who has barely tried to get one. Marion Cotillard's nomination for Two Days, One Night last year is a bold example of that.
Warning: This is NOT a prediction article for The Academy Awards. It is highly unlikely these nominations will resemble the Oscar ones but sometimes it's more than satisfactory to celebrate all kinds of cinema be it independent or plain Hollywood. In all honesty, I wish films/actors/directors/songwriters/producers didn't have to push that hard to get noticed. The "Oscar campaign" mania drives young and talented filmmakers' away from the voters' spectrum since they have no way of funding the full-fledged marketing campaigns that A-listers can afford. Ah, rant over.
These would be the 88th Academy Award nominations if I were the sole ballot voter: (What an honor!)
BEST PICTURE
"Mad Max: Fury Road"
"The Big Short"
"Me and Earl and the Dying Girl"
"Room"
"The Hateful Eight"
"Beasts Of No Nation"
"Lobster"
"Mustang"
"The Man from U.N.C.L.E."
"The Revenant"
All these films made me experience all sorts of emotions (Room and Mustang, you ruined me) whether these were joy, sadness, doubt, anger, hope. Guy Richie's flick was quirky, smart and just good old fun. Yup, you noticed. There's no Spotlight. Besides Mark Ruffalo's performance (who you'll see below), the film was just meh to me. I know I'm the minority here so don't shoot but I can't lie. Nicely structured, solid performances but Oscar-worthy? No.
Who would win: The Big Short
BEST DIRECTOR
Steven Spielberg, "Bridge Of Spies"
George Miller, "Mad Max: Fury Road"
Ridley Scott, "The Martian"
Andrew Haigh, "45 Years"
Cary Fukunaga, "Beasts Of No Nation"
Spielberg came back with a vengeance with his Cold War film and George Miller's artistry in directing won me over in 2015. "Carol" is a notable mention with Todd Haynes doing a remarkable work but it wasn't in my top five.
Who would win: George Miller, "Mad Max: Fury Road"
BEST ACTOR
Jacob Tremblay, "Room"
Ian McKellen, "Mr. Holmes"
Tom Hardy, "Legend"
Leonardo DiCaprio, "The Revenant"
Johnny Depp, "Black Mass"
That's a rather unusual Best Actor nominee list but these were my favorite performances of the year. The almost 10-year-old Jacon Tremblay was a miracle to watch. Some argued that he should campaign for Best Supporting Actor but I saw him as a very strong co-star in the movie. Depp creeped me out. Hardy's performance in "Legend" is terribly underrated.
Who would win: Jacob Tremblay
BEST ACTRESS
Charlotte Rampling, "45 Years"
Sarah Silverman, "I Smile Back"
Brie Larson, "Room"
Kitana Kiki Rodriguez, "Tangerine"
Cate Blanchett, "Carol"
I found Sarah Silverman mesmerizing in "I Smile Back". The film was nothing special but she was. Blanchett brought her A+ game on with "Carol". Charlotte Rampling and Brie Larson had the most touching performances I've seen in a very long time.
Who would win: Brie Larson
BEST SUPPORTING ACTOR
Emory Cohen, "Brooklyn"
Idris Elba, "Beasts Of No Nation"
Jason Segel, "The End of the Tour"
Peter Sarsgaard, "Black Mass"
Mark Ruffalo, "Spotlight"
I don't know why the Spirit Awards nominated Jason Segel as Best Male Lead. Was it a technical thing? Because it was obvious to me that Jesse Eisenberg was the lead in the film (even if he was overshadowed by Segel's performance). Peter Sarsgaard's short screen time made me clap at the theatre. I should also mention Liev Schreiber in this category who showed his stretching acting chops in Spotlight but since I'm a genuinely nice person, I didn't want him to compete with Ruffalo.
Who would win: Jason Segel (a-ny-ti-me)
BEST SUPPORTING ACTRESS
Jennifer Jason Leigh, "The Hateful Eight"
Laura Linney, "Mr Holmes"
Marion Cotillard, "Macbeth"
Helen Mirren, "Trumbo"
Rooney Mara, "Carol"
It's so refreshing when veteran actors/actresses still feel challenged by new roles and prove it on camera. Helen Mirren was elegantly terrifying in Trumbo and that made me love her even more. Also, why hasn't anyone mentioned Laura Linney this season? She was spectacular in Mr Holmes. Which one brought shivers down your spine though? My all-time-favorite french superhero.
Who would win: Marion Cotillard
BEST ORIGINAL SCREENPLAY
Pete Docter, Meg LeFauve and Josh Cooley, "Inside Out"
Quentin Tarantino, "The Hateful Eight"
Matt Charman, Joel Coen, Ethan Coen, "Bridge Of Spies"
Brian Helegand, "Legend"
Michael Alan Lerner, Oren Moverman, "Love & Mercy"
Not my favorite year of original screenplays. I feel like the the "Best Adapted Screenplay" category is much more crowded with captivating contenders. Tarantino never ceases to amaze with his rich dialogue in his crafty whodunnit film. Brian Wilson's story was beautifully told by Lerner and Moverman in the Love & Mercy screenplay (despite the film's editing glitches).
Who would win: Quentin Tarantino, "The Hateful Eight"
BEST ADAPTED SCREENPLAY
Emma Donahue, "Room"
Adam McKay, Charles Randolph, "The Big Short"
John MacNamara, "Trumbo"
Donald Marguiles, "The End Of The Tour"
Jesse Andrews, "Me and Earl and the Dying Girl"
Yes, I loved The End Of The Tour that much. The conversations between the two leads were raw, real and most importantly: engaging. It's not a long film (as it shouldn't be) because it's 80% dialogue. Me and Earl and the Dying Girl's witty screenplay was also one of my favorites in 2015. What an innovative way to tell a story. Aspiring screenwriters, take notes from Andrews and Marguiles.
Who would win: Jesse Andrews, "Me and Earl and the Dying Girl"
BEST CINEMATOGRAPHY
Dan Laustsen, "Crimson Peak"
John Seale, "Mad Max: Fury Road"
Roger Deakins, "Sicario"
Emmanuel Lubezki, "The Revenant"
Ed Lachman, "Carol"
Say what you want about Crimson Peak (it wasn't good, I know) BUT the cinematography was to die for. From the gothic romance inspiration to the grotesque mansion halls, every bit of the film was visually stunning. Sicario also stood out for me. Remember the sky settings? A job well done.
Who would win: Dan Laustsen, "Crimson Peak"
I did my part, The Academy. Now where's my Oscar invitation?
Sofia Katsali is a Social Media & Online Community Manager, Co-Founder of the non-profit organization Echelon Donates & has a BSc in Computer Science. She has been interviewed by MTV Act for her online charity work and has a great passion for all things digital, entertainment and design. You can find her in Linkedin where she occasionally shares her personal experiences.
Calling all HuffPost superfans!
Sign up for membership to become a founding member and help shape HuffPost's next chapter