Natalie Hegert on the real-life women who inspired some of the 19th century's most enduringly popular art — set to star in July auctions.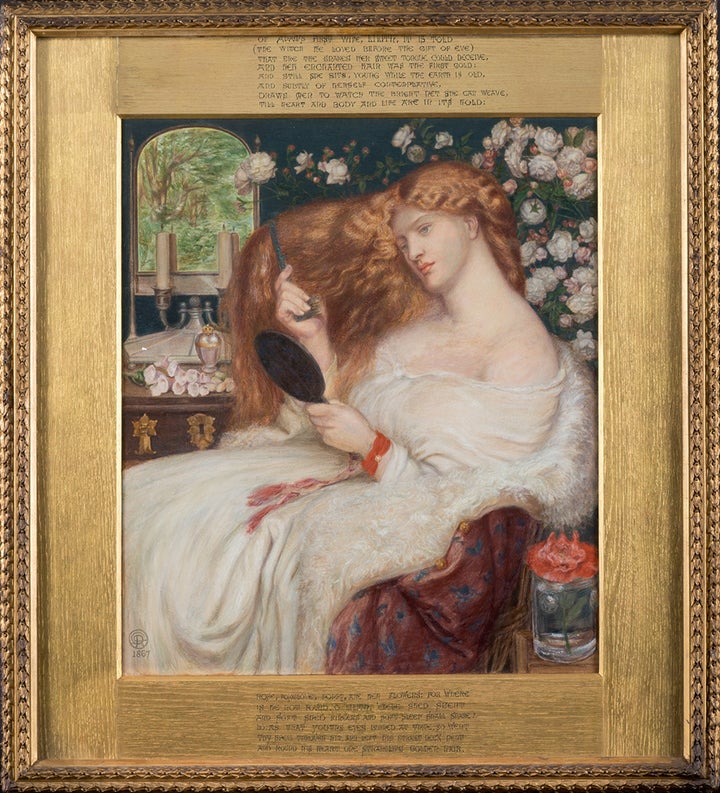 "The picture…represents a Modern Lilith combing out her abundant golden hair and gazing on herself in the glass with that self-absorption by whose strange fascination such natures draw others within their own circle." So wrote Dante Gabriel Rossetti, in 1870, of his painting Lady Lilith, depicting his model, muse, and mistress Fanny Cornforth as the original femme fatale. She was one of the "stunners," what Rossetti named the heavy-lidded beauties with voluminous tresses, noble aquiline noses, Cupid's-bow lips, and swan-like necks that figure as mythological maidens, temptresses, and heroines in iconic works by the Pre-Raphaelite Brotherhood.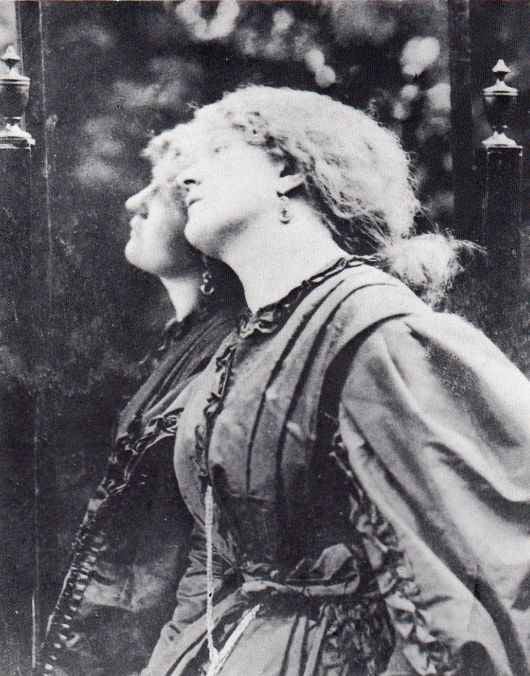 Fanny Cornforth, like many of the other "stunners," was a coarse, uneducated, working-class girl, "discovered" on the street for her beauty by Rossetti, in 1859. By some accounts, at the time she was working as a prostitute, and was Rossetti's first mistress. A series of frank, intimate portraits, such as Lady Lilith, reveal their close physical relationship, and the two remained dear friends even as Cornforth grew plumper and more matronly, and Rossetti moved on to other models.
The first version of Lady Lilith was begun in 1864, a commission for Frederick Richards Leyland, who would become the artist's greatest patron. In 1872, after delivering the painting, however, Rossetti, at the request of Leyland, painted over Cornforth's face. The oil painting, now in the collection of the Delaware Art Museum, features instead the face of a rival model, the red-haired beauty Alexa Wilding.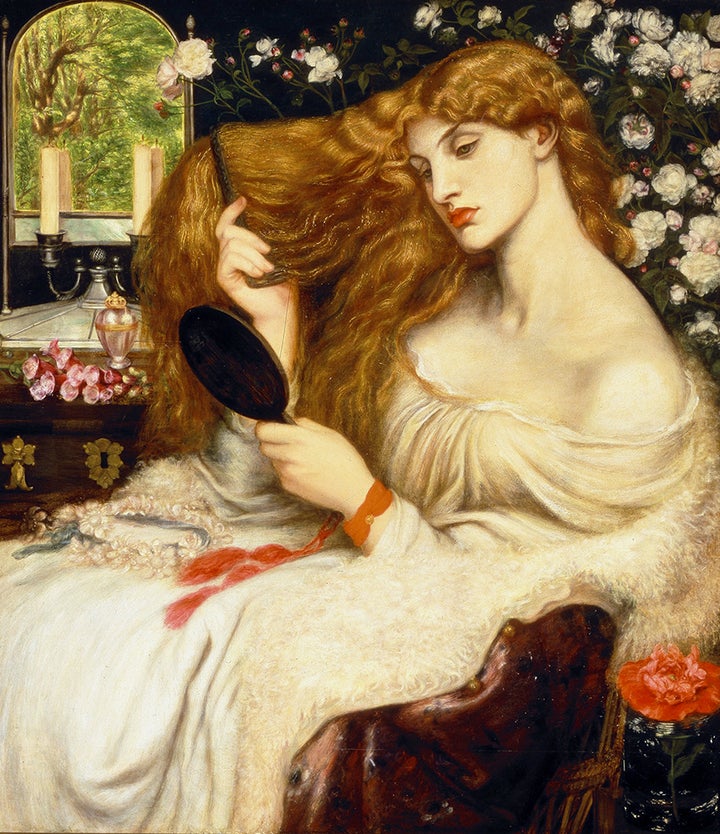 Cornforth was anguished, and Rossetti regretted the erasure, but fortunately he had completed several other versions retaining Cornforth's visage. One of these, a watercolor, and the last version of this iconic painting to remain in private hands, is coming up for sale at Sotheby's Victorian Pre-Raphaelite & British Impressionist Art Sale in London on July 13. Held in its original frame, engraved with a poem by Rossetti, and containing a hand-written poem attached to the backing-board, it is a unique find. "To find a picture in such an untouched condition is exceptionally rare," says Simon Toll, Sotheby's Victorian Art Specialist.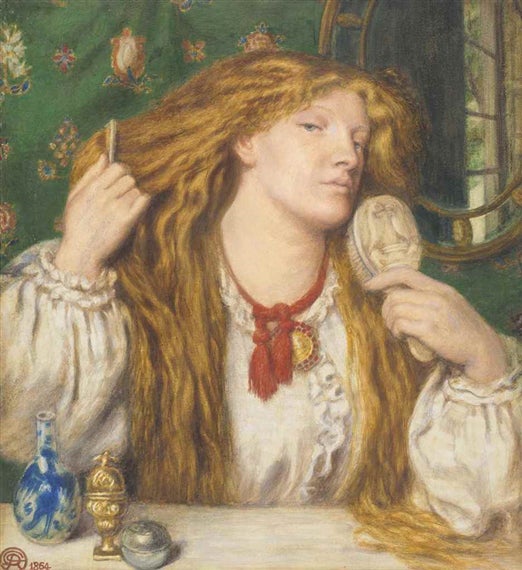 Of the 321 works by founding members of the Pre-Raphaelite Brotherhood—Dante Gabriel Rossetti, William Holman Hunt, Sir John Everett Millais, and James Collinson (who left the group after just two years)—that have been offered at auction since 2007, totaling £31.2 million, 44 have been major works, estimated at £100,000 or more. Between 2007 and 2016, the number of works offered at this level has grown by 6%. So the chance to obtain a significant Pre-Raphaelite painting at auction isn't exactly remote. In fact, a similar portrait of Fanny Cornforth combing her hair just came up at Christie's in 2016, yielding £562,500.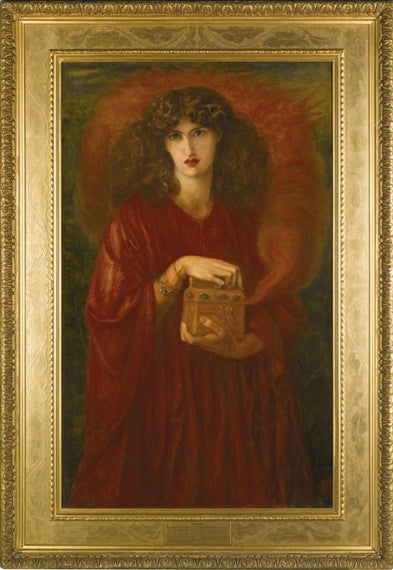 The market for Pre-Raphaelite works remains strong, unlike other genres of 19th century painting, which have been dwindling in recent years, as reported recently by the New York Times. Pre-Raphaelite painting has its uneven spots, however. Rossetti's 1871 oil painting Pandora, the first he ever painted with Jane morris as a model (the wife of Arts and Crafts artist and designer William Morris, and Rossetti's long-term mistress), was expected to set the auction record, with a high estimate of £7 million, when it came up on the block in 2014, but failed to sell. In the same year, however, an 1868 watercolor version of Rossetti's one and only nude painting, Venus Verticordia, with model Alexa Wilding (with whom Rossetti was not romantically involved), soared past estimates to fetch £2.8 million, setting the record for the medium.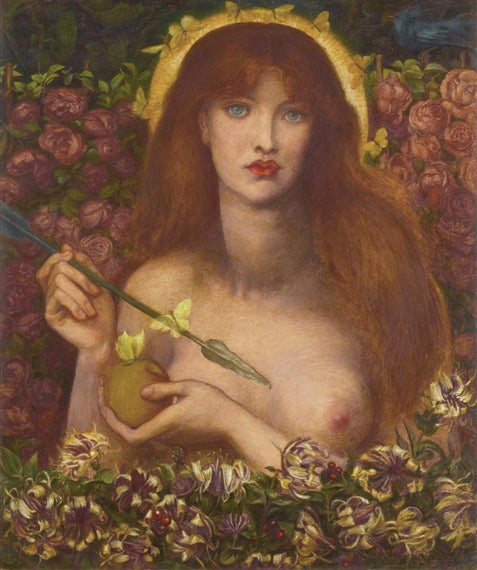 There is no doubt that the stories and personalities behind the canvases enhance the desire and demand for Pre-Raphaelite works. The most legendary Pre-Raphaelite paintings also bear the most tantalizing backstories: love triangles, betrayals, addictions, and deaths. There was constant competition regarding the Pre-Raphaelites' models, with jealously running rampant between the painters about who was posing for whom. Rossetti would pay models, such as Wilding, to sit for him exclusively, afraid that others might gain an edge by depicting the same beauty. Of all the Pre-Raphaelites, Rossetti enjoys the greatest reputation for his many lovers, and dedicated the most canvases to images of women.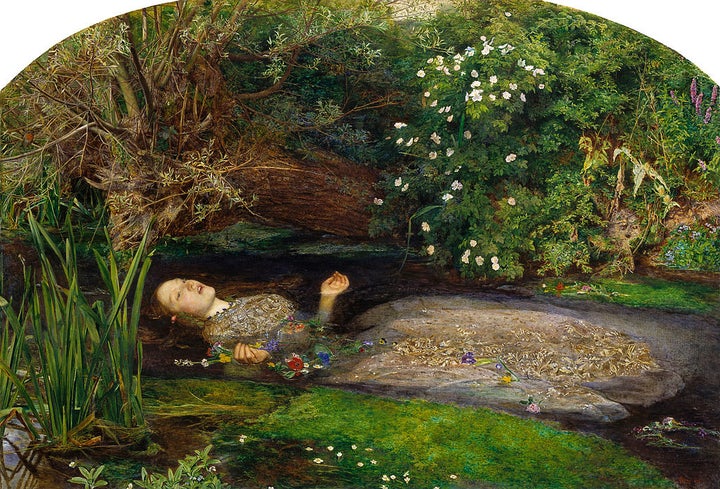 Rossetti was most devoted to Elizabeth Eleanor Siddal, his tragic model, muse, pupil, and wife, and a talented poet and painter in her own right. But she is most recognizable as the model for one of the most famous Pre-Raphaelite paintings: Millais' Ophelia (1851-52), now in the collection of the Tate Britain. A critical failure when it was first exhibited, Ophelia is now regarded as the height of Pre-Raphaelite style, with its extremely detailed depiction of nature, bright colors, and vulnerable female protagonist. As the story goes, Siddal posed for the painting submerged in a bathtub in the middle of winter, nearly catching her death. Siddal struggled with her health, dying in 1862 of a laudanum overdose at the age of 33.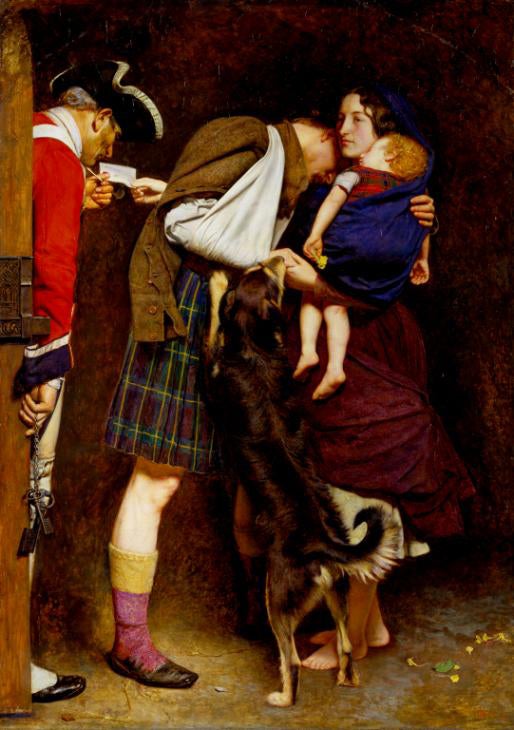 Millais found his muse in Effie Gray, the wife of art critic and supporter of the Pre-Raphaelites, John Ruskin. Millais fell in love with her after she posed for his painting The Order of Release (1853, Tate), putting the painter in an extremely awkward position with regards to one of the most respected critics of the day. Though she and Ruskin had been married for several years, the marriage had never been consummated—it was annulled, and she and Millais were married. Ruskin bitterly deemed the shift in style in Millais' work following his marriage as a "catastrophe."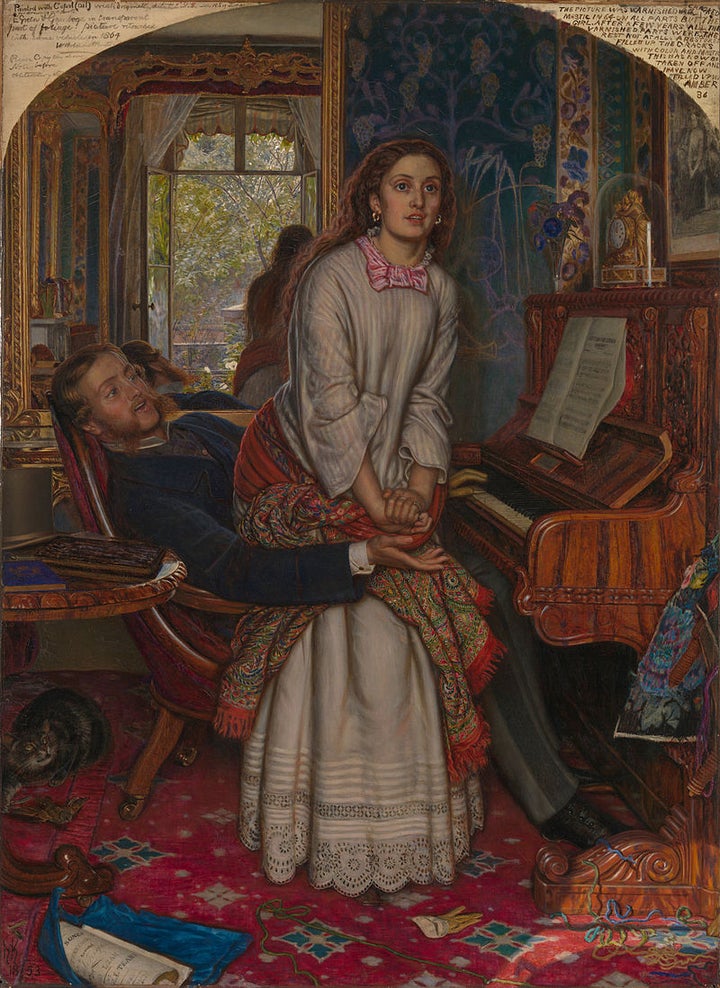 Hunt, for his part, was most enamored of the barmaid-turned-model Annie Miller, who famously posed for Hunt's visual morality tale, The Awakening Conscience (1853, Tate). Miller was one of the most notorious of the young working-class women who modeled for the Pre-Raphaelites. While engaged to Miller, Hunt traveled to the Middle East for inspiration for his Biblical paintings, keeping her waiting for marriage while preparing her with elocution lessons to refine her lower class ways. In his absence, however, Miller modeled for Millais as well as Rossetti, which caused Hunt great displeasure. He eventually called off their engagement.
The Pre-Raphaelites' dubious relationships with their models are an often recited, yet curious aspect to the painters who purported to revive the Christian values of the quattrocento Renaissance. Perhaps this contradiction is why these paintings hold enduring appeal. They are Modern Liliths: strong and sensuous women who hold an undeniable "strange fascination" over those who drew them into their circles.
For more on auctions, exhibitions, and current trends, visit our Articles Page
Related
Popular in the Community