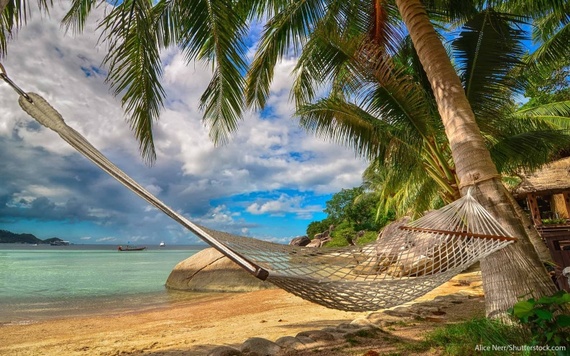 It's no secret that the rich don't vacation like the rest of us. While we cram suitcases into the back of the family minivan before hitting the road, the wealthy hop on private jets to be shuttled to exclusive resorts and exotic locales costing thousands of dollars per night.
With spring break fast approaching, many people are looking for affordable vacation spots to visit with friends or family. For the wealthy, however, money is no object. Granted, millionaires and billionaires don't have to limit their trips to a week in the spring when the kids are out of school. However, here's a look at how 10 rich and famous folks might be spending spring break -- judging by vacations they've taken in the past.
1. Oprah Winfrey
The billionaire businesswoman and former talk show host regularly unwinds at her ranch in Maui, Hawaii, where she hosts friends, celebrities and even First Lady Michelle Obama. However, for a little spring-break-style fun last year, Winfrey headed to the party spot of the rich and famous: Ibizia, Spain.
ETOnline.com spied Winfrey, whose net worth is estimated at $3.1 billion, at one of the island's night clubs with best friend Gayle King in tow. The same trip saw her lounging on the mega-yacht of Dreamworks co-founder, David Geffen, according to the Daily Mail. While the cost of the Ibizia trip wasn't disclosed, it's likely that the price tag was significant.
2. Bill Gates
For his family vacation last year, Bill Gates chartered a $5-million-a-week yacht, The Serene, to cruise the Mediterranean. Yahoo News reported that the 450-foot boat boasted a pool, climbing wall, spa, theater and nightclub.
While the yacht was stationed off the coast of Sardinia, Italy, Gates -- whose $77 billion makes him the world's richest man -- flew by helicopter to play tennis at the seaside resort of Porto Cervo, according to the Daily Mail. He also rode on jet skis with his wife and children.
3. Richard Branson
When not traveling for work, the Virgin Group founder -- who is worth $5.2 billion -- heads to his private island in the British Virgin Islands, where he enjoys partying and dancing to the music of the island's band until early in the morning, according to an interview with The Telegraph.
Branson bought Necker Island for $180,000 decades ago and has since turned it into a resort featuring a main house and six smaller houses, as well as two pools, on-site dining, water sports equipment and the aforementioned band. Interested individuals can book rooms for a period of seven nights for $48,300, or up to 34 guests can reserve the entire island for a rate of $78,000 per night.
4. Larry Ellison
Larry Ellison owns many homes that he could use as vacation retreats. However, the former CEO of Oracle, who is now worth $47.6 billion, can often be found on the Hawaiian island he purchased in 2012.
Ellison reportedly paid $500 million to buy 98 percent of Lanai, which boasts two Four Seasons resorts as well as two golf courses. The lowest April rate for a room at the Four Seasons Resort Lanai is about $1,000 per night.
5. Mark Zuckerberg
Not all rich people take over-the-top vacations. Facebook founder Mark Zuckerberg, who is worth $47.7 billion, made headlines for the low-key vacation he took in Kauai, Hawaii, in the spring of 2013. The Daily Mail reported that Zuckerberg and wife Priscilla Chan opted to eat burgers at a picnic table with friends rather than dine in one of the island's more expensive eateries.
However, since the 2013 trip, Zuckerberg has purchased beachfront property on the island for more than $1 million. He plans to build a vacation home there, according to Forbes.
6. Meg Whitman
Tropical locales aren't the only places the rich and famous go to relax. Hewlett-Packard Enterprise CEO and former eBay CEO Meg Whitman heads to the mountains for her vacations.
According to Inc, the business leader, who is worth $2 billion, owns a ski resort condo and ranch in Telluride, Colo. Whitman reportedly paid $20 million for her Skyline Ranch, where she rides horses.
7. Tony Robbins
Tony Robbins spends most of his time working -- in fact, he is generally on the road 200 days out of the year. However, in an interview with Fortune magazine, the New York Times No. 1 best-selling author said that his favorite place in the world was Namale Resort.
Robbins, who is worth $480 million, created the 525-acre resort in the Fiji islands and spends down time there, along with celebrities such as Russell Crowe and Meg Ryan. Rates for rooms at Namale Resort start at $871 per night, with rates for villas starting at $1,527.
8. Hillary Clinton
Democratic presidential candidate Hillary Clinton took a vacation from campaigning in 2015 to stay at a beachfront rental in the Hamptons, along with her husband, former President Bill Clinton, daughter Chelsea, son-in-law and granddaughter.
The Clintons, who have a combined net worth of $111 million, paid $100,000 to rent the four-bedroom house in Amagansett, NY, for two weeks, according to the Daily Mail. The family also stayed at the home in 2014.
9. Donald Trump
Billionaire businessman and Republican presidential candidate Donald Trump recently tweeted that people shouldn't take vacations, stating, "If you're not enjoying your work, you're in the wrong job."
However, in an interview with The Daily Caller, Trump did admit to taking vacations -- but only at places he owns.
Said Trump, "What do I want to sit in somebody else's resort for?"
Among the resorts he mentioned visiting are Trump Turnberry Resort in Scotland and Trump National Doral Miami, a golf resort and spa in which he's invested $250 million. Rooms at the Doral start at around $369 a night, but Trump, who is worth $4.5 billion, almost surely stays in the resort's plusher, pricier accommodations.
More from GOBankingRates: