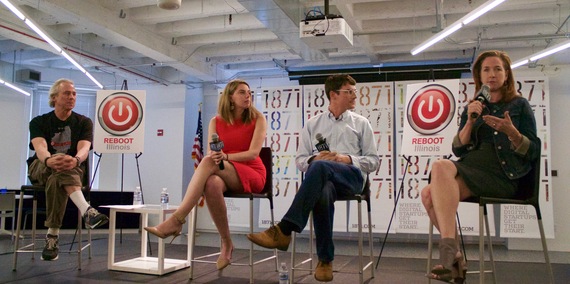 Lyft created an express pay program that lets its drivers get paid daily if they wish. Airbnb has at least one host in each of Chicago's 50 wards and, worldwide, 86 percent of its hosts live in the homes they share.
Lyft, Airbnb and the rest of the sharing economy are innovating in viral fashion while government and portions of the public constantly are trying to catch up to that exponential innovation.
So said entrepreneurial and government experts Thursday at a forum on the intersection of the sharing economy, tech and government hosted by Reboot Illinois at Chicago's start-up hub, 1871. About 100 attendees heard a discussion moderated by 1871 CEO Howard Tullman with Allison Schraub, Chicago program director for mobilization at Airbnb; Jean-Paul Biondi, Chicago marketing lead for Lyft; and Cook County Commissioner Bridget Gainer, who represents the 10th District.
The sharing economy not only has created new job and income opportunities for people who need them, but it also has introduced services to communities that never had them.
Biondi noted a big part of his job continues to be educating people about ride sharing and innovations like in-app tipping and express pay, while Schraub noted she was pleased with how well Airbnb hosts and users advocated for themselves at City Hall when regulations became a point of debate recently.
"The interesting thing about the sharing economy is -- if you look at them individually -- the services are so much better," said Gainer, who said she uses both Airbnb and Lyft. "But I think there's this larger question out there which is to say is it a good thing that it's a lifeline for people... but does it say something larger about the underlying economy?"
Gainer noted that as private companies have migrated away from defined-benefit pensions and employer-provided healthcare and from many people being full-time employees, it never was really replaced with anything, but some segments of the sharing economy are filling needs. Gainer noted her own parents in the Beverly neighborhood never used to be able to get a cab there.
Tullman said there used to be a very clear line between laws that related to businesses and people, but now people are businesses.
"What's really changed is that the web and the constant flow of information has permitted us to do something that nobody can even believe, which is it let's us trust people that we don't know," Tullman said. "At the same time when you look at the polls in this country -- basic trust- the people we do know, we trust less and less all the time."
However, as the sharing economy grows, so do questions over how governments will regulate and tax these new businesses.
Schraub acknowledged concerns some people have about Airbnb rentals being used as so-called "party houses" as well as the possibility that some hosts discriminate against potential renters. She said the company takes those concerns seriously and must try to address them as they can if they are to succeed.
One audience noted regulations are not keeping up with the speed of innovation and technology, and asked the panelists how they plan to work with local governments to address that.
Gainer said she believes the lag is a "super healthy" thing because it allows businesses to make mistakes and get some grounding before the regulatory structure comes in, which she said has been the case for hundreds of years.
"I think what's happened that's good with Uber and Lyft and Airbnb has been we finally have educated most of the regulators, most of the legislative bodies in the United States," Tullman said. "And so in today's world it's not who's first, it's who's best."
Biondi added that more of Lyft's marketing strategies focus on educating communities and governments.
"A lot of the tabling we do at events now is just an education perspective," Biondi said. "It's going to be a long road, but there's definitely a lot of education for a lot of people just to know who we are."
Popular in the Community