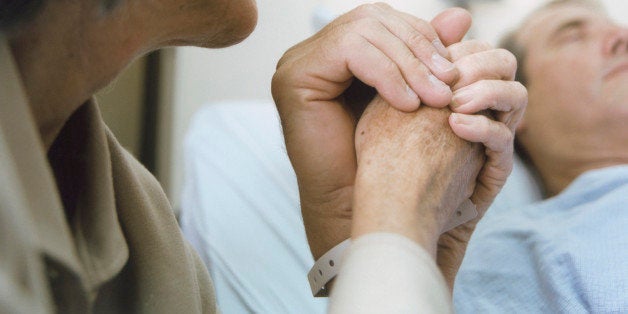 There you are on your wedding day, looking into your beloved's eyes, believing nothing could ever rob you of your joy. You say your vows to one another:
"I take you to be my lawfully wedded spouse, in sickness and in health."
When you are young and in love, you not only look forward to a great life together -- you expect it. Then you wake up one day and your partner is diagnosed with a long-term, chronic illness.
Wait a minute! That isn't what you signed up for when you said "in sickness and in health"!
Being young doesn't make you immune from the possibility your partner might be diagnosed with a debilitating illness you will have to deal with for the rest of your lives.
Such circumstances change your relationship with your spouse, and they often change ALL of your relationships.
Figuring out how to help your ailing spouse and while helping yourself and re-envisioning your future can be overwhelmingly frightening.
While it's easy to bury your own needs as you tirelessly care for your love, you must grant yourself these 7 essentials:
1. Grieve the loss of the future you expected.
It may take some time to accept that you must make serious changes in your life. Life is full of changes that can and do result in feelings of loss. Even with the best changes, you will frequently feel some sense of loss.
Don't put yourself down for whatever it is you feel related to what is happening. It really is normal to experience a wide range of emotions, including anxiety, fear, anger and extreme stress. Experiencing it all as you grieve is necessary in order to arrive in a place of accepting the positive aspects of your relationship that remain.
2. Learn to cope with uncertainty.
The many unknowns in life only multiply when your spouse is facing a long-term illness. Live in the present moment by developing a new attitude toward the meaning of life and the beauty and love around you. Understand that you still do have choices in your life, and identify what those choices are.
Look for the positives in your life so negativity doesn't suck you down. When you find yourself going down that road, strive to rise back up and adapt to the joys life with your spouse does offer you.
3. Let go of any guilt that you may feel.
Life has thrown you a curve ball, and having a difficult time accepting it is completely natural. You may feel guilty because your spouse is ill and you are healthy. You may feel guilty for asking yourself question like, "Why me?" or "Why us?" Or even because you often feel sorry for yourself for this situation.
Allowing yourself those feelings is the surest way to let go of any guilt. The sooner you do, the sooner you will be able to embrace life once again.
4. Understand that your sick spouse will have their own emotional reactions.
Your spouse may feel these same feelings of guilt and "why me and why us and why now." He or she may even get very angry and direct it toward you in moments when the anger becomes overwhelming.
Don't battle your spouse about either of your feelings. It isn't your responsibility to make those feelings go away or to make it all better for everyone. Sometimes you just need to be there for each other and allow the emotions to flow.
5. Allow your friends and family to help.
People who love you authentically want to help. They just aren't sure what you really need, or want, them to do.
Create a list of things you need help with and let them choose from that list so that you don't have too much help in one area and not enough in another. Come up with a schedule that would work best for you and your spouse. Your friends and family will appreciate knowing they are helping in a real way, and you will get some much needed relief.
6. Take time for yourself.
No matter how much you believe you need to be there for your spouse, you MUST take care of yourself. Sometimes, you need a break and it is not wrong to take one.
This might be a good way to enlist friends and family as mentioned above. Ask for help doing some of the things you haven't been able to get to so that you can take a break to go out to eat, take a walk, go to the gym, or do something else that speaks to you.
Don't forget to keep in touch with the people who are most important to you, and to stay involved in activities and interests you had before your spouse became ill. Taking care of yourself helps to lessen the stress, anxiety and resentment you may feel and allow you to enjoy your time with your spouse far more.
7. Hire professional help when necessary (even if only for short periods of time).
There may come a time when you need to hire some extra help -- be it a cleaning service or a part-time nurse to seriously lighten your load. If you are having difficulty dealing with the flood of emotions, you may want to enlist the help of a professional.
Remember that neither of you have to go through this experience alone. There are friends and professionals you can turn to for help you dealing with the life changes and the emotions you are experiencing.
We were never promised that life would be without pain.
We expect our "happily ever after," but that is not reality.
When difficulty comes your way, don't be afraid to feel what you feel and seek the help you need from others.
Dr. Deborah McFadden is a couple's counselor at Village Counseling Center. Receive your free copy of the Better Life Magazine filled with articles with topics from taking good care of yourself, resolving conflicts in your relationship and discovering how to have success in your life.
More from YourTango: