In Lily Dale, New York, residents nourish a belief in a literal afterlife not too different from our present existence. For over a century, they have relied on mediums for messages from spirits which they cherish as proof of "the continuity of life."
Lily Dale's worldview is derived from Spiritualism, a religious and social movement beginning in 1848, which, despite rampant fraud, counted prominent members into the 20th century like Sir Arthur Conan Doyle, creator of Sherlock Holmes. Nowadays, the town continues to host Spiritualist conferences replete with speakers and classes on topics ranging from spiritual guides to healing. The possibility of communicating with the deceased still attracts thousands of visitors every year.
Often dismissed as ludicrous, the community faces critical challenges in a modern-day society. What's more Lily Dale's survival has meant blending in business and showmanship with what the town regards as a spiritual gift: communicating with the deceased. Residents are sensitive about being gawked at or accused of fraud. But most visitors who make the trek to Lily Dale are at least open to the idea of spirits.
Nestled in the southwestern corner of the State, the town is 50 miles south of Buffalo and 150 miles away from the nearest major city, Toronto, Canada. In the middle of nowhere, mediums, some of them fourth or fifth generation, live in quaint clapboard houses.
I've been harboring a fascination with Lily Dale for over a decade, ever since my aunt and mother embarked on a daylong road trip there. So when I decided to do a profile on the town, I called them. Looking at a split-screen on Skype, I asked when they made the trip. In the '80s, my mother thought. No, much later, countered my aunt, who discovered the community through a book, which she thought was Lily Dale: The True Story of the Town That Talks to the Dead only published in 2003; their answers were decades apart testifying to the elasticity of memory and experience.
But they did agree on why they went. "It was an outing," said my aunt. "I went on a lark," my Mom agreed. Neither would spend a lot of money on a psychic reading or focus on any particular book; instead they draw from various sources always with a grain of salt and blending in their own beliefs.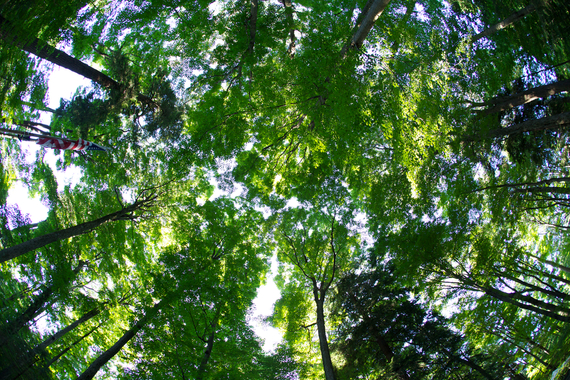 Forest around Inspiration Stump, Lily Dale © Chester Higgins Jr.
My aunt remembered the most about Lily Dale. In town, "there was that tree or stump which is supposed to have a lot of energy." Mediums give members of the audience messages from dead relatives and friends in an amphitheater oriented toward the stump and surrounded by old-growth forest. "Your Mom and I went a few times," my aunt said. "You were singled out twice" she reminded my Mom, who in turn, vaguely remembered being advised to do more yoga. According to the Lily Dale website, services have been held in this clearing, which is called Inspiration Stump, since 1898.
Eager to experience the town for myself, I set out on the eight-hour drive. As I approach the Buffalo area, I pass slate blue silhouetted mountains. Dark gray clouds line the sky over sparsely maintained wooden houses. On a weathered church hangs a white cross that almost covers its façade. American flags line the roadside, one painted on a rock with the word "best" over it. Eventually, I spot signs for Dale Drive, leading into town.
I pull up to a small shed where I buy my weekly ticket; it's a gated community. In Lily Dale's narrow streets, I begin to wrestle with how I imagined the town and the reality in front of me. True, the quiet streets are lined with ornate wooden houses with intricate trimming straight out of a fairy tale, but the houses seem so solid and the people strolling are in sneakers and shorts.
But after I check into a small guesthouse by the lake, I set out on foot and the more mystical details of the town become apparent. Nepalese prayer flags decorate one house. Several others have wooden plaques hanging out front with the occupant's name in a sweeping script followed by the title "medium."
I head to Inspiration Stump which is ringed by the forest my aunt described. Fenced off to prevent people from standing on it, the Stump faces rows of rough-hewn wooden benches. The clearing is ancient and bright and green. I feel awe, but not the groundswell of energy I was told to expect and which, in my defense, I have felt in churches in Europe and Africa. I find myself wondering if humans need more than a century of daily praying to create a space that makes you feel something. Can I compare the Stump to a church hewn out of rock in Ethiopia in the 13th century whose front door is kissed hundreds of times a day? Perhaps it isn't fair.
Due to rain, the message service will be held in the auditorium, so I head out of the grove down a gravelly pathway into the center of town. In the auditorium, metal folding chairs line the main hall. On the high ceiling suspended fans are interspersed with glass lamps. Either side of the auditorium is lined with large windows in front of which are wooden trellises, the kind you might see roses growing on.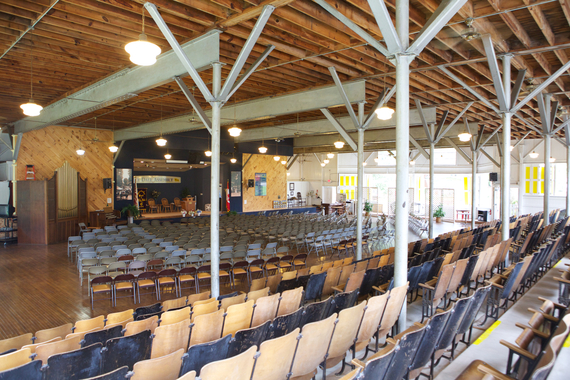 Lily Dale Auditorium © Chester Higgins Jr.
A few mediums are lined up at the right side of the stage. One is standing in front of the audience taking a few steps in one direction, then pacing back. "May I come to you?" she asks a women in the front row. "As I step in with you, there is a very close relationship with someone who you depended upon and spent a lot of time with. They were sick for a short period of time. Does that make sense to you?" The woman nods. "Her message is to continue to live life with a lot of joy. May God bless you." One medium asks a man a few rows in if he is aware that his relatives "touch in a lot." Another relays to an audience member that a deceased relative has "bobby pins and knows now that that's why she gets headaches."
Each medium speaks quickly delivering powerfully positive messages, albeit seemingly vague. Some messages are affirmations of love. "He loves you very much." Some are meant to demonstrate that our relatives are watching our lives unfold. "He's very proud of some situation you stuck with." Others express the support Spiritualists believe spirits provide. "You have been comforting so many people. He's doing it for you. He wants you to know." And still others describe the small ways that Spiritualists believe our deceased loved ones make their presence felt. "She says she's the one who moves your keys," said one medium of a spirit. Another medium finishes her message with "he gives you pennies, so I'll let you have that with God's love."
Some of the language used sounds old-timey. After the service I find two of the mediums on a bench outside the auditorium and ask about the phrase "May I come to you?" One tells me that it is important to ask permission since much of what mediums deal with is personal and at times tragic. She tells me a story of one client whom she asked if she might deliver a message from a particular relative and the client shot back with, "I don't want to speak to that bitch!"
Watching the mediums work, I get a sense of their investment in the craft of mediumship. They refer to God, anchoring their purported messages from deceased loved ones in the framework of Spiritualism, a religion with an over century-long history.
Spiritualism and Its Origin Story
Mediums at Lily Dale, and in fact all residents of the town, ascribe to Spiritualism. Spiritualists consider that their religion is also a philosophy and a science; they turn to mediums to bring proof of "the continuity of life" by relaying from spirits what they call "evidential" detail like names, events, and specifics that only a few people could know. For them, death is simply a change in situation; it's not an end. This is not to be confused with psychic powers, many tell me. Psychics read the thoughts of the living. In contrast, mediums communicate with spirits, which is the crux of Spiritualism.
Lily Dale is just one center for the religion in the United States. There are others throughout the country like Florida's Cassadaga community, and abroad including in Australia, Canada and the United Kingdom. Nonetheless, the town of Lily Dale holds particular significance. It bills itself as the "world's largest center for the science, philosophy and religion of Spiritualism." What's more Lily Dale holds relics of the movement's beginnings.
In 1848, two sisters Kate and Margaret Fox claimed to hear knockings made by a spirit in their farmhouse in Hydesville, New York, only 150 miles northeast of Lily Dale. According to contemporary journalistic accounts, a system of communication was developed through which the spirit revealed himself to be a "peddler" who was murdered and buried in the basement of their home. Several years later, a trunk attributed to the salesman was discovered; Lily Dale acquired it and the box is displayed in the town's museum. In 1916, Lily Dale obtained the Fox family's cottage, and although it burned down in 1955, a plaque and garden still mark the spot on Lily Dale grounds.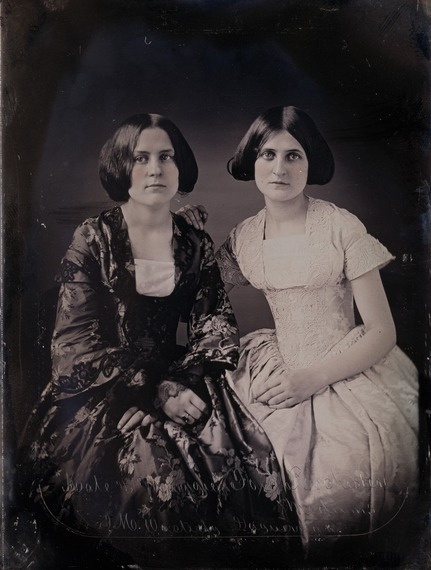 Margaret and Kate Fox, 1852, courtesy of the Missouri History Museum
Spiritualists tend to focus on the events of 1848, yet the Fox sisters' full life trajectory epitomizes challenges that have dogged the religion for decades, like the difficulties of combining business and showmanship with what is presented as a spiritual gift, and the movement's troubled relationship with fraud. Over the years investigators have visited the town to expose fraudulent mediums in the act; according to Lily Dale oral history, the magician Harry Houdini came in disguise probably sometime in the 1920s.
At the same time, the sisters' story has been told and retold since the mid-19th century and versions vary. Margaretta, though widely known as Margaret or Maggie, was around fourteen years old in 1848 and Kate was eleven, though accounts of their age differ, as do descriptions of their appearance. Kate was said to have black or even dark purple eyes. One historian remarked
Looking at the Fox sisters' story is like peering through a kaleidoscope: the configuration is never fixed; it changes depending on the angle of the prism and the way the pieces seem to fall.
However, there are aspects of the accounts that converge. As they grew into attractive young women, Kate and Maggie, as well as their older sister Leah, who served as manager and then medium in her own right, became quintessentially modern celebrities, combining traits of reality stars like the Kardashians and today's high-profile psychics like John Edward and James Van Praagh.
Their private lives were under scrutiny. The youngest, Kate, married in London where observers speculated that her first son had mediumistic powers. In the US, Maggie Fox met and may have married in secret Elisha Kent Kane a famed arctic explorer of the day. After his death, Maggie published his love letters to her in The Love-Life of Dr. Kane.
Both Kate and Maggie had life-long struggles with alcohol and some suggest drug addition. Kate attributed this to the fact that she and her sister received gifts of champagne from high-profile clients at a young age. Through mediumship the sisters earned a level of income rare for women, but both Maggie and Leah had a reputation for spending money.
The sisters' celebrity status as mediums earned them equal levels of adoration and scorn, and they were constantly pursued by accusations of fraud. But in 1888, it was Maggie herself who appeared before an audience at the since-closed New York Academy of Music to confess that she and her sister had faked the knocking noises and to demonstrate how. She removed her shoe, set her foot on a table and proceeded to crack her toe.
Some speculated that the confession was sparked by a rift between Kate and Maggie on the one hand, and their sister Leah on the other. Others surmised that Maggie was motivated by financial concerns, and that she could no longer make a living from her mediumship, and so would try her hand as a public critic of the practice. Commentators at the time called Maggie's announcement the "death-blow" to Spiritualism, but it didn't do much to quell belief.
What's more, Maggie withdrew her confession a year after making it, and Kate continued to practice mediumship until her death in 1892. Maggie passed not long after in 1893. That same year Spiritualists established the National Spiritualist Association, now headquartered at Lily Dale and renamed the National Spiritualist Association of Churches (NSAC), but by then Spiritualism was waning.
Yet Lily Dale survived into the present as more than a church. It operates as a fully-fledged town, and has continued to do so in spite of the "death-blow" to the religion in the late 1800s. Lily Dale has pushed through to an era in which mainstream figures no longer entertain the idea of spiritual communication and the town's beliefs are largely dismissed as marginal.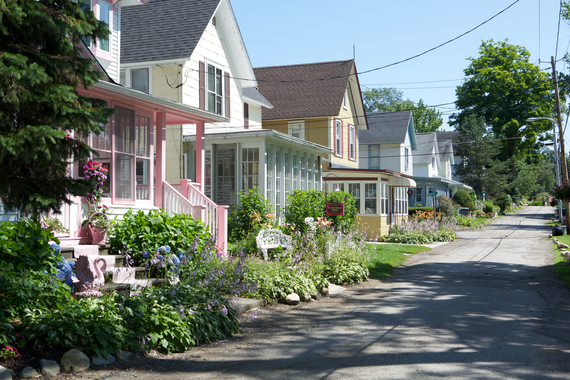 Lily Dale street © Chester Higgins Jr.
I ask around about who would be best placed to talk about the town's history. Several people recommend the librarian, the consensus in town being that she is excellent at what she does despite her interesting look. I'm not at all sure what that means and nobody explains.
*You've reached the end of Part I of this four-part series. Part II in which I interview Lily Dale's librarian and the town's Executive Director will be published next week. You can check back then or sign up here to have Parts II, III and IV delivered right to your inbox.
Disclaimer: Although the author works for the United Nations, the views expressed herein are those of the author and do not necessarily reflect the views of the United Nations.
Related
Popular in the Community