One man is using a brief turn in the social spotlight to help change the lives of underprivileged children.
Joe Liu's moment came when he was photographed walking in Queens, New York last September. The 34-year-old dad's shirt was soaked through, while his umbrella protected his small son from the pouring rain.
The picture, posted across social networks with the headline "Dads," quickly went viral in the U.S. as well as in Liu's native China.
"Umbrella Dad," as he became known, is a former diplomat who currently works on Wall Street where he leaves his office at 5pm every day to pick up his son Rhodes in Flushing.
After his post went viral, Liu returned to China to make appearances on several popular Chinese TV programs and to film a documentary about the photograph's impact and human appeal. The image even featured on a prime-time national TV during Chinese New Year – a show with a "viewership larger than the Super Bowl."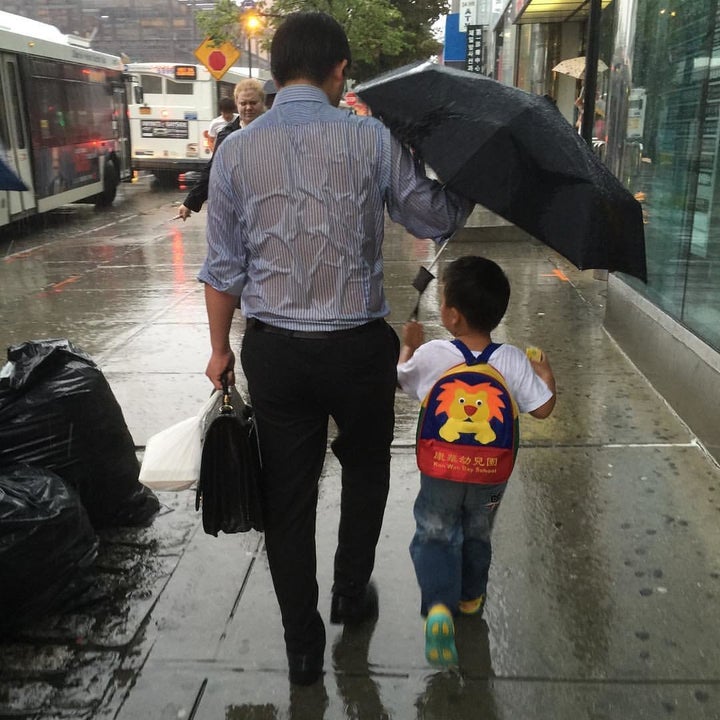 He now has more than 10k followers across Chinese social media, and has attracted support from media celebrity Shi Shusi, who himself has 1.8 million followers on Twitter. Liu has also been approached by a publisher about a possible book deal.
The former diplomat, who relocated to New York nearly two years ago for work, told HuffPost he thinks the picture is emblematic of how modern society cares far more about the relationship between children and their parents. "I think it just touched people's hearts," he added.
The dad stumbled across the picture via his news feed a couple of days after the downpour. He still doesn't know who took it. Chinese media managed to identify the duo by zooming in on the kindergarten logo on the backpack, which led them to the school in New York.
"Viral internet stars are quite common in China," he said. But rather than just accept his brief moment in the sun, Liu wants to use his online celebrity to bridge the gap between eastern and western styles of parenting.
"Chinese parents try to protect their children and do a lot of things for them whereas western children seem to be a lot more independent," Liu said.
"As a parent I've tried to find a middle way, a good mixture of Chinese and western parenting," he added. "Each culture has something to offer."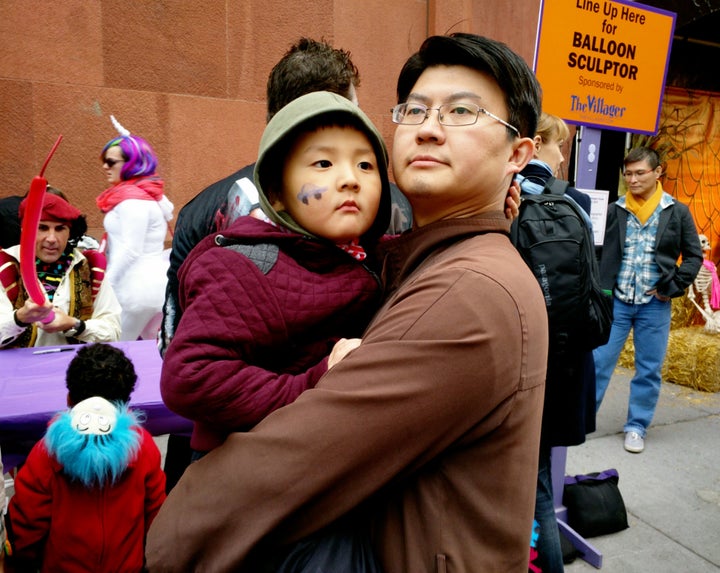 In recent weeks, Liu has set up Facebook and Twitter accounts for "Umbrella Dad," posting articles relating to education and parenting. But he wanted to go one step further, using the media exposure as a platform to set up a charity to help children in China, particularly vulnerable children in rural areas.
Liu's aim is to use the Internet to "open a window" for the underprivileged in China to see the outside world through online mentoring, educational tutorials and via short documentaries on western culture and lifestyles.
Liu has registered the "Umbrella Dad Foundation" as a charity in the US and has been recruiting international members from US, Europe and Asia, including volunteer teachers to start the mentoring.
"We can try to encourage children to have aspirations by showing them a bit of the world outside their home," Liu said.
You can visit the 'Umbrella Dad Foundation' website here.