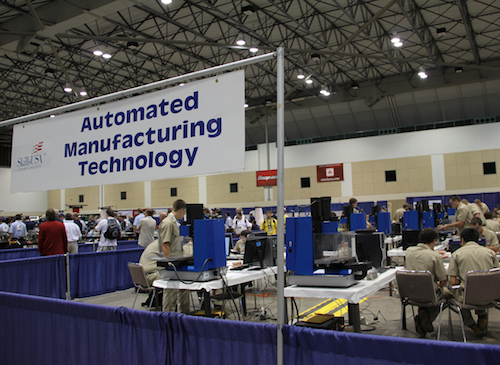 Students compete to demonstrate their manufacturing technology skills at the SkillsUSA Championships in Kansas City, Mo. Photo courtesy of Autodesk.
Over two decades ago when the U.S. shifted its investment from a manufacturing economy to one focused on the financial and technology industries, education followed suit. The unintended result: a curriculum and career counseling environment that discourages kids from pursuing careers in manufacturing that require sophisticated hands-on math and technology skills. The theory was that our high labor costs meant America's history as a manufacturing leader was just that -- history. But our strength as a center of innovation suggests we can be a manufacturing leader again by creating both the jobs and the workforce trained to fill them.
A recent article in Bloomberg Businessweek made the point that if the U.S. is to compete globally, we need to educate our children in trade, technical and skilled services. On Friday, President Obama announced the Advanced Manufacturing Partnership, whose purpose is to strengthen America's manufacturing sector by identifying opportunities and removing obstacles to help small- and midsized factories grow. The partnership is his latest effort to realize his goal to "once again see our best and brightest commit themselves to making things."
But is it realistic to think that the U.S. can make things here? Certainly our foreign rivals bested us in manufacturing by making products and components more cheaply abroad. But there's more to the equation than that. It's not just labor costs -- it's well-designed products that win the day. Having state-of-the-art manufacturing facilities here at home, plus the skilled workforce to run them and the creative engineers to design the innovative products they turn out, can spur job growth and restore our competitiveness.
Our ability to make it happen was particularly evident last week in Kansas City, where the 47th annual National Leadership and Skills Conference is being held. The event is run by SkillsUSA, a nonprofit organization that supports teachers and students who are preparing for careers in trade, technical and skilled services. Students compete in 90 activities from baking to 3D animation to milling and robotics. Some of the winners may even go on to compete internationally in London's WorldSkills contest this October.
What would be the economic effect if our best-designed products were not only designed in the U.S. but made here too? If we can return to our manufacturing roots by educating our children to do both, we can take advantage of the capabilities and interests of all our students while creating a demand for their skills that will one day give them fulfilling careers in a once again thriving economy.
Calling all HuffPost superfans!
Sign up for membership to become a founding member and help shape HuffPost's next chapter