Some of the worst-performing schools in America have been turned around by an arts program mobilizing stars like Elton John, Yo Yo Ma and Cameron Diaz to help failing pupils.
What makes the program unusual, rather than just an exercise in celebrity, is that it has used the arts throughout the curriculum as not just a pleasant add-on, but as a means of driving achievement in the core subjects. An independent study of the schools' results showed a 23% increase in maths scores and a 13% improvement in reading in only three years.
The arts are not just a flower, they're a wrench
A huge leap in themselves, those results also far outpace those for schools spending comparable amounts of money, but not using it for the arts. Rachel Goslins, the public servant who set it up, says: 'Our motto is that the arts are not just a flower, they're a wrench.'
This arts-centred approach presents a stark contrast to the widespread teaching philosophy known as 'drill and kill', which tries to scrape out a minimum result for the worst-performing pupils with highly regimented, repetitive rote learning.
The program, called Turnaround: Arts, was set up by Barack Obama's Presidential Committee on the Arts and Humanities in 2012. It is 70% funded by private business and philanthropic foundations, with a budget of only around $2.5million. It works in 49 schools drawn from the lowest 5% in the US.
In these chronically floundering institutions, where waves of reform have come and gone in vain, the megawattage of stardom is used to try and shock pupils, teachers and parents into believing that, this time, something really is about to change.
The actors and musicians help direct school plays, give acting classes, talk to carers about their problems and pre-record phone calls inviting parents to parent-teacher evenings. Adopting a particular school, many of the stars have built up deep relationships with them since the program began.
We don't have metrics for joy
Ms Goslins emphasises that turning around a failing school is as much about reinvigorating demoralised teachers and remaking institutional culture as it is about directly academic intervention. She says, 'There are some things we can't measure. We don't have metrics for creativity, we don't have metrics for joy.'
That capacity for creating joy can be harnessed for demonstrable academic improvement. In a school play, for example, the parents who tend not to participate in their children's education are targeted for costume committees; children with behavioral problems are cast in the lead parts and the whole performance is used as a means of bringing the wider community inside the school. The results show that engagement leads to better attendance and better grades.
But it's not all greasepaint and stardust. This is the high-profile end of a thoroughgoing integration of the arts - such as music, dance or storytelling - into the teaching of other subjects. The furthest extreme might be a hip-hop-physics dance class where the teacher leads a call-and-response set of questions about the scientific principles underlying the dance: 'What do we use to get into the turn?' - 'Momentum!'
At a more sedate level, it means using movement, the senses and the arts' communicative power to get through to the hardest-to-reach pupils. Those could be children with special needs, with English as a second language, or simply those who have been turned in on themselves by an environment of poverty and low expectation.
Without the arts, you can't complete an education
To make this possible, the program trains teachers in these techniques, while bringing in partner organisations to provide materials. Crayola gives each school art supplies worth $10,000; the NAMM foundation supplies musical instruments; the rights agency Music Theatre International has turned over free licences to its musicals in perpetuity.
But despite the impressive academic results, the scheme's proponents argue that its real value is far more profound. "We've got the data for the people with the purse strings, but without the arts you can't complete an education, you can't complete a person. We aren't making artists, we're making neighbours, citizens," says Alfre Woodard, the Oscar-nominated 12 Years A Slave actress, who has been involved with the program since the beginning.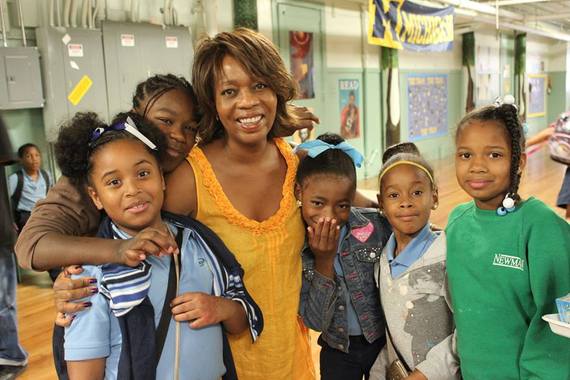 Alfre Woodard with pupils at a Turnaround school in New Orleans

At the schools she has adopted, Ms. Woodard teaches drama classes for children closed off by trauma, poverty and violence. "It's not teaching acting, it's unlearning, unravelling the armour we all start to put on from childhood. It's stripping that away to get to the natural person who expresses who they are already, as human beings unencumbered."
The programme, however, will have to adapt to survive. Because it was set up by appointees of outgoing president Barack Obama, there is a danger that it would fall victim to the change of administration. Its supporters are presently trying to institutionalise it and so allow to it carry on.
And although the programme's many partisans are careful always to frame their work in the indisputable terms of maths, reading and attendance, Ms. Woodard perhaps expresses best why they are so determined to see it continue: 'We do it because all of us artists know that the arts change lives. Not that they made us rich and famous, but that they gave us a place in a world, somewhere we felt we had a value and could give something, they gave us a language. The artists, too, walk away deeper. It changes us too.'
You can find Turnaround: Arts on Twitter.
Popular in the Community