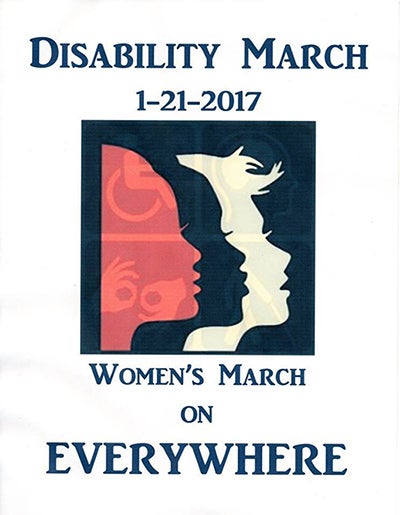 On Jan. 21, while millions of protesters made history in the Women's Marches across the country, an incredible movement was taking place online. Those who were unable to attend physical marches due to disability, chronic illness, and mental illness had a chance to have their voices heard through the virtual Disability March.
I knew early on that protesting in person wouldn't be an option for me. Between having multiple chronic illnesses and an anxiety disorder worsened by crowds and tight spaces, I had to respect my limitations when it came to such huge and packed events. As much as I support and care about this cause and wanted to be there in person, I needed to do what was best for my physical and mental health. Thankfully, because of Disability March, I was still able to participate in this momentous occasion.
Disability March was started by Sonya Huber, an author and college professor who struggles with chronic illness. The site allowed participants to submit a profile with their name, photo, bio, and a statement about why they were marching. Those profiles were posted to the Disability March website as well as the Disability March Twitter, and a Facebook group was launched for participants to chat and connect, the same way you would meet new people at a physical march.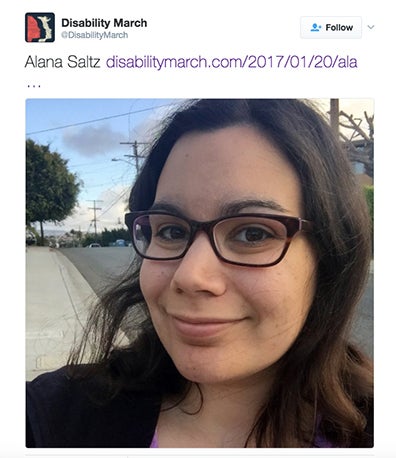 Instead of feeling left out of the Women's March, I submitted a profile and signed up to volunteer for Disability March, helping to input and post the hundreds of profiles submitted by disabled, neurodiverse, and chronically ill people from around the country, as well as numerous parents, partners, caretakers, and advocates. Some people only included a first name and a short statement about why they were participating in the Disability March. Others spoke out in detail about the issues that matter to them, the fears they have with this new administration, and their desire for fair and equal treatment. Hundreds of people voiced concerns about the impending repeal of the Affordable Care Act, as so many of us rely on it to maintain our health and our lives.
By Saturday night, our volunteer team had posted over 1,600 profiles, with hundreds of additional participants engaging on the Facebook group and Twitter hashtag #DisabilityMarch. The Disability March was written about in many major publications and gained international media and television coverage. After the marches ended, we continued to post entries, making sure everyone who submitted a profile was able to have a voice.
I read so many amazing, humbling, and touching stories, and saw so much strength and unity in our shared call for continued disability rights and insurance coverage. Throughout this experience, I've felt like I am part of a community that cares about these crucial issues and supports one another. When you struggle with a disability, connection truly is key, yet it's one of the hardest things to accomplish. Being in pain, dealing with physical and emotional challenges, makes it much more difficult to engage with others and the world. Disability March provided that outlet during a time we needed it most.
On a day I could have felt discouraged and limited, a day I could have beaten myself up about my inability to participate in something I cared about, I was instead empowered and uplifted by the Disability March community.
What I appreciated most about the Disability March was how inclusive and intersectional it felt. As someone without severe mobility limitations, I often hesitate to identify as disabled. But Disability March was open to anyone with any kind of struggle, illness, disability, or limitation, and all voices were treated equally and respectfully.
I hope that the Disability March community will continue on long after today. There's already been discussion of what we can do next to further serve this cause and community. I'm so grateful that I had the opportunity to participate in an event that enabled thousands of participants, who would otherwise be overlooked, to share their stories and what they believe in.
Related