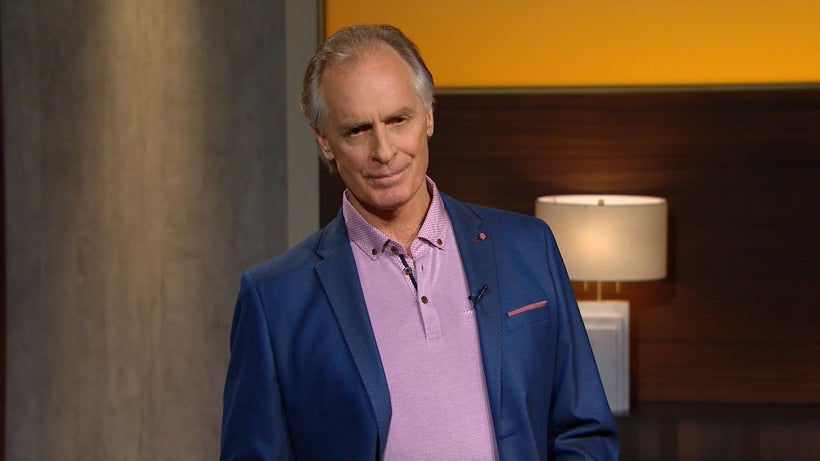 If this year's Academy Awards were any indication, the Western genre is back in full swing. From The Revenant, to The Hateful Eight, to The Ridiculous Six, to A Million Ways To Die In The West, to the upcoming Jane Got A Gun, it appears as though audiences are once again deciding to head west for entertainment, and what better way to celebrate than an entire month-long showcase dedicated to the genre? Thanks to TCM, fans will get just that! The fabulously nostalgic network dedicated to the classics will be giving audiences two Western marathon days a week all through July every Tuesday and Wednesday with Shane Plus A Hundred More Great Westerns, where they will show everything from actors like John Wayne, to sub-genre's like Spaghetti Westerns. And what better person could TCM find to host such a sprawling television event other than the legendary Keith Carradine?
     Coming from Hollywood Western royalty himself, esteemed actor and Academy Award winner Keith Carradine is not only a fan of the genre, he is a necessary staple. Need a list of reasons why he would be TCM's go-to man for the job? For starters, his father, John Carradine, was one of the most famous forefathers of the Western Genre, starring in the classic Stagecoach. Then there's the fact that Keith himself turned in numerous memorable Western performances, from when he starred in A Gunfight, to his more recent and extremely hailed performance of Wild Bill Hickock on HBO's Deadwood. Then, of course, there is his Academy Award winning hit song "I'm Easy," from the film Nashville, complete with it's perfect country twang. So, with his many prestigious credits and notable knowledge of the subject, it's really no surprise at all that TCM scooped Carradine right up for the gig.
     And when the iconic actor is not submerged in all things Western, you can catch him playing President Conrad Dalton on CBS' on Madam Secretary. With the world so caught up in election madness right now, political entertainment is all the rage- and with his refined and polished acting, Carradine delivers in giving audiences a layered and juicy politician.
     But, what else would anyone expect from a man with such an extensive and impressive career? Kind enough to give more details on all his coming projects, Carradine sat down and talked about Shane Plus A Hundred More Great Westerns, Madam Secretary, and more!
You are hosting TCM's Shane Plus A Hundred More Great Westerns this month. What brought you into this particular project, and what can you tell audiences that they can expect?
Well, I originally started my relationship with TCM when I did the voice-over for their star of the month, Greer Garson a few years back, and I kept expressing to them how much of a fan I was of what they were doing to preserve classic films. I'm a huge fan of classic films in general, and obviously of the Western. So, I was speaking with them about participating in this kind of presentation and they came up with this idea of a month of classic Westerns, and of course I was in. Audiences can expect two nights a week, Tuesday and Wednesday nights for four weeks in July, I will be hosting some of the greatest Westerns of all time. And it will be categorized into different tiers, sometimes we will be dealing with stars of the genre like John Wayne, and sometimes we will be dealing with directors such as John Ford or Howard Hawks. It will be very entertaining and informative!
What made you such a fan of westerns?
Well, I was born in 1949, so the first decade of my life was the 50's- which was the heyday of the Western television series, so I grew up really caught up in all those like Have Gun- Will Travel, Wanted: Dead or Alive, Gunsmoke and Maverick. They were all a big part of my growing up. I remember going to this church in Encino when I was a little boy, and one of the church-goers was Roy Rogers! And him and my father would be trying to out-sing one another on the hymns! So, this was an enormous part of my childhood. And, of course, I was born and raised in California- which is about as far west as you can get in the United States, other than Hawaii. So, between the western geography and the sensibility, I was attached to all that. And as luck would have it, when I began my acting career, the first film I did was a Western called A Gunfight with Kirk Douglas, and Johnny Cash and Karen Black- this amazing group of people. I was lucky enough to begin my career when they were still making Westerns, all up until the 70's. When Star Wars came in, that really changed things...but Star Wars was really just very much a Western set in outer-space! So, between the way I grew up and what my psyche was infused with, it made me a natural for the genre and then I got lucky enough to act in a few.
Your family is epic Hollywood royalty and Western Hollywood royalty, and you're all so talented- including the newer generation, which has great talents like your daughter Martha Plimpton and your niece Ever Carradine. Another famous family that is Hollywood and Western royalty is obviously the Eastwoods, which now boasts the amazing Scott Eastwood. How great would it be to see these two families come together in one sprawling epic Western miniseries?
That is definitely a nice fantasy! And I'm sure if anyone wanted to undergo such a project, I'm sure all of us would be open to it. You know, it really comes down to material and the script. Film-making is a collaborative venture, there are so many elements that go into worthy cinema. But, if the writers and producers and whoever was behind it presented something truly inviting, I could imagine that we would all love to participate. There are many dynastic families in this town- The Barrymore's, The Fonda's. And especially in the Western particular. I've worked with Peter [Fonda] a couple of times. It's a genre I love and I'm a horseman, so any opportunity I would get, I'd love to get back up on that horse!
One thing that Shane Plus A Hundred More Great Westerns will cover is that Westerns has its own sub-genres from comedies, to epics to spaghetti Westerns. What is your favorite sub-genre? Do you have an all time favorite Western film?
It's hard to pin down a favorite genre. I'm a big fan of the epic western. I think there's a lot to deal with in terms of characters and they are usually pretty well thought out morality plays. Among my favorites, Shane is way up there. Stagecoach, which my father was in- it's a classic on every level. But, the epic Westerns like Sergio Leone's Once Upon A Time In The West are so great, so it's hard to really pinpoint one film.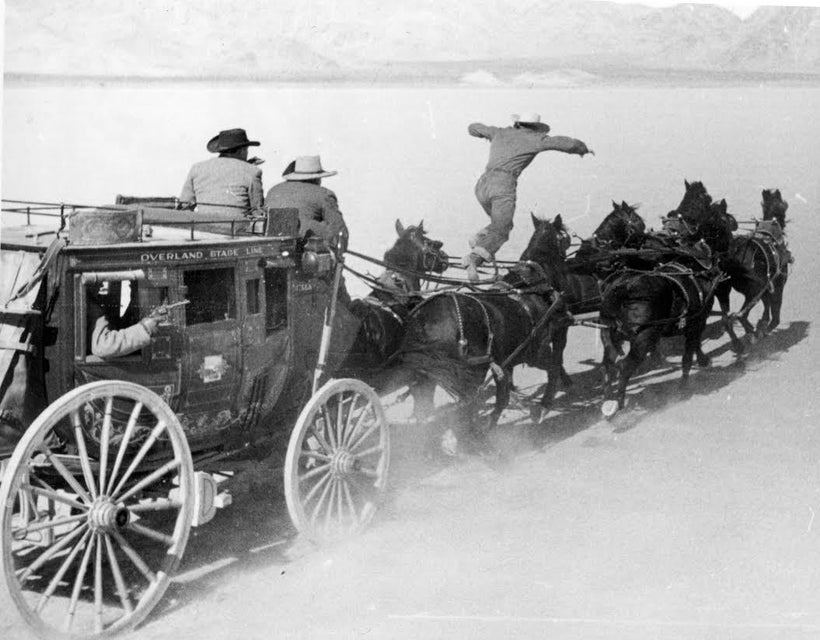 You've done a slew of Westerns yourself; The Outsider, Cowboys and Aliens, HBO's Deadwood to name a few- do any of your own Western roles really stand out? 
I've been given some great opportunities. In recent memory, the one that people really seem to remember is my portrait of Wild Bill Hickock in Deadwood. It was a great role that had the magical writing of David Milch behind it. That was an extraordinary experience and a groundbreaking thing to be a part of.
Westerns seem to really be making a comeback, both on the big screen and small with The Hateful Eight, Jane Got A Gun, The Revenant, The Ridiculous Six, Hell On Wheels- how do you feel about modern Westerns today? Is there any modern Western director you would love to work with, or show you would love to work on?
I'm happy that people are returning to the genre and exploring new ways into looking at it and that time in history. But, I'm not familiar with any director at this point who is particularly associated with only westerns. I'm familiar with Hell On Wheels. I don't get a lot of time to catch up on series television watching- I spend a lot more time working than I do watching, but I would certainly be open to any opportunity to get back on a horse and be back in that world!
You also play president Conrad Dalton on Madam Secretary, which is going into its third season this Fall. Can you give us any scoop for what's ahead?
Well, I can't give you any scoop! But, there are changes afoot! This season will be very unpredictable and it will be very compelling. I can tell you that my character is facing re-election, and there will be some surprises in store.
You are also an Academy Award winner for your song "I'm Easy" from Nashville. Do you have any plans on maybe writing any more music, or participating in any more movies that would call for some musical contributions?
I'm song writing all the time. My old friend Alan Rudolph and I just shot an independent film called Ray Meets Helen, and I did contribute a song to that film called "When It's Over." So, I'm still very much participating musically.
When can fans expect Ray Meets Helen? What else can you tell fans that you have coming up next that they can look out for?
It [Ray Meets Helen] just wrapped, so keep your eyes out- I imagine it will be showing up at some festivals around the country soon. I also did an encore production of Paint Your Wagon last spring, and they just released the soundtrack recording from that. And then, there will be season three of Madam Secretary!
                As usual, the prolific actor has tons of things for fans to enjoy on the horizon, but no need to wait- fans can enjoy Carradine all month long with Shane Plus a Hundred More Great Westerns on TCM.
     Shane Plus a Hundred More Great Westerns airs Tuesdays and Wednesdays on TCM starting July 5th.
     Madam Secretary returns to CBS this Fall for its third season.
REAL LIFE. REAL NEWS. REAL VOICES.
Help us tell more of the stories that matter from voices that too often remain unheard.
This post was published on the now-closed HuffPost Contributor platform. Contributors control their own work and posted freely to our site. If you need to flag this entry as abusive,
send us an email
.