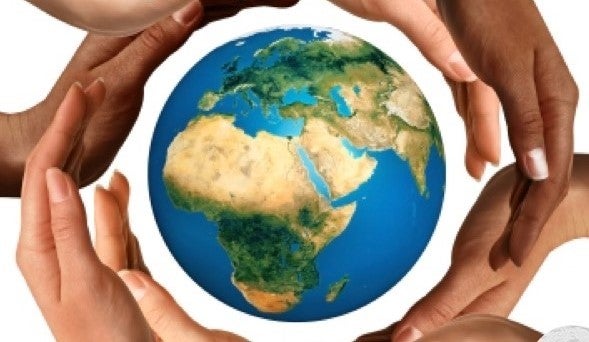 When I urged women of the world to join the fast growing Women's March on Washington (WMW) in my Nov 15 blog – a week after the U.S. election – I could not have foreseen the scale of international support or the newly galvanized women's movement that would evolve by the start of 2017.
Today the march is set to be the largest global human rights demonstration in history as hundreds of thousands of women and men plan to take to the streets on January 21, the day after Donald Trump's inauguration as the President of the United States. As well as the leading national march in Washington DC and another 200 U.S. city marches, there are also at least 50 cities in 30 other countries participating with more registering each day for the Women's March Global (WMG) – the international network of WMW.
But less than nine weeks ago, within hours of the presidential election on Nov 8, the WMW was a mere seed of an idea posted on Facebook by Hawaiian grandmother, Teresa Shook, who simply said: "I think we should march." So how did this grassroots movement strike such a universal chord? Since becoming more involved behind the scenes of the march planning, I've had the privilege of working with some of the original national and international organizers and seeing up close how things have taken shape.
WMW co-founder and global march coordinator, Evvie Harmon, recalled the first hours after seeing Teresa's idea following the election result:
For the first 48 to 72 hours it was growing exponentially. It was insane and Teresa said: 'Evvie, you know I think it's a wonderful idea but it's just me in Hawaii. Can you help?' I was like, I've never mobilized anything larger than my own state to march in my state. I've never mobilized anyone to DC, but I think what we can do is try to motivate people in their own portions of the United States to mobilize themselves. I immediately created a South Carolina event page for the Women's March on Washington and I sent it to her. I said I am going to mobilize my state to DC and I'm also going to get some sister marches started.
Within days, news of the march went viral on Facebook. During the first week, organizers connected and mobilized – tens of thousands of American women signed up on the national Facebook page to march on the capital. As many more were signing up at a growing number of marches across the US, the first overseas sister rallies were already being mooted as a core group of global organizers formed: Marissa McTasney (Canada), Karen Olson (Switzerland), Kerry Haggerty (UK), Rebecca Turnbow (Australia), and Brit-Agnes Svaeri (Norway).
Meanwhile, emotions were also running high across the world as Trump's win fueled the rhetoric of far right groups, particularly in Europe, and horrified those who oppose them. The WMW was becoming a global symbol of resistance, garnering international support. The weeks to come would see at least another 20 countries come on board, from New Zealand to Sweden. March tool kits were sent out to help women with the practical logistics, messaging groups formed, and weekly Skype calls enabled all global organizers to update and support each other.
London organizer, Emma McNally, said:
Donald Trump's election really felt like the last straw. The Women's March on Washington was just starting up and within a couple of days a group of women in London had found each other to start one here. We immediately started to contact organizations, groups, individuals across all areas of social struggle: poverty, misogyny, racism, the environment - wherever people are fighting back against inequality and injustice. We have encountered wholehearted enthusiasm and support from all quarters to unite and to form an alliance.
International coordinator and London organizer, Kerry Haggerty, has been overwhelmed by the growth and unity of the movement. She said:
Women across the world are stepping up, lending their time and their talents to be a part of this global movement; to unite and be a powerful voice in opposition to all the hate and divisiveness and to make a stand defending their rights and the rights of others.
Each international march will have its own autonomy, character and distinct motivations for taking to the streets but some themes are common. Although many view this as a protest against Trump, the US national WMW is keen to stress the marches and movement are not anti-Trump per se but a proactive stance on women's rights and empowerment across healthcare, economic stability, political representation and safety. Protecting the Paris Agreement on climate change and defending human rights for all are also high on the global agenda.
There is still much work to be done in the coming weeks and beyond, but in two short months thousands of women from diverse backgrounds across the US and the world have united to ensure all our voices are heard. Together, we have created an international network of peaceful and inclusive marches but also an invaluable resource we can build on for the future of the planet.
Evvie Harmon sees the movement holding together well after January 21, providing ready made networks for local, national and international campaigning. She said:
"Let's get out. Let's roar. Let's be loud and let's not go away."
Looking for an international march to attend on January 21? Check out these Facebook pages: Amsterdam, Netherlands; Auckland, New Zealand; Barcelona, Spain; Berlin, Germany; Brussels, Belgium; Copenhagen, Denmark; Edmonton, Canada; Frankfurt, Germany; Geneva, Switzerland; Heidelberg, Germany; London, England; Malecon, Mexico; Oslo, Norway; Ottowa, Canada; Paris, France; Rome, Italy; St. Johns, Canada; Stockholm, Sweden; Sydney, Australia; Toronto, Canada; Vienna, Austria; Wellington, New Zealand; Jalisco, Mexico. New marches are being added every day. If you cannot find the city/country you are looking for check the interactive map on the main WMW website, or start a march of your own by emailing sisters@womensmarch.com.
Related
Popular in the Community