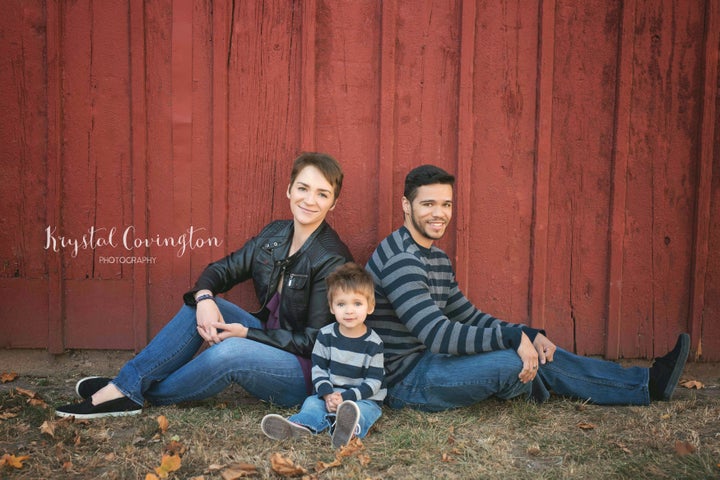 Victoria Baldwin and Adam Dyson were married for about three years before getting divorced in early 2015. Together, they have a 4-year-old son named Bruce.
A professional photographer, Baldwin says she only has a few photos from her childhood and that none of them include both of her parents, who were also divorced. So when she booked a photo session for herself and her son two years ago, she called Dyson and asked him if he would like to come along. A year later, they recreated the tradition of taking a family photo that included both parents.
"Now that we no longer live in the same state, we planned this most recent photo with intention, because it'd been over a year since our last photo, and Bruce is spending longer periods with one parent due to our relocations," Baldwin told The Huffington Post.
The mom shared her story, along with four family photos ― two from when the couple was married and two taken after their divorce ― on the Love What Matters Facebook page, where it's been "liked" over 13,000 times.
"We are not in love, we don't always agree, we're not best friends, sometimes we don't even like one another. But you know what we are? We are forever connected because of our beautiful, smart, kind, compassionate, funny son," the mom wrote in her post.
Even weeks before the divorce was finalized, the co-parents went out of their way to celebrate holidays like birthdays, Christmas, Father's Day and Mother's Day together for at least a few hours. Now that they live farther away from one another, the photo shoot is one way they have made the extra effort to give their child family memories where everyone is together.
"Adam and I are not perfect co-parents, but we made a deal when we got divorced, to put our son first and to value the richness that we each bring to his life, for different reasons," she wrote. "So yes, we still have a family portrait taken, and I still pay good money to have the images printed, framed, and placed in our son's bedroom; he may not grow up with parents who live in the same house... but he will grow up to see respect, kindness, empathy, compassion, perseverance, flexibility, and even sacrifice being modeled by both of his parents and he will know it is possible to fall out of love but never fall apart."
Baldwin says that despite the hurt feelings that inevitably accompany a divorce, she makes a genuine effort not to act on emotions and instead to place their son's wellbeing at the forefront of the former couple's interactions.
Growing up as a child of divorce, Baldwin often felt as if she was leading two separate lives with two separate parents and wants to set a different example for her son. While Baldwin and Dyson have both entered and left other relationships since their divorce, they have always maintained their present relationship as two people who are no longer together, but who are "loving their son together."
"We go above and beyond to include one another because we are not simply ex-husband and ex-wife ― we are parents to Bruce, first, foremost, and most importantly," Baldwin told The Huffington Post. "We hope that Bruce learns that you can still have someone in your life, even if they aren't romantic any more, and especially if they are the parent of your child."