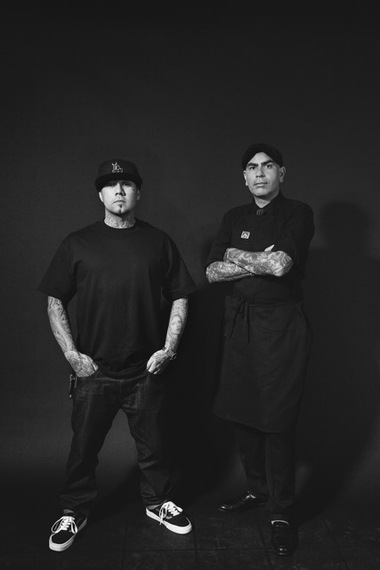 Los Angeles based barbers, Pedro Zermeno and Scott Serrata are master in their field. With their personal line, Imperial Barber Products, they have set out to elevate the quality of men's grooming. With two core principles guiding the brand (Made by barbers. Made to work.) they have quickly become the style purveyors of choice when it comes to the confident man. As their product expands from the barber shelves and into Nordstrom's, I caught up with them to talk about what makes a man an Imperial Man, what makes a great product, and why should we care so much.
What is Imperial doing that's different from other grooming lines?
Pedro: We are all about simplicity and being at the forefront of men's grooming. We have really narrowed down our grooming line. We don't need to come out with several products to get the same results like other companies. We have a handful of products that do multiple things.
Scott: We made Imperial Barber Products better than other brands by focusing on better ingredients in our products that are good for the hair and good for the face. All of our products are water based.
Pedro: And we're real barbers. With our shop Razorbacks, we test everything on our clients for their feedback and don't release anything new until it's perfect.
What's the main philosophy of the Imperial Man?
Pedro: The Imperial Man has a confidence in well-grooming. It becomes about valuing your personal self-worth and taking care of yourself. Taking the time to really take grooming seriously forces you to take time for yourself. Outside the quick rinse off in the shower and throwing something in your hair to rush out the door, it a mental preparedness instead of a last minute rush. It's a ritual made just for you to enjoy.
What products are you excited to release this year?
Scott: We have a product called, Free Form Crème. This product is for somebody that needs a light hold or to catch stray hairs. Where a lot of people use a petroleum or Vaseline to achieve a similar hold, our product offers a crème base. It's for when you want to achieve that effortless type look.
What are your go to products?
Pedro: I use the Pre-Shave Oil when I shave my face. The Pre-Shave Oil can be for someone that has sensitive skin. Additionally, let's say you have a mustache or beard and you want to line it out, with the Pre-Shave Oil you can see exactly where you need to take the line unlike using shave crème.
Scott: I use the Gel Pomade because it dries hard. You can sweat, be in the sun and it does not break down. In fact, Pedro and I went on a 50-foot high water slide and I had the Gel Pomade in my hair. Pedro without exaggerating told me my hair looked the exact same as it did before it hit the water. It did not move. Now this product is water based so it will wash out with either our 3:1 or really any other shampoo. But this just goes to show, it can still maintain a great look even if it you sweat, move or expose your hair to some amount of water.
What do you love about being barbers?
Pedro: We love that as a barber we can have a play on medical world. We are known as surgeons, as well as psychologists. It is our job making people look good and listening to the customer. As their barber they are able to talk about more than what they typically can share with their friends. It gives you a chance to really get to know your client. It is gratifying to hear that different customers have the understanding that what is said in the barbershop stays in the barbershop.

Any celebrity clients?
Pedro: Everyone is a celebrity. We can name drop people but that is not fair to our other customers that are just as valuable and important. Everyone gets treated same and receives the same care. At our barbershop; Razorback, that is what it is all about- a mutual ground for all.
What's the look for the summer going to be?
Scott: It is not about what is the summer look or the winter look. It is about the look that looks great and suits you. Each haircut is about customization and giving you the confidence you need to be your best. That is what we do. We make each person look and feel great. That is what Imperial is all about.