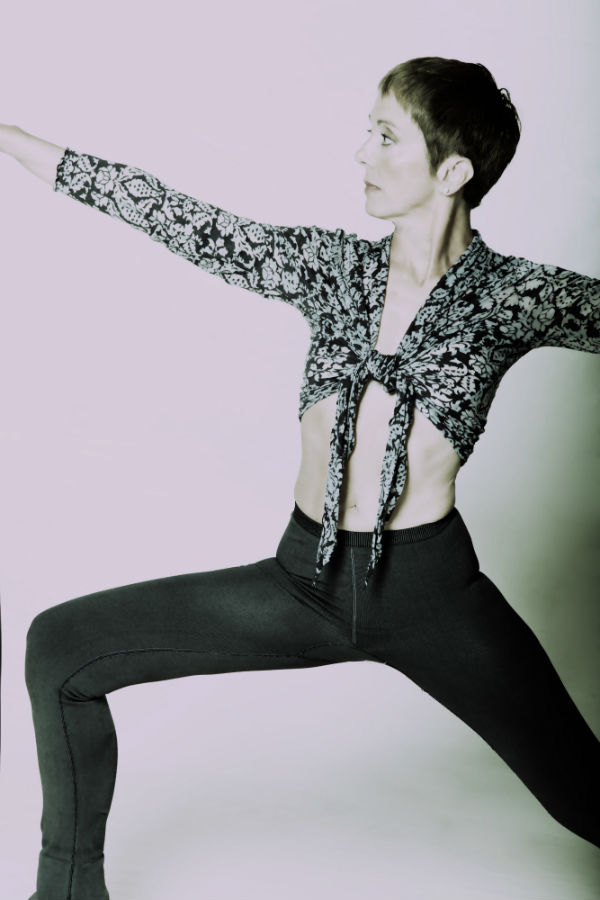 Let's get some things straight right off the bat. 1) I'm neither a genius nor a fabulously disciplined super-athlete. 2) I was never, ever, a "natural athlete" (a click murmur and early health problems, plus my usually being 3-4 years younger than my classmates pretty much kept me out of "school sports" altogether: I stood 5'6", as a 15-year-old college freshman, and weighed 140 lbs. Ech!), and 3) I've always had a tendency to eat the entire pint of Ben & Jerry's (Coffee Heathbar Crunch) once I stick my spoon in the container.
Those facts out of the way, I'm as vain as the next Western woman; I inherited my mother's desire to remain, well, desirable, well into old age; and -- strangest of all -- took up yoga at around age 30, and kept at it, even "picking up speed" and launching myself into Iyengar yoga at age 50. (Thirty years an academic, I taught writing, and journalism and literature at the university level before switching to teaching yoga at age 55.)
Then, surprise! At age 58, like so many on the Boleman side of my family, my mother's side, my back broke in two just at L4/5.
Only about three surgeons in my area, perhaps in the U.S., do the kind of minimally-invasive spinal fusion surgery I elected to undergo -- well, heck, I had no choice, did I? -- and I was fortunate enough to be right on the doorstep of the very fellow I needed: a tall, gangly, breathtakingly-handsome neurosurgeon named Alfred Ogden, who operates with aplomb in New Jersey and New York City.
He asked me, at our first meeting, when I wanted to do it. I responded, "Tomorrow." Neurosurgeons not being noted for their humor, he took me dead-seriously, and consulted his calendar. I said, laughing, "No, no, Doc. Give me a couple of weeks to prepare for this." So, he did. But, then, I was quickly at Valley Hospital, as trusting as a Pascal lamb, being put under for some very serious spinal rearrangement on May 20, 2010.
On the operating table, when they flipped me to begin work, my spine separated. It came asunder, so to speak. I'd got there not a minute too soon.
Dr. Ogden thought I'd be back on my yoga mat in two months, max. I wasn't. Instead, for about a year, I felt as though I'd been strapped into some sort of huge invisible papoose-like contraption which prevented me from "articulating," fully, in any direction. And I hurt like the dickens just donning my underwear, which I had to flip into the air with one foot and catch on a toe to put on.
For the first six months, my spine had a 1-IQ mind of its own, and was calling all shots. Basically, I lay down on the sofa, and mainlined carbs. I was wretched, this former yoga teacher; this formerly flexible and svelte middle-aged-but-who-knew-it paragon of activity and healthy living.
I went from 125 to 158 pounds, seemingly overnight. And, somewhere along that line, I gave up all hope of regaining my mobility, my freedom from pain, my skills in yoga, my former good looks: Shoulder stand is a bitch when you have 42" hips.
I, who had worn a string bikini from my 20s to my 50s, bought a huge, black, one-piece suit from Lands End. Online.
About a year plus a few months out from surgery, though, something shifted. And it shifted, primarily, in my head.
I decided to fight my way back.
I returned to Weight Watchers. I'd been there before, on and off. But, this time, nothing doing: the weight just stayed... and, when I got on the mat, the asana were still too painful to perform.
No one could help, either. No one had "been there." Rehab, which my insurance company must have paid through my hat for, post-op, was a joke. I realized I was going to have to do this myself. Somehow. Cross-training proved the way around my back's recalcitrance.
In a warm climate (well, I do have Greek citizenship, and wrote an online guide to Greece), I took six weeks and: 1) swam 40 laps a day in an Olympic-sized pool (breast stroke one way, back stroke the other), 2) did 45 minutes on an elliptical, and then used whatever upper- and lower-body gym machinery my back would allow, and 3) swam in the sea for several hours, setting no records, primarily just snorkeling lazily.
OK. OK. Not everyone can go to Greece for six weeks, but most of us have pools, gyms, etc. in our immediate vicinity. No excuses!
And everyone has a blender.
...Because the other thing I did was examine my diet, and decide, scientifically, how to lose those 40 lbs. On my own. I did ask my doctors and a nutritionist what they thought of my plan, but I was going to follow it, really, no matter what they said. Thank heaven, they approved.
I developed a shake, which I consume (with a spoon) once a day, usually for lunch, and that's the main ingredient in my success story.
For breakfast, I have: an enormous homemade latté, made with Illy coffee, non-fat half and half plus 1 percent milk, and sweetened with Truvia; a low-fat pro-biotic yogurt; one teaspoon Kyo Green Powdered Drink Mix in one cup of grapefruit juice; a piece of fruit or a sliced tomato; and five little whole-wheat rusks (from Italy) smeared with Benecol and Marmite.
For dinner, I eat about 1.5 cups of nonfat Fage Greek yogurt, with about half a cup of "naked" (no salt; no oil; no preservatives) mixed nuts, seeds and dried fruit: cashews, almonds, pumpkin and sunflower seeds, dried cranberries, raisins; and a sprinkling of (real, unsweetened) Muesli. I drink nothing but organic veggie-fruit juices, cut with filtered water, after 5 p.m.
Once or twice a week, I take in either a high-quality burger (bun-less) or steak with a huge salad; sushi or sashimi with miso soup; a Cobb salad with grilled chicken; or a vegetable omelet, instead of my shake.
No alcohol. No preservatives/artificial colors/additives I can identify. No added salt. No recreational drugs. No cigarettes. No gluten. No sugar. During the course of the day, I take all the vitamins in one of the Vitamin Shoppe's high-end vitamin packets for women.
And, in less than one year, I've gone from 158 to 118 lbs, 42" to 34" hips, am back on my mat, doing better yoga than I've ever done before, my cholesterol and other blood work is stellar, my blood pressure and resting heart rate are those of a 20-year-old athlete... and my surgeon, also a yogi, wants to make me his poster girl, umm, woman.
I'm also back in a tiny bikini.
This regimen isn't for everyone, but it certainly works for me. And, I promise you, I'm never hungry.
In a blender, I add, and blend on high:
1 to 1 1/2 cup(s) unsweetened almond or rice milk
1 cup each: frozen butternut squash (or carrot) cubes, guava chunks, mixed berries and banana chunks (I cut up and freeze my own ripe bananas). I may substitute other frozen fruits and vegetables such as beets, peaches, kiwis, and apricots: I buy what's in season, chop it up and freeze it in big Ziplocks.
2 Scoops of high-quality whey protein powder, vanilla-flavored. (I use a brand from the Vitamin Shoppe.)
½ Cup 0% Fat Fage Greek Yogurt
1 T psillium fiber crystals
2 tsp Kyo Green Powdered Drink Mix or Garden of Life's Perfect Food Super Green Formula
½ to 1 Cup All Bran cereal
1 packet of Truvia
At least 2 T extra-virgin olive oil
Today, I was at Marshall's trying on some size 4 jeans, when a woman in the next changing room -- 75 and about 250 pounds at 5'7" -- asked me how I stay so slender and fit. I promised her I was going home to write this column for her. I asked her, then, how old she thought I was, and she replied, levelly, "Forty." I explained that looking and feeling 40 at 60 involves some determination -- even more when one's back decides to go both north and south one fine day -- but that my best yoga student, when I stopped teaching in 2010, was in her 70s... and that I'm now back on the mat right beside that student, in my former yoga teacher's classes, for about six hours of Iyengar yoga per week.
One day soon, too, I know I'll be teaching again, myself. Very soon.
P.S. I mention brand names for the products I consume, but I get no kickbacks, Dear Readers. I came up with this shake on my own, and I stand by it but, I assure you, I'm not really interested in "advertising" those who produce its components: I'm interested in the results I got.
Photo of EB-H on her 60th Birthday by Dionysis Tsipiras
For more by Elizabeth Boleman-Herring, click here.
For more on personal health, click here.