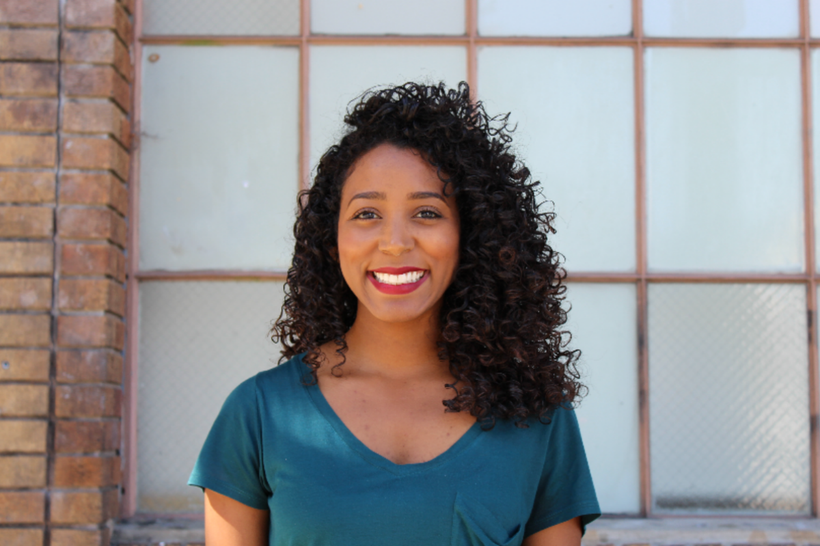 7:15am: My alarm goes off. I roll out of bed and scan my calendar from my phone. It's going to be an eventful day at Code for America, where our team of 50 leverages technology and design to create effective government services that help underserved Americans. Before heading to the office, I squeeze in a quick trip to the gym.
7:45am: I run on the treadmill while listening to NPR's More Perfect (the Radiolab podcast's spin-off series). They cover Supreme Court cases, which I love because I'm a total government nerd. Today's episode is about the origin of gun rights in the U.S. and how previous rulings affect current debates around gun ownership. Given my work redesigning government criminal justice services at CfA, I'm always interested in better understanding government systems, and I find this episode particularly captivating.
9:00am: After a quick shower, I'm dressed and running out the door (yep, literally running) to catch the bus on the first leg of my commute to the Code for America headquarters in San Francisco's Civic Center neighborhood (home to many of the city's largest government and cultural institutions). I read a few pages of Americanah by Chimamanda Ngozi Adichie on the 10-minute ride before I hop off and weave my way underground to the train.
9:20am: I head into Code for America. Our office, located inside a cool brick building that used to be a leather factory, is buzzing with activity. I say hello to teammates congregating around coworking tables and eating breakfast in our library nook. As I head towards the kitchen, I walk past a large wall featuring the words "Government can work, for the people, by the people, in the 21st century" – our mission statement. This is always a great reminder of why we're here: To improve the way government works and make communities better. I grab a bowl of Cheerios and a cup of tea, and I head downstairs.
9:30am: I walk through the doors of our "war room" in the basement, where my team of seven amazing collaborators is gathering for our morning standup. I lead the design and user research for a product I cofounded, Clear My Record: a web app that helps people apply to clear old convictions from their criminal records. We're committed to our mission of helping people pass a routine background check so they can qualify for jobs, housing, and educational opportunities from which they're typically excluded. The walls are covered in post-it notes and sketches from yesterday's brainstorming session. I walk the team through the four experiments we're currently running to test whether we can help people apply to clear their old convictions from their criminal record without relying on the help of a public defender or legal aid attorney.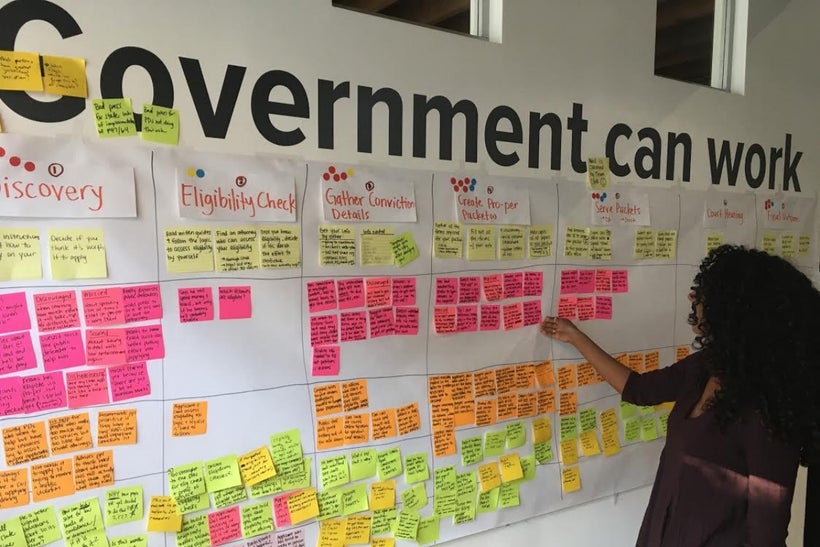 10:00am: After the meeting, I stick around the war room with one of our design fellows. We turn up a fun Cumbia Colombiana Spotify playlist for some upbeat background music as we sketch wireframes for an idea we had yesterday. We're trying to figure out how to help people get a copy of their criminal record with little-to-no effort on the applicant's part. Applicants who wish to clear their record usually drop out of the process because it requires a lot of errand-running that they don't have time for and can be confusing, intimidating, and costly. We want to streamline it for them.
11:00am: We wrap up our meeting with a plan to test our idea with real people who need copies of their records: We'll put up a landing page that links to a Google form, asking people for their basic information so we can chase down their court records for them. Once we get about five interested users, we'll go to the county courthouse ourselves, pull their records, and email them back to the applicants – ideally in less than one week. Like you often see around CfA, we get pretty excited about what is normally considered a mundane and annoying government errand (like standing in line at the courthouse to get a copy of a court record).
11:30am: Time for our diversity and inclusion group meeting. I was involved in starting CfA's D&I group, a rotating group of employees from different departments who meet weekly to discuss diversity and inclusion. Today's our first official meeting of the quarter. Seven CfA employees from different teams, including our CEO and COO, gather to finalize the organization's goals for the rest of the year. I share some ideas about collaborating with another group I founded at CfA, which gathers employees of color for happy hours and lunches. I'm excited to find ways to include this group in the ideation, feedback, and decision-making of the D&I working group.
12:00pm: My favorite lunch of the week: safety and justice book club! Every Tuesday, a handful of coworkers working on tech projects within the criminal justice system eat together and discuss a relevant book. So far we've read The New Jim Crow by Michelle Alexander, Writing My Wrongs by Shaka Senghor, and Locked In by John Pfaff. Now, we're in the middle of Courtroom 302 by Steve Bogira. As we eat, we get into a debate about jury trials versus plea bargains. It can be easy to feel defeated when faced with the injustice of the system, but one of our engineers ends the discussion on a positive note, reminding us: "You just have to focus on the people in front of you and help them the best you can."
1:00pm: I hop on a call with one of my favorite Clear My Record partners to discuss an experiment we set up last week. We designed a screener that asks applicants simple yes or no questions about their conviction history. Based on their answers, we estimated what type of relief we think they're eligible to receive. On the call, we compare our estimates with actual data to see how well the logic we wrote works. After reviewing 15 applications, we find that our estimate matched the data 73 percent of the time. This is great news: Our logic seems capable of determining eligibility without the cost of a lawyer! This means we're one step closer to helping people file on their own. We decide to revise our screener and try it again, since we're on the right track.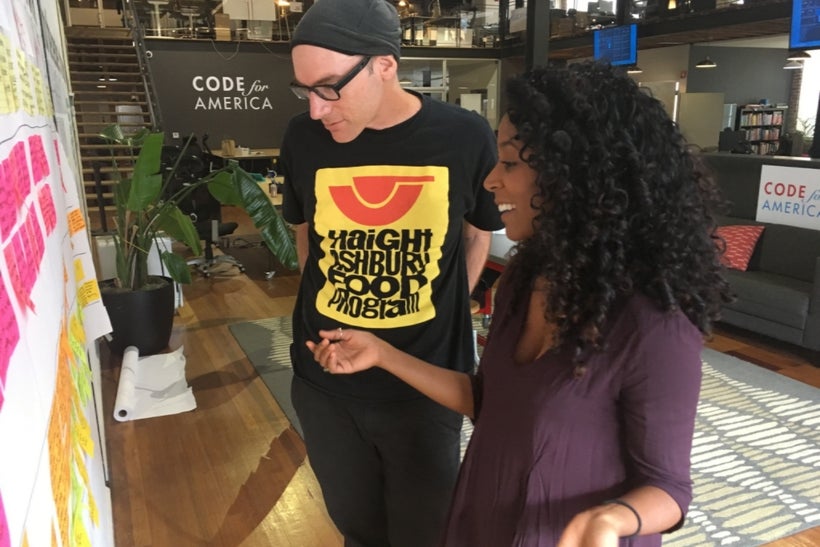 2:00pm: I head up to my desk on the lofted mezzanine level of our workspace and update the eligibility screener we just tested to reflect our findings. Using SurveyMonkey (a free online survey tool), I add a couple of new questions that should improve our success rate in the next trial.
3:00pm: I get to work adding a page to Clear My Record that allows applicants to review their submission before their application is sent to public defenders. I make mockups of what the "review submission" page should look like, and write the copy for any validation messages that might be displayed if something goes wrong. Then, I finish up mockups in Sketch (a digital design toolkit) and put them into a design spec in Mural.ly (a visual collaboration workspace).
3:45pm: Time for a break. Ben, the developer who cofounded Clear My Record with me, joins me for some fresh air. We walk down to the Twitter building around the corner and grab coffee at Blue Bottle. He tells me about a coding dilemma he's working through, and I excitedly share the successful results from our eligibility screener. We take a lap around around the block and head back to CfA.
4:00pm: I hop on back-to-back calls with Clear My Record applicants from Fresno County. The first is with a student from Fresno State. He's about to graduate and is worried that his record will prevent him from getting a job after college. He hasn't started the process of clearing his record on his own because he's worried he might have to pay up to $300 in court fees. The next call is with an applicant who was convicted of two felonies over 10 years ago. Since then, he's gotten two degrees, but he hasn't been able to get a job in his field of study. He hasn't finished clearing his record on his own because he has to get a copy of his criminal record and doesn't know where to start. Both calls illuminate pain points that my team should be aware of: The inability to pay potential court fees and the lack of access to one's criminal record.
5:00pm: I sketch out some ideas for what Clear My Record could look like if we didn't send applications to public defenders, instead helping applicants complete the entire record-clearing process by themselves. Think: "TurboTax for record clearance." We want to have a clickable prototype ready by the end of the week to put in front of potential applicants for feedback. We're probably going to recruit about 15 participants to meet us at Starbucks in the Bayview for user testing.
5:30pm: Some team members wave me over. They're putting some new features into code and have a few questions around notifying applicants when their contact information has been changed. We work through their questions together.
6:00pm: Work day completed. I find a good stopping point and head out the door. This semester, I'm taking an intermediate painting class at the Community College of San Francisco (community college is free for SF residents!). I catch the bus to the studio and pull out my phone, jotting down a to-do list for tomorrow: "put up a craigslist ad to recruit participants for experiment, finish slide deck that summarizes our progress so far, draft method for running critiques with CfA designers." Writing a to-do list at the end of the day helps me decompress.
6:45pm: Once I arrive at the CCSF painting studio, I can finally catch my breath and unwind. I setup my huge 30x40 canvas and oil paints, put a Nina Simone playlist on Spotify, and lose myself in paint. It's a nice way to let go of all things work for the night.
10:00pm: After three hours of painting, I arrive at home. I'm still buzzing with energy, so I dim the lights and meditate using the Headspace app's guided "End of Day" meditation to relax and reset.
10:15pm: I heat up some gluten-free spaghetti I cooked earlier this week and eat dinner while watching Game of Thrones. After an episode, I'm ready to call it a night. I read in bed for about 15 minutes before falling asleep.
Here's a talk I gave at the Code for America summit:
The Well is the digital magazine of Jopwell, the career advancement platform for Black, Latino/Hispanic, and Native American professionals and students. Subscribe to receive weekly stories and advice from The Well in your inbox. Code for America is a Jopwell partner company.
Calling all HuffPost superfans!
Sign up for membership to become a founding member and help shape HuffPost's next chapter
This post was published on the now-closed HuffPost Contributor platform. Contributors control their own work and posted freely to our site. If you need to flag this entry as abusive,
send us an email
.