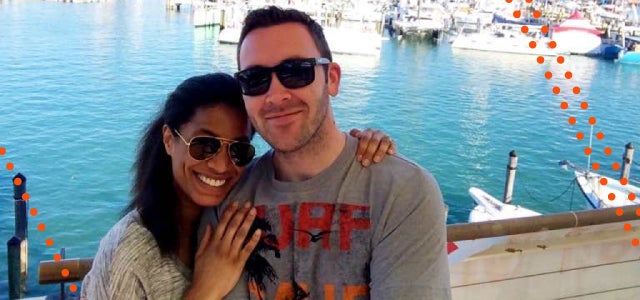 On the outside, Danielle and Jonathan (J) might look like the perfect couple: young, beautiful, successful.
But the truth is they were more than $70,000 in debt — mostly because of student loans.
Then, two years ago, they decided to do something about it.
"I simply wanted financial freedom, to be able to lay my head down on my pillow at night and not ever have to worry about where the next dollar would come from to pay an outstanding bill," explains Danielle, who blogs under her first name only at The Pennies We Saved.
They've since paid off $52,000 of debt — while starting a family. Here's their story as well as some helpful tips to pay off debt.
'We don't make enough money for that'
It was May 2015. J worked in business systems analysis, and Danielle worked in the insurance department at a large hospital. They made a good combined income — between $85,000 and $110,000 — especially given the low cost of living in Minnesota.
But they were $73,000 in debt: $60,000 from student loans and the rest from medical bills and car payments.
Their wake-up call came, as it usually does, in an unexpected place.
They were on vacation, driving along the coast in Danielle's home state of California, when she turned to J and asked, "Can you imagine what it would be like to wake up every day and walk to the beach?"
His response: "We don't make enough money for that."
At that moment, they realized it was time for a change. If they ever wanted their surf-and-sand dreams to come true, they couldn't wait any longer.
Their first step? Tackling that debt.
"We [had] been in debt for years, and we absolutely hated its guts," Danielle writes. "So together, J and I created a goal: to become completely debt free (except for the house) by 2020."
How they started paying off debt
When they returned from vacation, they created a budget and sold whatever they could. They also started following Dave Ramsey and using the debt snowball technique he recommends.
Here's how it works: You write out your debt obligations from smallest to largest and focus on paying off the smallest one first. Although it makes more financial sense to pay off your highest-interest debt, this technique gives you an immediate psychological boost.
"I would only recommend the debt snowball for those who have a hard time waiting to see progress," says Danielle. "It allows for the small and fast wins."
Once they made some progress and no longer needed the thrill of small gains to stay on track, Danielle and J transitioned to the debt avalanche technique (which involves paying off your highest-interest debt first).
They continue to be "very frugal," according to Danielle, who explains, "We like to keep a substantial amount of money in our savings, and anything beyond that we throw to our debt."
They also have side hustles: She freelance writes, and he buys and flips bicycles. "It takes a lot of commitment," she says. "But in the end, it will be worth it."
Along came baby: Pausing debt payoff
Like many people in their generation, Danielle and J knew they wanted to start a family but hesitated because of their financial situation.
"We quickly realized that being financially ready for a baby would likely never happen," she says. "So we simply changed the way we approached paying off our debt."
They continued to pay their bills but paused the debt snowball.
Instead of putting their extra money toward debt, they popped it into a savings account.
By the time their daughter was born, they'd saved the equivalent of 35 percent of their annual income.
"When you are expecting, stop the debt snowball and focus on your savings," Danielle writes. "You never want to assume that you won't face any financial hardships prior to or after your delivery day."
After their daughter was born, Danielle quit her full-time position. She now works from 2 to 7 p.m. each weekday as a secretary in the health care system.
"The hours work out perfectly because we are able to arrange care for our daughter with family and friends rather than paying for daycare," she says.
5 favorite tips for paying off debt
Danielle and J have paid off $52,000 of debt in two years — an unimaginable feat for most people.
But they aren't done yet; they hope to extinguish all their debt (besides their mortgage, of which $150,000 remains) by the end of this year. They have about $21,000 to go.
They'd also like to retire by age 50 — just 20 years from now.
Currently, they're investing only up to their companies' matches in their 401(k)s. But Danielle says, "Once we pay off all of our debt, we will start looking into mutual funds. Shouldn't be too much longer!"
Do you want to become debt-free like Danielle and J? Here are five of their favorite tips to pay off debt:
Find an accountability partner: "Having the support of my husband keeps me extremely focused, especially since we are in this together," Danielle writes.
Tape your goal on walls and mirrors around your house: "It'll keep the fire lit underneath you," she says.
Join debt-free living communities on social media: Danielle recommends Facebook and Instagram for finding inspiration from like-minded people.
Read books and blogs and listen to podcasts: She loves The Dave Ramsey Show — especially the "debt-free screams."
Give yourself rewards: Danielle and J plan to take a long vacation when they finish paying off their remaining debt.
Although Danielle and J found Ramsey's teachings to be invaluable, they don't think any debt payoff technique is one-size-fits-all.
"Don't feel pressured into following one method to a T," says Danielle. "Find what works best for you. Tweak things around, but make sure you remain focused and make progress."
And even if it feels overwhelming, don't wait.
"Everyone has to start somewhere," she says. "If you don't start your debt payoff plan today, you'll never get out of debt."
More from StudentLoanHero.com
Related
Popular in the Community