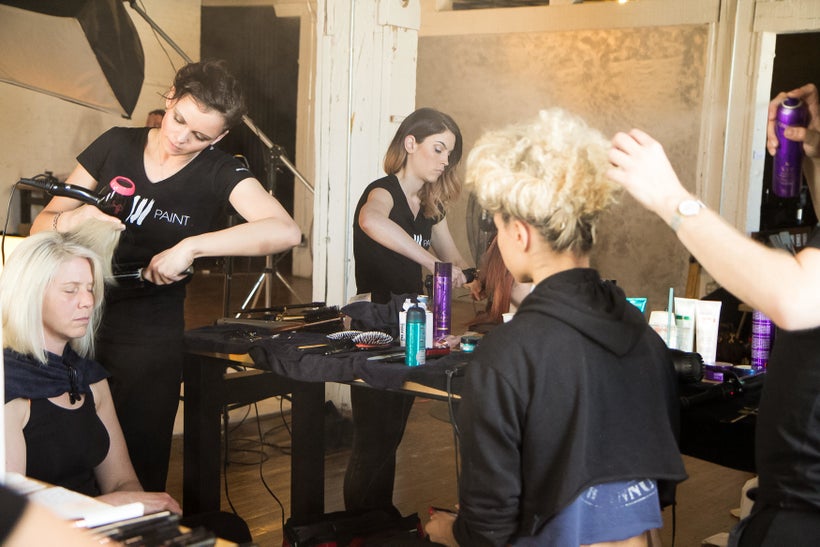 It's said that the best startup ideas come from a founder building a company around a need they have in their own lives. For professional makeup artist, Jessica Mae, this is exactly how she came up with the idea for Warpaint International—an on-demand, luxury beauty service that recently landed her on the Minneapolis 40 Under 40 list as a leading young business leader. This is just one of many awards the female entrepreneur has under her belt, in addition to being the RAW Makeup Artist of the year in 2011, and the company receiving the Innovation in Retail Award in October of 2015 from the National Association of Women Business Owners. Her agency, Warpaint International, has received a handful of accolades from The Knot, Wedding Wire, and others in the Minneapolis area.
And this is only the beginning.
Warpaint International embodies the ideal footprint of a modern day startup. With no brick-and-mortar space, the company is built to provide high-end beauty services, anytime, anywhere. They are a true beauty agency, sourcing the best local talent to provide hair & makeup for weddings, photo shoots, runway fashion shows, editorials, lifestyle brand production, special events and everything in between.
Mae, who grew up with a knack for the art of lifestyle beauty, always knew she wanted to use her form of self expression to empower other women. But it wasn't until she met her now-husband, Samuel J. Koza, a digital entrepreneur and current CEO of Warpaint International, that she saw the real vision for the company. Together, they took Mae's talents in beautification and Koza's business expertise to create what is now one of the leading competitors in the on-demand beauty space.
To those wondering the size of the market, the beauty industry is projected to hit $500 billion by 2020. And for who else is on the Warpaint International radar, you need only look at one of their competitors, GlamSquad. Based out of New York City and funded by the former CEO of Gilt City, GlamSquad was originally a technology company with the mindset of selling from the get-go. They began by raising $2M in funding back in 2014, and have since raised significantly more capital. They are strictly an app-based beauty services booking company.
Warpaint International's path has been different. Bootstrapped from the beginning, they have made every decision along the way to preserve quality over quantity, demanding a certain level of expertise that ensures the delivery of an exceptional final product to each and every customer. Go back far enough, and you'll see that Warpaint International existed long before GlamSquad, and intentionally passed on fundraising efforts that might have forced the team and company to make short-sighted decisions that would compromise the final product.
"Our team goes through an extensive hiring process before we contract any talent," said Mae, CCO of Warpaint International. "Our interview process starts with a thorough review of each applicant's portfolio, resume, and their social media presence. From there, we conduct a 'get to know you' interview, where we have the opportunity to learn more about who they are and their experience as a professional. And then finally, we have a technical interview, where the applicant brings in a model and we see their skills in action. We vet each and every one of our contracted artists carefully, and then take the time to educate them on our unique approach and what it means to be part of the Warpaint International brand."
With their educational master classes having rolled out in June, 2017, the company has its sights set on establishing itself not just as a service company, but a leading resource to other leading artists and DIY loyalists.
They currently enlist talent in Minneapolis / St. Paul and surrounding areas, Manhattan, Brooklyn and surrounding Boroughs, Los Angeles, and San Diego.
Calling all HuffPost superfans!
Sign up for membership to become a founding member and help shape HuffPost's next chapter
This post was published on the now-closed HuffPost Contributor platform. Contributors control their own work and posted freely to our site. If you need to flag this entry as abusive,
send us an email
.