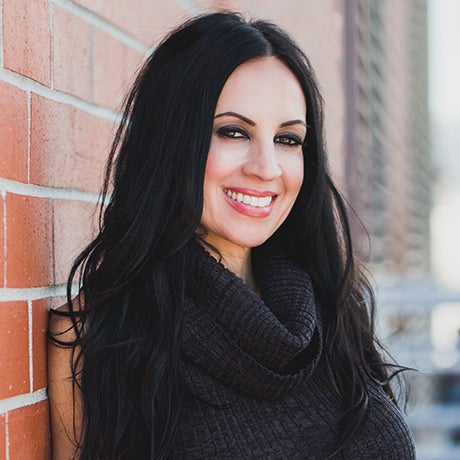 More and more of our digital dating world keeps coming up with new terms for bad behavior. Thought it was just happening to millennials? Think again. My Happiness Hypothesis study found that it is happening across the globe to both men and women for millennials and GenX. It is creating the paradox effect in dating: the illusion of having more social engagement, social capital, and popularity; but masking one's true persona and intent. Is technology driving dating, sex and emotion? Are dating patterns just an extension of how we behave on social networks? I had a chance to explore some of this phenomena with eharmony's content queen, Jeannie Assimos, VP, Content.
Vice President of Content is so inspirational to many of us. Tell us about your career trajectory.
Since I was a kid, I've been interested in telling stories and writing. I pursued a degree in cinema because of my passion for movies and television. I felt that the medium of film allowed me to affect a large number of people in a positive way. My career began at Entertainment Tonight (ET), where I stayed for a decade, until the realization set in that I didn't want to be telling those types of stories any longer. I quit – and the eharmony job landed in my lap three weeks later. Nine years later, I've learned so much about dating, relationships, and continue to be amazed by the stories that meaningfully impact people's lives.
What piqued your interest in the dating and relationship industry?
Honestly, who isn't interested in telling stories about love, breakups, and dating? Understanding how our relationships affect our overall happiness and wellbeing, I quickly discovered the importance of sharing valuable information in order to help people make better choices in their love lives.
How do you think technology has played a role in modern dating?
Technology connects us like never before. I have heard countless eharmony success couple stories where two people actually lived just blocks apart, or even went to the same school, but didn't meet until eharmony matched them. If anything, I would say it is easier than ever to secure a date. Whether you go on a site like eharmony or direct message someone on Instagram, technology is shaping our social lives in very apparent ways.
I talk a lot about what I call Vanity Validation (treating people like we do our social media streams. The shiniest object is what we stop at, then move onto the next shiny object). What are some of the challenges eharmony sees?
Getting people to look beyond 2-3 photos and read what a potential match has to say on their profile continues to present itself as a challenge. We encourage our users to consider a person's entire profile. When I came to work at eharmony, I was really in awe of the relationship labs where couples were studied. It's all fascinating work. Eharmony is actually based on research and science, and thoughtfully puts people together based on what may give you the best chance at a successful, happy relationship. Our divorce rates are 3.8% compared to 50% of the national average.
3.8% Mind Officially Blown! Can I ask what's your opinion of how 2nd wave apps are playing a role in modern dating?
I welcome all of them, because at the end of the day, when you are choosing dates solely based on location and looks, chances are pretty slim you will find a lasting relationship. When swiping fatigue sets in, I would hope these people would come and try eharmony. No one can deny the impact dating apps has on modern dating, because more than 35% of us are using them to help find dates. It's just part of modern life for many of us.
We see so many new dating trends occurring. What are some of the top dating concerns your users report?
18 to 24 year olds were most worried about not getting responses to the messages they send and being ghosted. In contrast, 50 to 64 year olds were afraid of being catfished significantly more than all other age groups, as well as falling for someone who becomes abusive or violent in the relationship.
What can we do to avoid these things?
1. I would say know what you are looking for in a partner . Don't solely base who you go out with on looks alone. Make sure you have something in common with that person – if you are looking for a real connection.
2. If you do find someone online who looks promising, move it to a real-life interaction as soon as possible. I've heard countless stories of people who engage in these online relationships, and never meet. It's not real! You have no idea who you are really communicating with unless you meet them in person.
3. Be smart about the whole process. Meet someone in a public place, let a few friends know where you are going, and get yourself there. Don't have some random person you don't know pick you up at your place! Trust is earned over time.
For women interested in getting into the field, what tips do you offer? Many people who work at eharmony started as interns here! If you are interested in this field, that's a great way to get a foot in the door. Then you can get a better sense of if you are interested in marketing, or technology, or the matching side of things. I started as an intern at ET.
Related
Popular in the Community