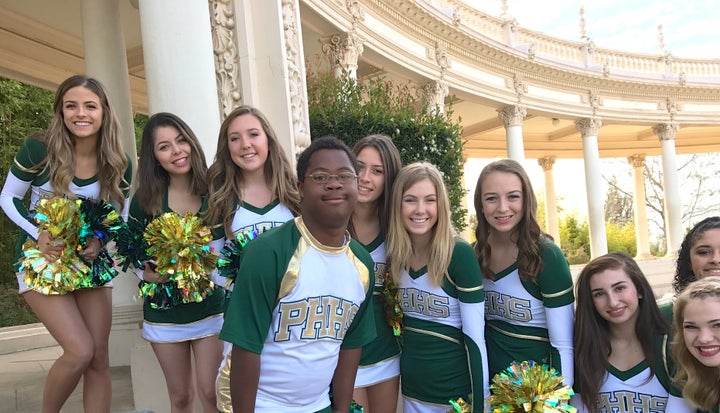 In this special installment of the "Let Love Define Family®" series for the Huffington Post Queer Voices, RaiseAChild Founder and CEO, Rich Valenza, shares this inspiring and true story of inclusion and acceptance.
Ruben is a junior at Patrick Henry High, a school with an enrollment of 2,468 in San Diego, California. This 17-year-old, African-American student has a diagnosis of Down syndrome (ndss.org) and moderate intellectual disabilities. But that's not-at-all how the school's varsity cheerleading squad, student body, or staff see him.
Growing up, Ruben wasn't very verbal. He would say his name when asked, but he wasn't known for initiating conversation. He didn't seem to have that skill. His smile spoke for him.
At his first school rally in his freshman year at Patrick Henry, Ruben witnessed the cheerleaders' sharp, synchronized cheer and dance routines. Ruben watched with sheer amazement because dancing is his favorite thing in all the world. Ruben was already a charming and happy guy, but when given any opportunity to dance, he radiates.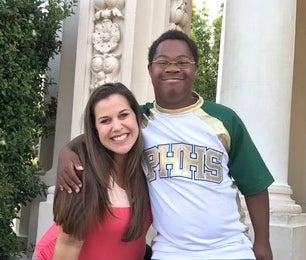 In his sophomore year, Ruben attended every football game and cheered from the sidelines as part of a student pep team. The cheerleaders started to notice him because he would stand up in the bleachers and do every cheer with them.
"For two years, Ruben had been confiding in me, over and over again, that he wanted to cheer," said his special education teacher, Tianna Reitman. "Finally, in the spring of this year, I went to his mom and said, 'Look. Ruben really wants to do this and I think we should let him try it out."
At first Ruben's mother was apprehensive. She was concerned that students might make fun of him. In her own history, she knew first-hand how cruel kids can be.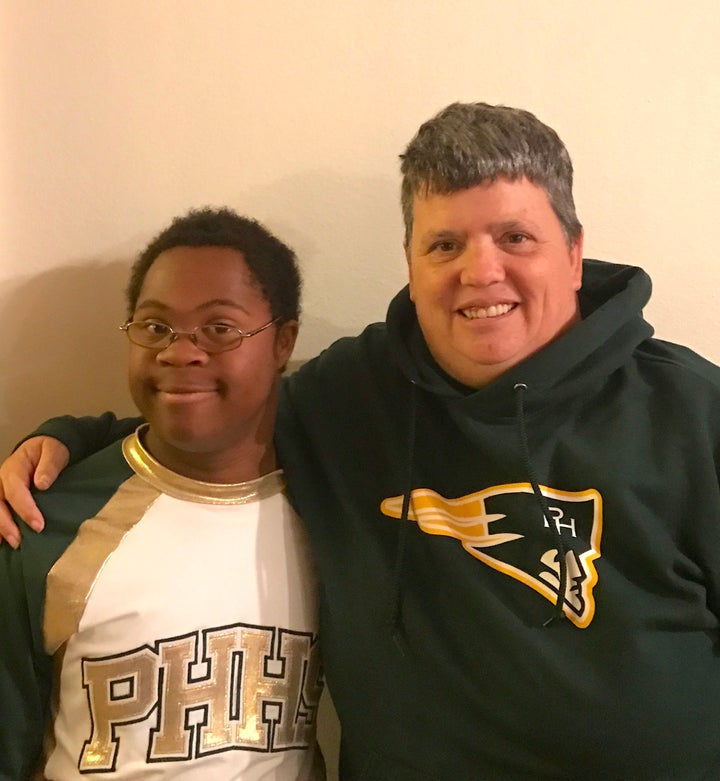 Ruben is the second youngest son of Stephanie White, a lesbian single mother of seven adopted boys. Each son arrived at her home with varying degrees of special needs.
"Ruben is an amazing person and his mom has done an outstanding job raising him," said Mrs. Reitman. "Ruben has a great personality. He is very likeable and easy to get along with."
Mrs. Reitman assured Stephanie that she had great faith in everyone at the school. But, she also created a plan to help insure success for Ruben.
On campus, Ruben is a member of Circle of Friends, a club started by the school's speech teachers. The club meets twice a week to promote inclusion and understanding between general education students and special education students.
"Before going to the coach," said Mrs. Reitman, "I addressed a few of the cheerleaders in the Circle of Friends Club first. The cheerleaders agreed that it was a great idea. In fact, they so loved the idea that they spoke to their coach even before I could get to her."
Two cheerleaders, Emma and Hailey, took Ruben under their wing and worked with him over and over and over and over again to teach him the cheers. By the time he got to tryouts, Ruben could keep up with the cheers. During the five-day process, he surprised everyone that he could do them so well.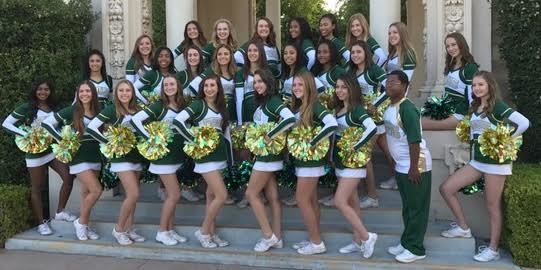 "Our varsity team is made up of 27 girls and Ruben," said Jill Clark, head coach of the Patrick Henry High cheerleading team. "He brings extra personality to the team. He has his own special magic that brightens up everybody."
"I am so proud of Ruben, our entire staff, and student body," states Elizabeth Gillingham, Principal of Patrick Henry High and an avid marathon runner. "At our school, we teach three pillars of citizenship: do no harm, choose words wisely, and be welcoming. I don't think there is a student who doesn't know and love Ruben."
If his mom can't take Ruben to a game, Mrs. Reitman will. From there, Coach Clark and the squad takes over and makes sure Ruben is included and looked after. Things have progressed so well that Ruben now goes to all of the home and away games for football and basketball.
"This is wonderful for all schools to see," states Mrs. Reitman. "At a few away games, the whole other side started cheering and chanting Ruben's name as encouragement. That is awesome to witness."
"I have 20 years of coaching experience," admits Coach Clark. "Having Ruben as a part of our program brings so much more to our cheer squad. He brings a different kind of love and energy. He's just a really cool kid from a great family. We are definitely very privileged to have them be a part of our program."
The coach continued, "I think the girls definitely help with Ruben's confidence. He's not only developed as a cheerleader, but as an individual. Over the summer, we have all definitely noticed that his social and conversational skills have grown tremendously."
Now, when Ruben and his mom ride home from cheer practice or a game, they no longer ride together in silence. Ruben initiates conversations with questions like, "What did you do today, mom?" And Stephanie is right there to cheer him on, just as she has done for Ruben's six brothers.
Have you thought about building or expanding your family through fostering or adoption? RaiseAChild is the nationwide leader in the recruitment and support of LGBT and all prospective parents interested in building families through fostering and adoption to meet the needs of the 415,000 children in the foster care system of the United States. RaiseAChild recruits, educates and nurtures supportive relationships equally with all prospective foster and adoptive parents while partnering with agencies to improve the process of advancing foster children to safe, loving and permanent homes. Take the Next Step to Parenthood at www.RaiseAChild.org or call us at (323) 417-1440.
If you live in Southern California, RSVP now to attend free 2016 RaiseAChild Parenting Info Sessions:
• Wednesday, Nov. 16th at 6:30 p.m. The Prado in San Diego
• Tuesday, Nov. 29th at 6:30 p.m. The Montalban Theatre in Hollywood
• Wednesday, Nov. 30th at 6:30 p.m. Museum of Latin American Art in Long Beach
• Thursday, Dec. 1st at 6:30 p.m. TAG Gallery, Bergamot Station in Santa Monica
• Saturday, Dec 3rd at 11:00 a.m. Pitzer College in Claremont
• Monday, Dec 5th at 6:30 p.m. All Saints Church in Pasadena
• Tuesday, Dec 6th at 6:30 p.m. University of Redlands in Redlands
REAL LIFE. REAL NEWS. REAL VOICES.
Help us tell more of the stories that matter from voices that too often remain unheard.