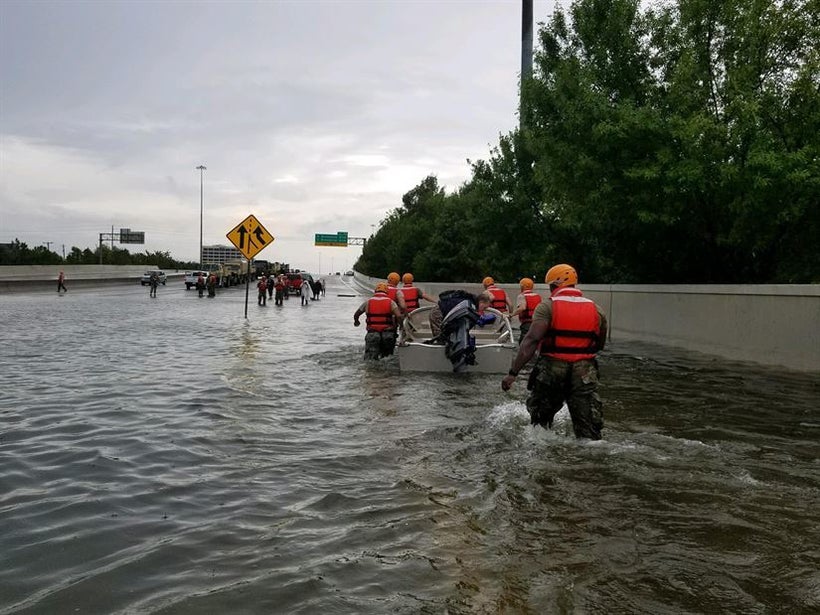 Hurricane Harvey, the catastrophic natural disaster that swept through Eastern Texas in August of 2017, poured down over 50 inches or 27 trillion gallons of rain on Houston and its surrounding areas, dealing hundreds of billions in damages that will take years to recover from. The 130 plus mph winds, combined with torrential flooding, displaced over 35,000 civilians and prompted more than 17,000 rescues. And they estimate that more than 122,000 people and more than 5000 pets were rescued.
Sadly, Harvey marks just one of a growing string of catastrophic events to occur over the last few weeks. From global terrorism to rampaging natural disasters, the headlines have been filled with breaking news story on top of news story.
The media constantly reminds us of the world's problems and issues, but we often leave out the inspiring, yet humbly quiet, tales of those working to stitch our communities back together.
Behind each horrific news headline, there is a story of true philanthropy. There is a glimmer of human brilliance, shining in the form of good deeds and charitable work. These are the stories of local heroes, so often left out by mainstream media, who risk everything they have to save those with nothing.
These heroes do not wear capes. They cannot fly or shoot lasers out of their eyes. They are not from another planet, nor do they demand extreme attention or the spotlight. In fact, they are quite normal civilians. They have families to take care of, taxes to pay, and small businesses to run.
They are just ordinary people who make doing the extraordinary a priority in times of need.
But they are so so important to the fabric of our society and how we deal with adversity. They are there to act during the worst of times - saving countless lives with little resources they have at their disposal. They are there when the camera crews go away, and all that is left is hard, unforgiving cleanup work. They are both the rescue team and cleanup group. They rebuild communities, and are responsible for stitching back together the fragmented corners of the world.
And luckily, I got to meet one of them.
Allow me introduce you to Rick Bennink. He is an entrepreneur, and a founding partner of 1Tac, a tactical gear and equipment outfitter.
Like many of us, Bennink read the initial headlines covering Harvey's disastrous flooding from the comfort and safety of his home. He saw the photos - the desperate locals' faces and the hopelessness covering the now underwater residential neighborhoods.
And so, he had to quickly make an economically and emotionally tough decision. Does he wait around and see if things clear up or does he act now, risking his own time and money, as well as his life, venturing into the affected areas? He chose the latter.
Bennink formed the 1Tac Response Team to distribute desperately needed products and gear to First Responders, Search and Rescue, local authorities and civilians in and around the affected areas. The plan was straightforward - get as much gear out in the field as quickly as possible. Bennink figured it would be a waste to have all of his company's inventory sitting on shelves, when there were rescuers in desperate need of proper equipment.
So he rallied his internal network, lucky enough to receive assistance from thousands of community members as well as NFL Superstars Billy Davis (Dallas Cowboys), Walt Roberts (Assistant Commissioner) and Sid Miller (Commissioner) of the Texas Department of Agriculture.
With the community's support, the team raced to Houston.
In a matter of days, they formed partnerships with the Texas State Department, the Department of Agriculture, FEMA, the Department of Safety, the National Guard, The Austin Disaster Relief Network, Team Rubicon, Combined Arms, along with various Animal Rescue Organizations through the Texas Animal Health Commission. They began setting up mobile command centers for the responders and creating safe spaces for victims of the disaster. It goes to show how this was truly a cross-functional, collaborative effort that was only made possible due to the selfless support and sacrifice from ordinary citizens doing extraordinary things.
They shared videos and photos from the journey via their Facebook page.
And while the rebuilding is far from done, there is so much to learn from Bennink and the first responders. Much of if really boils down into one important lesson: in times of desperation, we all have to make a challenging decision. We must decide what side of history we want to be on. Do we want to sit on the sidelines or do we want to be a part of the progress?
Like Bennink, and the thousands of other local heroes working behind the scenes to stitch back together the world, we must find it in us, if possible, to give back.
The world's problems are unlikely to go away anytime soon. If anything, there will always be a constant surplus of things that need fixing. What we need more of, conversely, are people willing give back.
It need not be a flight to another city, or donations of hundreds of thousands of dollars. Sometimes it is as simple as giving back time or small favors. Whether it is an hour or a few dollars, if we can all just find one ounce of effort to put in when society needs it most, we can make a difference.
We can help those rebuild. We can assist local heroes. We can truly transform the world.
"No one has ever become poor by giving." - Anne Frank
Let us all lend a hand when we can.
REAL LIFE. REAL NEWS. REAL VOICES.
Help us tell more of the stories that matter from voices that too often remain unheard.
This post was published on the now-closed HuffPost Contributor platform. Contributors control their own work and posted freely to our site. If you need to flag this entry as abusive,
send us an email
.