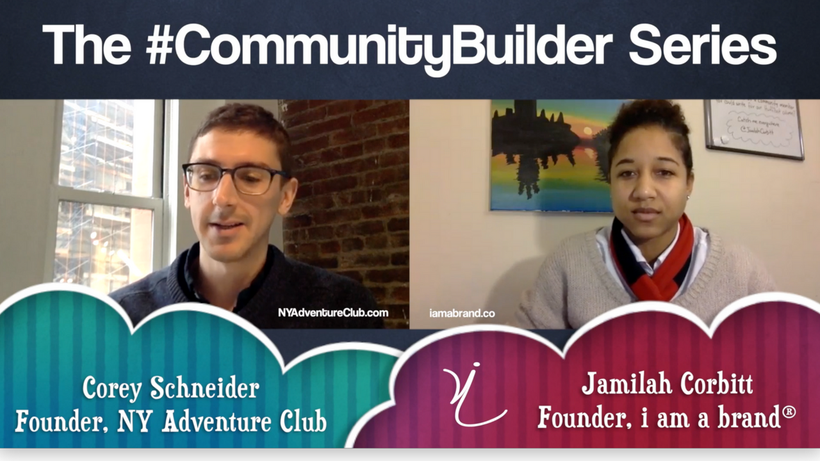 In this episode of The #CommunityBuilder Series, I sit down with Corey Schneider, the Founder of New York Adventure Club to discuss the ingredients to building a strong community, and the big break that catapult his community into the spotlight.
Corey Schneider is the CEO & Founder of New York Adventure Club, which organizes unique experiences in and around New York each week for the local NYC community, ranging from a behind-the-scenes tour of Grand Central Terminal to a 300-person Halloween Party at Ripley's Believe it Or Not.
Corey grew up in Bedminster, New Jersey, roughly 40 miles outside of New York City. He attended Morristown-Beard High School in Morristown, NJ, and later American University in Washington D.C. After graduating from American in 2011 with a Bachelor of Science in Business Administration Degree and specializations in Marketing and Entrepreneurship & Innovation, Corey moved to New York City to work at Time Inc., where he worked for over 4 years in various Consumer Marketing roles including Customer Acquisition, Customer Retention, and Paid Content Strategy. In February 2016, Corey left Time Inc. to work on New York Adventure Club full time. Shortly after, Corey founded a curated event discovery platform called BIGmaven, which makes it easy to find and create unique experiences around you.
When Corey moved to New York in late 2011, he fell into the dreaded "Manhattan Bubble" that so many new transplants do — that is, a world that revolved only around work, bars, and the occasional weekend brunches. In such an overwhelming city, it's far easier to stay in your comfort zone and stick with the places and friends that you're familiar with.
After two years and over a thousand visited locations in and around the five boroughs, Corey decided to create a Facebook group to make it easier for his less adventurous friends to escape the "Manhattan Bubble." That group, originally called "New York Adventure Club for Non-Boring People," was simply a curated weekend newsletter meant to encourage his friends to do something interesting, anything for that matter, before Monday rolled around. The group name was shortened to "New York Adventure Club" after Corey realized that this community was not just for non-boring people, but also boring people who wanted to be less boring. 
What is New York Adventure Club?
The New York Adventure Club is a community-driven club that curates the most unique experiences in town, with a focus on history and storytelling. They show you a city you never knew existed, and offer a community you can't live without.
Are you building your community and want the opportunity to share your story in an upcoming Episode of The #CommunityBuilder series? Shoot me a message on my Facebook page for consideration.
Jamilah Corbitt is an entrepreneur, social influencer, award-winning speaker, and the visionary leader of i am a brand® – a global community that helps people create purposeful and profitable brands through learning and collaboration. She writes on the intersection between personal development, lifestyle, and entrepreneurship.
Calling all HuffPost superfans!
Sign up for membership to become a founding member and help shape HuffPost's next chapter
This post was published on the now-closed HuffPost Contributor platform. Contributors control their own work and posted freely to our site. If you need to flag this entry as abusive,
send us an email
.