"Put your twos up, keep them in the sky,
that's hand sign for peace, we all gotta try
make a better way 'cause just the other day
I found out Eric Garner man he passed away..."
I stand behind the cameras and watch as Rashad thaPoet performs his poem Put Ya 2s Up. He is deeply engaged, fully present and 'plugged in' to that undeniable life force that connects us all.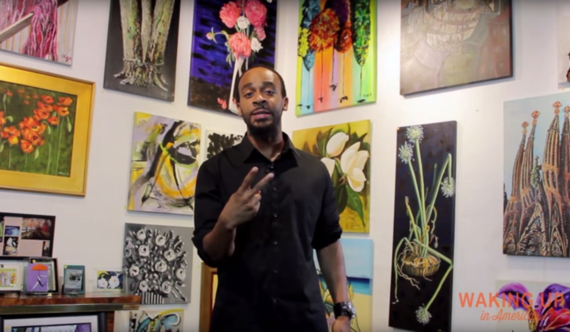 On Rashad's web site he calls it "spitting the truth," and I can see now what he means. It's a non-apologetic, confident and yet deeply vulnerable way of saying, "Hear me out. I've got something to say."
We've just wrapped the interview for Waking Up In America in which I asked Rashad about the turning point in his life that put him on the path of becoming a poet, a spoken word artist and an educator who now helps thousands of youth to find their voice through poetry.
I feel the passion behind the carefully crafted words he sends out into the world. I feel the words transforming me -- my eardrums turn the sound waves of each word into impulses that are translated by my brain, and the experience and the feeling behind the words -- both mine and Rashad's -- are sent out into the part of my body where my heart is. I can feel movement there, and I recognize it as my soul resonating with the honesty and hard truth of Rashad's poem.

"... head down I send a prayer up
his family looking around like who gonna take care of us
hard to maintain with your head underwater
chicken necks systems, can't get a grasp
gaspin' for air when all they did was laugh
Bilderberg Group Trilateral Commission
Wizards of Oz no curtain needed
they hide in plain site most just don't see it
too busy in a struggle tryin' to make a livin'..."
Rashad was close to being caught in that life of being "too busy in a struggle tryin' to make a livin." From our conversation, I know that as a young father of two children there is a certain, unavoidable pressure of having to provide for and take care of his family.
He had originally set out to study mechanical engineering in order to secure a good job. But when he attended an open mike event at his college, Rashad sensed there was a part of him that he needed to find the courage to explore. He wasn't sure if he, too, could write and perform poetry, but he allowed the inspiration to work inside of him until he was ready.
After his very first performance at the same open mike event, he walked off with applause thundering in his ears and let out a big whoop. Did he feel liberation? Freedom? Joy? Courage in action? A newfound superpower? I wonder as I listen to him continue:
"... now pass it on is the key
give back what you were given
zombies walk around but they're not really livin'..."
I smile from within. Not only does Rashad give back through his gift, but he is also truly passing it on to others. Yes, he is a recognized artist in Nashville and beyond, having released 14 CDs and received numerous awards and recognitions, but he is out there day by day teaching kids to express themselves through poetry and the spoken word.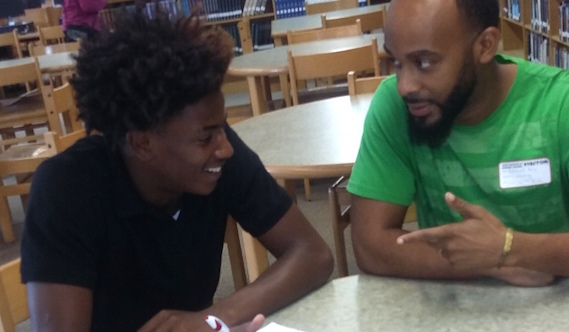 We talk about his experience working with kids; "A lot of times they're forced to keep things inside and digest a lot of their feelings," Rashad points out. "If you shake up a Coke and then you open the top, it'll explode." I think how true this is in our society of "Facebook perfect" pictures, Instagram filters and the mentality of "keeping it all together." No wonder more and more kids are exploding these days. No wonder we are all falling apart.

"... folks all over been dealing with these capers
been over some years time some get to see paper
just tryin' a great escape
what's the point in the hate
we need to bounce back starts with the rap
is revolution time a resolute to climb
I'm trying to get higher..."
"What's the point in the hate," he says. And I realize he isn't just saying it... These words are coming from a deep place within his soul. Like music, it carries more than consonants and vowels. Again, my soul trembles as it adjusts to vibrate on Rashad's "higher" frequency.
I imagine thousands of young lives, and how uplifted and empowered they must feel when they hear Rashad perform in their schools, and when he teaches them how to express themselves and connect with others in the same vulnerable, real and courageous way -- all within a few stanzas of spoken word.

"... people listen close
no man knows the hour so only fools boast
they drag on squares then they let their mind coast
drag on squares then they let their mind coast, ah
songs of liberation they say give us free
it's all about patience they just want peace

Y'all put your Twos Up
and never let them down
Y'all put your Twos Up and never let them down."
For a moment no one says a word. The crew, me, our host at "O" Gallery... I want to thank Rashad with more than just words so I open my arms and reach in for a hug. It feels so good to have been blessed by Rashad (there really isn't a better word than "blessed"). I put my Twos Up in support of his music, his poetry, his mission and our common desire to make good, healing ripples of change in our world.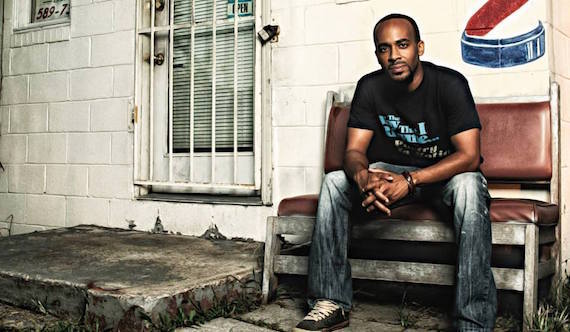 Rashad"thaPoet" Rayford is an activist, actor and an award-winning Spoken Word Artist from Nashville, TN. He is a writer mentor at "Southern Word" a nonprofit that seeks to empower the community's youth through the written and spoken word. Rashad's work can be found at RashadThaPoet.com. The award-winning music video for "Put Ya 2's Up" is available on YouTube.
Related