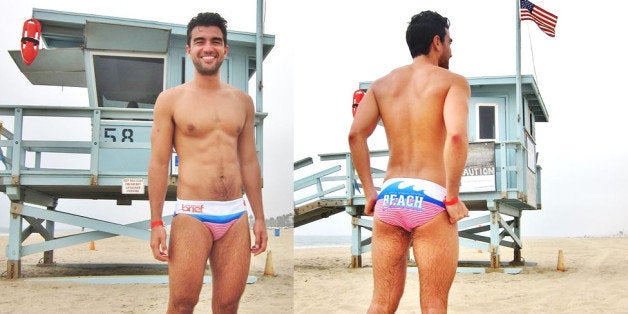 Openly gay Olympian Amini Fonua, 26, is passionate about promoting the visibility of LGBT people in sports and his swimsuit is helping. From Rio de Janeiro, where he is preparing to compete in his second Olympic Games, Fonua said "Having the words 'gay and lesbian' over my butt is my way of announcing my queerness for the swimming world to see."
He's not referencing the official swimsuit he'll wear when he competes for Tonga in the 100-yard breaststroke; he's talking about the one given to him by the Los Angeles LGBT Center three years ago when he helped raise tens of thousands of dollars as a participant in the Center's Beach Volleyball Classic fundraiser. The Center's former name, L.A. Gay & Lesbian Center, is on the back.
"I have worn that suit to every single practice leading up to Rio," says the Texas A&M University grad and winner of three gold medals from last year's Pacific Games, "because there's not a lot of diversity in swimming. It's a gentle reminder to everybody and myself that I'm different, and to take pride in that difference."
Fonua made headlines four years ago as one of the few openly gay Olympians at the London Games and as the opening ceremony flag bearer for the conservative island nation of Tonga. According to OutSports, he's one of a record number of 11 openly gay male athletes competing at the Rio Games (none of whom are American). There are at least 33 other openly lesbian, bisexual, transgender, or intersex athletes who are competing -- also a new Olympic record.
How important is it to Fonua to be "out" as an Olympian? "It means absolutely everything to me," he says. "I want the next generation of athletes who advance through swimming's world rankings to feel safe and comfortable being themselves. I also believe there's real strength to be derived from the power of openly LGBT athletes, so to all the others in Rio, I say this: just by being here and being queer and present, you're making a difference."
All of us at the Los Angeles LGBT Center wish Amini Fonua success in his competition! You can follow him on Twitter and Instagram, @AminiFonua.
Calling all HuffPost superfans!
Sign up for membership to become a founding member and help shape HuffPost's next chapter