When I first sat down across from Sofia Melograno in the fall of 2014 at a coffee shop in downtown Manhattan, she was the third young designer I'd met that week. Like the others, she was just starting out and wanted to source ethically. Often times, many of the designers' ideas don't pan out and our conversations consulting on their sourcing and marketing peter out. But Sofia was different.
She had really done her research, had been developing her idea for years and was committed to building a brand the right way with a sustainable and traceable supply chain. The only problem was she wanted to go big from the beginning. She was very adamant about manufacturing in sub-Saharan Africa having worked, lived, and traveled in various parts of the continent and she felt very strongly that not only would it be a beautiful story to tell but that as a social impact company, they could have a tangible impact in the lives of low-income women that they would employ.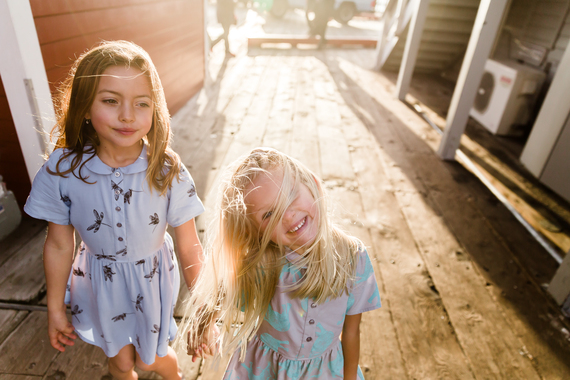 We were meeting to discuss manufacturing in Ethiopia using organic cotton prints sourced from the region, which at the time, while it could technically be done, I strongly advised against: quality control, sourcing cotton, price, labor and skills etc. are all still big issues when manufacturing on a small scale in that region. Logistics are almost always a problem and it can also become very costly, very quickly.
As the savvy entrepreneur I've come to know, Sofia was open to different options to realize her idea. We started talking through what would make sense like manufacturing closer to home to start out so she could control quality and looking at deadstock or surplus fabric material as an interim option towards organic fabric.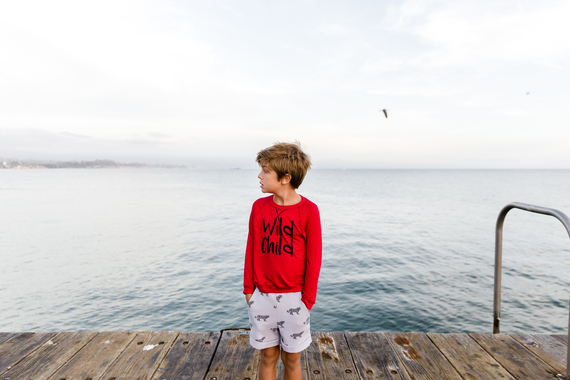 Fast forward a year and a half and Sofia has her own children's line, Beru Kids, manufacturing fun, wearable, quality clothes out of LA from deadstock material. Her designs and prints for childrenswear are unique and so forward thinking (like harem pants for toddlers) and the brand has a social mission giving a percentage of sales back to the community.
Sofia and I sat down to talk through her achievements and challenges over the last year and a half, how she built her brand and what it takes to be a young female entrepreneur.
Sofia, when we first sat down, you were planning on manufacturing in East Africa. Can you talk about how did you end up manufacturing in LA?
I chose to manufacture our line in Los Angeles soon after I moved to California to work on Beru full-time for a number of reasons: First, poverty is a very, very real thing in Los Angeles. Being able to provide jobs to LA residents and directly support our local economy is a very empowering thing. Though I still believe that and there's no denying that my time in sub-Saharan Africa has greatly shaped who I am, I feel that often times people in the developed world look to 'help/support/give back' to those on the other side of the world where poverty is much more visible when there are real problems at home.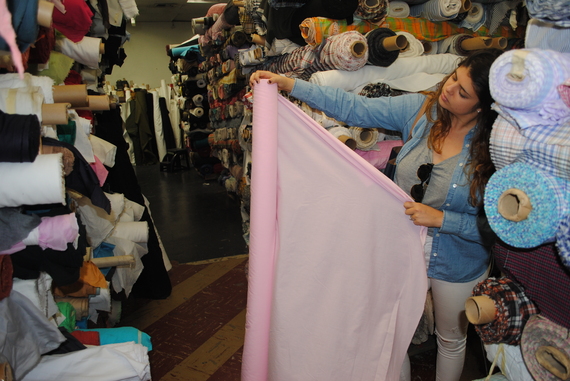 Also, when you outsource your manufacturing to a country where you are not based full-time it is virtually impossible to know details of the production process. You can be told that things are operating ethically, that people are being treated well, that kids are not employed, but are you really certain?
Often times companies will have contracts with factories and those factories will sub-contract the work out to other factories and you have no idea. You can hire a quality assurance specialist but it isn't rare that they get kickbacks and tell you one thing when other things are going on under the table. This isn't always the case, but for me knowing and being a part of the community at our factory is very important to me and who we were as a brand. Being able to visit and personally know exactly who you're working with and who is making our garments is underrated. I'm at the factory at least once a week, checking in on progress, getting feedback, and just hanging out with Pedro (the factory owner), Kim (our designer), and other employees.
Can you tell us a little bit more about the partner factory you ended up choosing?

I think I knew I wanted to work with our factory when I was having a conversation with Pedro and I said, "I know you have all these extra benefits for your employees and all of you are very close, but you don't have to do all of this. You could easily be another factory that pays minimum wage or pay per garment, rather than hourly... Why do you do all of this?" And he basically said, " I was one of these guys. I had their position at one point and I didn't have a boss that treated me well. I was treated as a machine to make my boss more money. I'm treating them just as they are: people, not machines."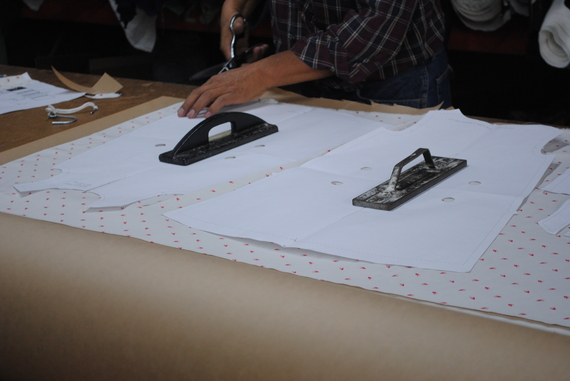 There are little things at the factory that make me so happy to work with them: everybody who works there is very close. Everybody eats lunch together every single day, from the owner to the newest employees. There's a soccer league that they play in after work or on the weekends. I just love their community.
As you grow, will you stay there at the factory?

We aren't going anywhere. Where we produce is who we are as a brand. If and when we grow big enough, I'd be open to other locations domestically and internationally, but the majority of our production will always be in LA.

Tell us about a typical day - how about when you visit the factory?
My day starts early if I'm going to the factory. I usually try to be downtown at around 8 or 9 am to miss the lovely LA traffic. When I get to the factory the first thing I do is sit down with Kimberly, my designer, to chat. Sampling is always the busiest time for us usually because we're on a tight deadline. No matter how much extra time we give ourselves we always seem to be crunching at the end.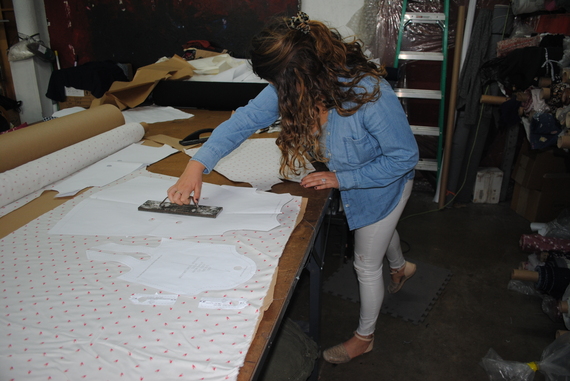 We have an adorable size 3 mannequin, named Francois, that we try all of our first round samples on and then we make the necessary adjustments. First round samples we usually just do with our white fabric that has the same fabric content (different fabrics lay different). We don't like to waste our pretty fabric on first rounds. There are usually a bunch of small changes to be made: add 1 inch at the shoulder, shorten hem by ½ inch, widen the sleeve, etc. Kimberly can make those changes pretty fast. We tend to try and stagger our sampling so we don't have one big push. Second rounds I find more fun because it's in the actual fabric and is often (if we're lucky) our final round. We then get a kid to try on our final round just to make sure that our sizing is correct.
Once we've checked out all of the samples and made the necessary corrections, I usually have a couple of meetings outside of the factory. I'll have to go and source all of our trims: grab buttons and have them dyed, zippers, ribbon, etc. I also try to make it a point to run to the deadstock warehouse and swatch fabric to see if anything stands out to me. If you like something at the deadstock warehouses, you have to buy then because it will likely be gone the next time you go back.
What have the highlights and challenges been in this first year of business?

Having an ACTUAL product was a highlight in mid 2015. Beru was an abstract idea that I had been thinking about for years and to have an awesome product that I could share with others has been rewarding. Then, figuring out our supply chain and developing a solid brand identity were the most exciting accomplishments of 2015. Figuring out your supply chain is crucial for any brand and nailing that down was exciting (and a huge relief).
The major challenge for me has been finding a factory that I trust. There are a lot of factories that are just plain sketchy. Also, getting Beru in front of the right consumer has been a challenge but I think it's a challenge for any start-up.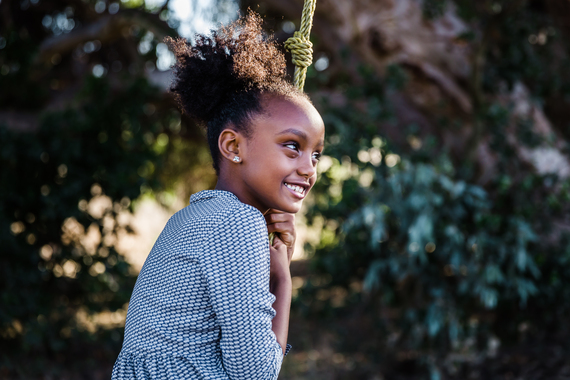 What advice can you offer to new designers setting out to start a brand?

Definitely talk to as many industry people as possible about your idea/concept and ask a lot questions. I've found that people genuinely want to help if they can and if they can't, they'll put you in touch with somebody that can. Go in and ask for something specific. "I'm focused on xyz. If you could help with this, etc." One of the first people I spoke to about Beru Kids gave me really good advice. After I told him I was nervous to talk about my idea to people, he said to me, "Look, if you're determined to do this, you will and don't worry about talking to people about it. Only lazy people get their ideas stolen."
What is the most important lesson you've learned in your career to date?

Persistence: I will figure it out. There may be a few dead-ends (in my case more than a few) before you do, but you've always got a back up - try a different direction. I had so many big blows in the beginning from working and hiring the wrong people, to dishonest factories, to terrible patterns resulting in un-wearable garments, I could go on and on.
Also, as cliché as it sounds: passion. I need more of a reason to get out of bed than just a paycheck. I need to feel like I am contributing to improving our world, even if it was just on a very small, local scale. As a millennial we are the next generation of leaders who have the power and influence to make the changes that we want to see and that are important to us. We're at a crossroads with so many issues (climate change, issues affecting women and girls, national security, our economy, etc). I actually feel like it's my responsibility to act on making these changes rather than just talking about them. Talking about them is great, awareness is great, but we have to put those ideas into actions.
What do you think is the biggest issue for female entrepreneurs?
For me the biggest issue is that people recognize I'm capable and that this isn't just a passion project. I find that as a woman who has worked in philanthropy and the non-profit world, far too often people respond to Beru with "Wow, that's so nice...but what does your balance sheet look like?" True story.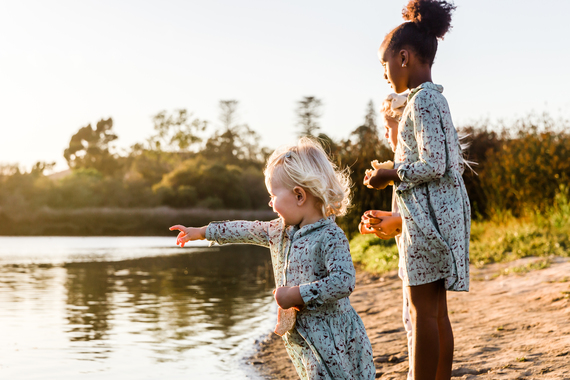 Which other female leaders do you admire and why?
I admire Malala. I heard her speak in Santa Barbara. I felt like I was in the room with the Gandhi of our generation. She is a young woman who has sparked the entire world to seriously start the conversation about girls' education. Inspiring is not a strong enough word.
I have a total girl crush on Lisa Ling. She explores issues and people that often go forgotten in the US. I'm a huge fan of her show, "This is Life on CNN". She's also an unapologetic feminist. I've found many women who say, "yes I support those issues...but I'm not a feminist."
As an inspiration for our work at Beru Kids, I really admire Jacqueline Novogratz, who is redefining approaches to poverty eradication. Her sustainable bottom-up approaches rival the traditional and all too common top-down aid approach. Her organization, Acumen is also NOT a charity. We need more of these models that aren't giving hand outs but are focused on social return.
And of course, I'm a huge Oprah fan. I met her at a dinner when I was 16 and to this day it was the best day of my life. She clapped for me and my mom for working on adoption issues at the time → Is an explanation necessary?
What brands do you admire and suggest others check out besides Beru?
Patagonia is a role model: They have completely mapped out their entire supply chain and are ethical in every aspect of manufacturing, right down to the zippers and buttons. What I find even cooler is that it is completely ingrained in their business model. Also check out, Reformation, Everlane, Oliberte, lemlem and Warby Parker.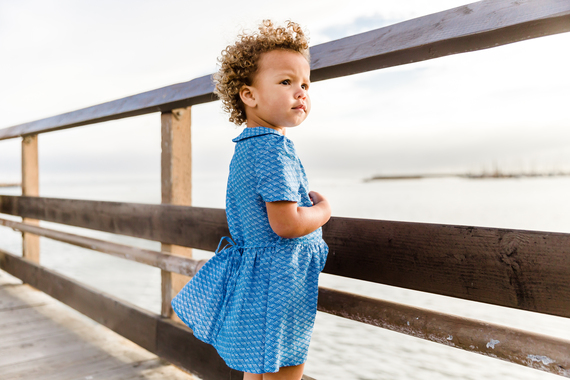 What do you want Beru to accomplish in the next year?
I want Beru to be recognized as a big player in the kidswear industry. But more than that as a brand that is doing things the right way. I want to be an example of a brand that can be profitable without cutting corners. If as a company, we're not paying fair wages or sourcing things ethically, somebody is paying for that choice. Working on launching a truly impactful program in LA is high on the list.
Support HuffPost
A No-B.S. Guide To Life
Related
Popular in the Community