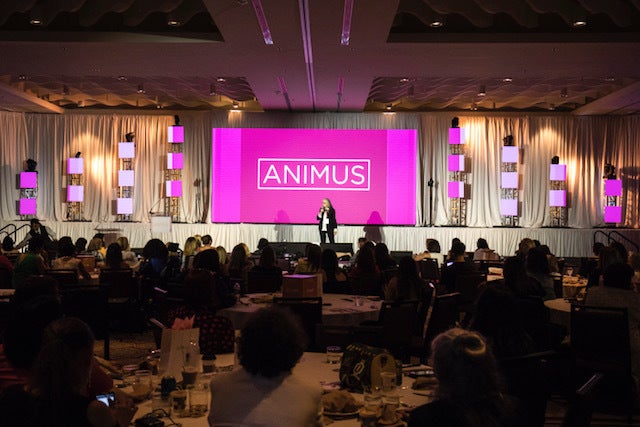 As I sat down on December 1, 2017 on that morning at the Animus Rebuild: The Women's Innovation Journey Conference, I realized that I was one of 5 men in an audience filled of 800 women. I wondered if it was a wise decision to have come here and spend my Friday doing business development and networking in a woman only event. As my day progressed, I realized it was the right decision, as I saw how some women rebuilt themselves, I began my own rebuilding; as the Animus Conference rebuilt women, it also rebuilt men.
There is no doubt about the amazing nature of women. Removing stereotypes aside, women are, and certainly in this conference most were: amazing leaders, outspoken, greatly accomplished and acutely entrepreneurial. Women leaders are a hard act to follow for many men – but certainly, to have them be a part of your life is an amazing experience. Statistics on women don't lie about the incredible potency of this gender:
In the U.S., women represent 47% of the workforce and in 40% of families, women are the primary or sole breadwinner.
Companies in the top quartile for gender diversity are 15% more likely to outperform competition.
Women earn more bachelor's, master's and doctoral degrees in the U.S. than men.
It has been reported that women control 70% of household spending, or $12 trillion, in developed countries around the world.
Growth in women-owned businesses has outpaced the overall increase in new businesses by 1.5 times.
Women have come very far, in leaps and bounds, to occupy their rightful place in our society. Carlos Cobian, CEO of Cobian Media, recognized this early on and has been transformed himself as an entrepreneur by producing the Animus Conference.
When Monti Carlo spoke, the high level of honesty and integrity she exercised when discussing her life stories shocked me. The story of her divorce, the story of her single motherhood, the story about her alcoholic husband and her journey from apple pie land to Gordon Ramsay's MasterChef (US Season 3) show.
(Credit: MasterChef, Fox)
These stories touched me deeply. I empathized with her and clearly understood how she mustered the internal strength to move forward in her career. Eventually she was able to have her own show on the Food Network – Help my Yelp!
Then, came Rita Moreno. Wow! I was so impressed with her resiliency and consistency in the face of hardship during her career - beginning with West Side Story - that it confirmed the importance of perseverance in one's life.
Moreno is one of twelve artists to have won all four-major annual American entertainment awards: an Oscar, an Emmy, a Grammy and a Tony. She has also won other numerous distinctions, including various lifetime achievement awards and the Presidential Medal of Freedom, America's highest civilian honor.
But the amazing thing is how she kept a positive mental attitude during the challenges she faced. She accepted and loved herself for what she could accomplish as an actress and for what she represented to Latino women. This legacy has always been present in her life.
The event was an entire success and pushed my boundaries to think about my own life.
As I reflected about my own life and stories, I could not help but think of the importance of always staying honest, keeping your integrity as a human being, working on raising yourself up from the ashes amid a chaotic situation, and never, never giving up on yourself, your family and your dreams. Life can throw curve balls at you, and sometimes you don't know how to handle them. I am learning to accept that sometimes it is ok to not now everything. While receiving that curve ball you can try to avoid getting hit, but on occasion you can't.
At times, mistakes are yours; other times, mistakes are shared. Some of these mistakes are irreversible. Others can be fixed. Yet others can be amended partially and slowly. One can only hope not to make the same mistakes in the future and do the best within our means and capabilities to pick ourselves-up, correct course and move forward.
That is exactly what I learned at the Animus Conference for women about being a better man: how these incredible women picked themselves-up, corrected course, and moved forward. That is what we must all do when facing unprecedented challenges; women and men. That is what Puerto Rico must do in the aftermath of Hurricane Maria: pick ourselves-up, correct course, and move forward.
These learnings are genderless. I was left empowered and inspired; open, prepared and ready to see unprecedented challenges in a new light. These amazing women leaders taught me these lessons. They clearly showed all of us that they are an essential and leading part of the reconstruction of Puerto Rico and the World.
Calling all HuffPost superfans!
Sign up for membership to become a founding member and help shape HuffPost's next chapter
This post was published on the now-closed HuffPost Contributor platform. Contributors control their own work and posted freely to our site. If you need to flag this entry as abusive,
send us an email
.