Two weeks ago Charlottesville, Virginia descended into fatal violence as hundreds of people, mostly angry white men from white nationalist, neo-Nazi and the Ku Klux Klan, marched through the University of Virginia campus chanting racist slogans. They angrily demonstrated a shocking display of open racism and bigotry, the likes of which America has not seen in decades.
The violence culminated in activist Heather Heyers being brutally killed when James Fields , an alleged member of an extremist Alt Right group, deliberately drove his car into a crowd. Heathers death sent shock waves across the US and around the world.
The reaction of brands to the Charlottesville violence has come under review. We live in a hyper connected world and how brands respond (or not) can have major positive or negative reputational consequences. Below I take a look at the response of three brands that caught my eye in the aftermath of the violence.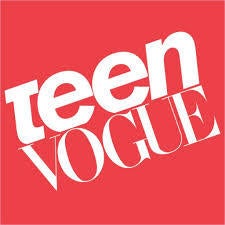 On Sunday August 13th Teen Vogue was live-tweeting the Teen Choice Awards to their audience of over 3.4million followers. To engage their impressionable audience of tweens, teens and very young adults, Teen Vogue decided to cancel its scheduled live-tweeting and focus on the racism and violence that had unfolded in Charlottesville instead.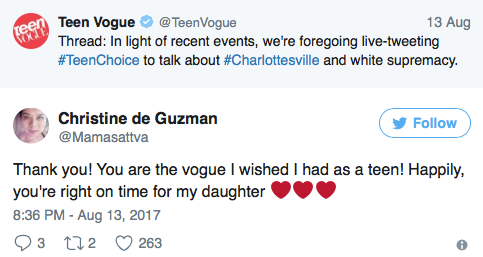 The magazine announced that they would use their account "to discuss racism and steps toward equity". In an impressive display of bold and progressive journalism, Teen Vogue spent the evening discussing White Supremacy, White Male Terrorism and the 'Alt Right'.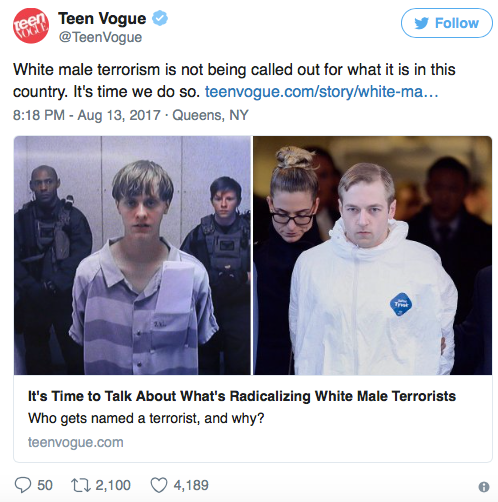 The majority of Teen Vogue's audience is made up of Generation Z . The publication wants to capture the loyalty of this audience to ensure they not only 'graduate' to Vogue, but so advertisers will continue to see Teen Vogue as a way to access the influential, affluent and progressive sect of this growing demographic. Studies show that Generation Z reacts in bold ways to emerging issues and openly discusses subjects such as racism, diversity and gender equality. Brands that mirror these progressive tendencies will resonate well with this audience that by 2020, will account for 40 percent of all consumers in the U.S.
In what is a nightmare branding moment, the image of angry white men chanting racist slogans with Tiki Torches went viral in seconds. If you google Tiki Torches today this is what you now see…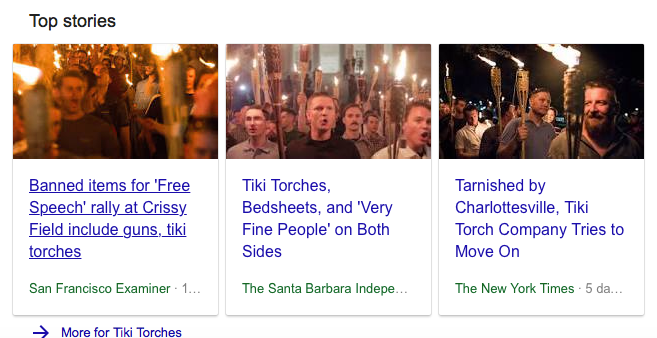 Within 24hours Tiki Torches released a statement on Facebook that ended by reasserting their purpose and brand values while distancing themselves from the events in Charlottesville. The reader was left reminded what Tiki Torches really represents.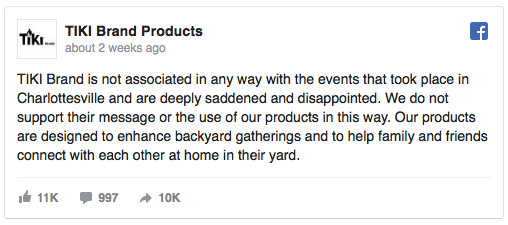 Tiki Torches wanted to highlight that their purpose is connecting family and friends in intimate settings not connecting angry protesters spewing hate. The challenge for the brand is that when the statement above becomes a distant memory, the images associating the brand with hate will live on. To counteract the constant association with the Charlottesville violence, Tiki Torches will have to rollout a campaign heavy on vivid and engaging imagery of people engaging with their products in intimate, friendly and loving situations. This should be reinforced with consistent messaging that speaks to the importance of the loving human touch and the need to have quality 'in person' time with your loved ones. All this 'powered' by their brand.
An online publisher positioned as "a modern woman's destination for how to live a stylish, well-rounded life", Refinery29 focuses on fashion, beauty, lifestyle, News and "How To" guides. It also happens to be one of my favourite accounts to follow on 'the gram'!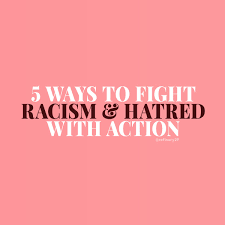 The Monday after the Charlottesville violence, Refinery29 shared a post with their 1.7million Instagram followers featuring a series of 5 images entitled '5 Ways To Fight Racism and Hatred with Action". Each image described an action and next steps in less than 140 characters. Under the post, Refinery29 had a direct call to action telling their followers to 'Use their voice' and provided links to the instagram accounts of activist groups including the NAACP, Women's March and Emily's List.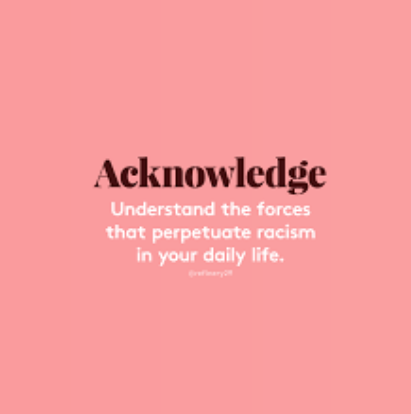 This was a great use of a new Instagram multi image feature, but more importantly it demonstrated Refinery29's understanding of their target audiences need for guidance; the desire to take action and the thirst for more information. Refinery29 was also aware of the desire for quick and easily digestible content making this platform perfect to highlight the values they promote.
The above are great examples of brands understanding that brand integrity does not just happen. It is a proactive action orientated strategy involving the entire communications team.
By brand's highlighting their purpose and values with consistent actions, they will not only gain loyalty but they will also maintain integrity and gain brand capital, which can be leveraged in many ways.
Claudine Moore is a writer and award-winning global public relations, corporate communications, social media, personal branding and new business consultant working with agencies, companies, brands, entrepreneurs and business leaders across US, Europe and Africa.
Popular in the Community