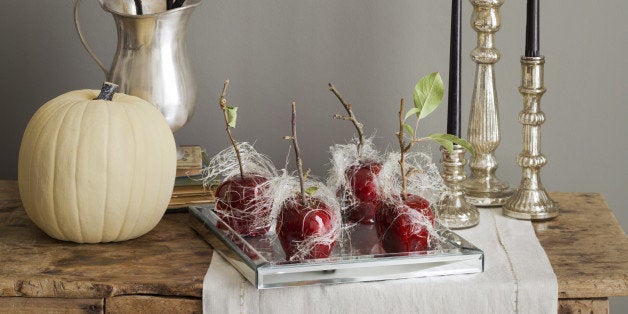 Despite what horror enthusiasts might have you believe, when it comes to Halloween décor scarier doesn't also mean better. Rather, for the design savvy out there, Halloween is all about striking that right balance of glamour, goth and drama. The one time a year where those of us who are more Pottery Barn than Kelly Wearstler get to experiment and push the envelope with our spaces, and the only thing more frightening then the living dead is living with beige! This season take our five tips for adding some designer sophistication to your Halloween décor.
ORANGE IS NOT THE NEW BLACK
When it comes to Halloween, orange is definitely not the new black. Upgrade your traditional pumpkin décor with designer gourds. From crystalized to hand painted -- there is no shortage of fabulous options on the market. If you prefer the real deal, opt for a pumpkin in chic white or soft pink pastel hues.
STRIKE THE RIGHT BALANCE
Unless you're planning on turning your home into a haunted house and giving neighborhood tours, it is important to strike the right balance between your existing décor and your Halloween decorations. Choose a theme or color palette that works with your current design and bring in decorations that are going to amplify the space. Although it's one of the few times throughout the year that you get to go all out, keep in mind that this is your home and that you'll still have to live in the space for the next few weeks.
THE DEVIL IS IN THE DETAILS
It is said that the devil is in the detail -- so this Halloween, definitely sweat the small stuff! What sets a discerning interior designer apart from your average hobby decorate is the critical thinking that goes into every minute detail of a room. Wow your guests with a layered look that screams polished perfection -- and choose to execute your vision right down to the smallest of details.
MORE IS MORE
Like with diamonds, champagne and horror flick gore, more is always more -- and there's no such thing as excess at Halloween. When decorating your home try to stick to a single theme and then go all out. Repurpose what you already own and have around the house in new and interesting ways and try your hand at the many DIY's that can be found online. You might be surprised at how many things in your home that can easily be transformed with a coat of paint or basic white bed sheet.
SCARE YOUR SENSES
What does every horror flick have in common? A killer soundtrack to can bring us the edges of our seats. When curating your space for Halloween don't forget your other senses. Play with lighting, smell and sound to perfectly set the mood.