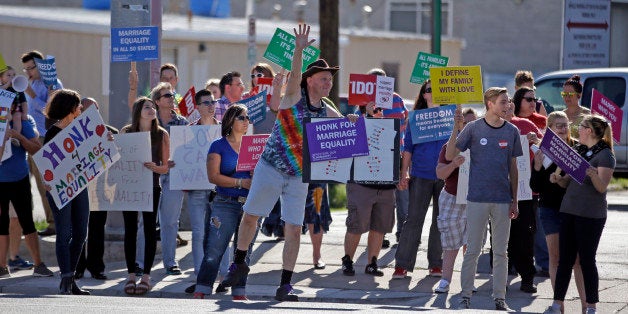 If Dana Beyer's refusal to acknowledge Utah's recently passed nondiscrimination protections as progress for the LGBT movement is any indication, our nation's path toward the balance of religious liberty and freedom for LGBT Americans is going to be unnecessarily drawn out and hard fought.
In her Huffington Post piece, "The 'Utah Compromise' as Seen After the Indiana Tipping Point," (4/20/15), Beyer argues that Utah's S.B. 296, which bans discrimination against gay and transgender Utahns in employment and housing, should not be used as a model for the rest of the country because: (a) Utah is unique, and (b) the exemptions in S.B. 296 are too broad.
As a sponsor of this legislation, I was proud to see it pass the state legislature with resounding Republican support, and I would like to point out how Beyer misses the extraordinary respect, compromise and good will it took from those on both sides of the issue to see this historic accomplishment through in Utah.
In her piece, Beyer says that my home state of Utah is "a unique entity," and I can agree with her there. But Beyer neglects to point out something that I think makes Utah especially unique: Utah is now the only red state to offer employment and housing protections to LGBT individuals. Instead, Beyer chooses to focus on Utah's robust religious protections, which reflect the unique religious makeup of our state (about three-fifths of Utahns are Mormon).
Every state in our union grapples with issues -- including LGBT freedom and religious liberty -- flavored by that state's unique historical, political, religious and demographic contexts. Quite often, state legislatures look to other states (yes, even Utah) for solutions. It would be a mistake for national LGBT advocates to dismiss the respectful compromise that allowed one of the most conservative states in the country to become only the 19th state in the country to adopt trans-inclusive LGBT protections.
If doubters need a measuring stick to gauge how far we were able to move the conversation among conservatives in Utah, compare our approach to that of Louisiana Gov. Bobby Jindal, who in his recent New York Times op-ed, "Bobby Jindal: I'm Holding Firm Against Gay Marriage," (4/23/15), slammed Indiana and Arkansas for cowering "to the shrieks of big business and the radical left," once the consequences of their religious freedom laws garnered national attention.
The narrative playing out in the media and in state capitals across the country is that LGBT freedom advances only at the detriment of religious liberties, and vice versa. That doesn't have to be the case. By bringing both sides together with mutual respect and willingness to compromise, we were able to move Utah in the right direction while so many other red states were taking a giant step back. If that's not a model for the rest of the nation, then I don't know what is.
Religion informs the beliefs and actions of most Americans -- as well as the votes of their legislators. For many, continued protection of their religious liberties is every bit as important as marriage and nondiscrimination rights are to the LGBT community. If LGBT advocates meet attempts to craft religious exemptions with a stubborn insistence on purity, rather than progress, the Governor Jindals of the world will be handed the culture war that they seek, progress on LGBT rights will be stalled, and those on the right who would like to impede the advancement of LGBT freedom will continue to win, especially in deep red states.
A better approach -- the Utah approach -- is for LGBT and religious advocates to reason together, rather than war against each other. The Utah Compromise will instruct participants to (1) agree to advance LGBT rights and religious liberties simultaneously, (2) agree to take a step forward, no matter how small, to get the ball rolling, (3) agree that each party will correct misrepresentations from their side of the issue (which is why I'm addressing Dana Beyer's argument that Utah's historic step just wasn't big enough), (4) agree that all citizens are equal under the law, and (5) agree that some disputes already are resolved.
I'm proud of the progress we made in Utah. We destroyed the false dichotomy that LGBT rights and religious liberties are adverse; we saw these two important issues advance together. No longer will Pastor Drew Reese, a military veteran with PTSD, face eviction just for being gay. No longer will Eric Moutsos, a motorcycle cop and devout Christian, risk losing his job for declining to celebrate gay pride.
Utah was unique in doing this. It is a path to victory, peace and progress that other red states should follow.
Calling all HuffPost superfans!
Sign up for membership to become a founding member and help shape HuffPost's next chapter