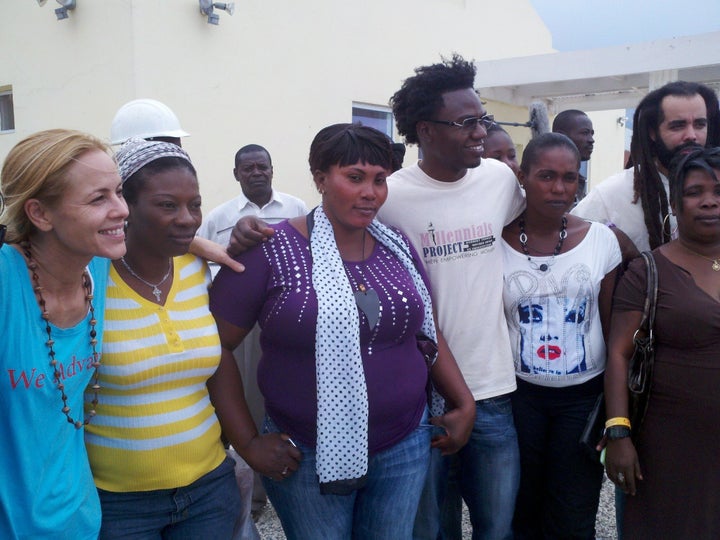 A few days after the devastating earthquake in Haiti on January 12, 2010, I was on the Larry King show talking about the country that I love and had been working in for some years.
One of the celebrity guests who I shall not name was speaking for a large aid organization about how people can help and how their money will be well spent. She seemed to really know what she was talking about and so I asked her if she would be flying down. She looked at me agitated and said, "No, and neither should you, the last thing they need is another mouth to feed. You should go six months later when they need the press." I asked, "Have you ever been to Haiti? She said NO. I then said, "Well, my friends on the ground are telling me that they are doing amputations with no anesthesia because they are not getting supplies." She looked at me agitated and said, "Well, I work with one of the largest humanitarian groups in the world and that's just not true!"
A week later I was in Haiti holding the hand of a 16-year-old boy having his leg amputated with nothing but Advil and local numbing solution for the pain.
I saw signs of the different agencies that were associated with the organization she worked with in only one place that week -- their logo on hundreds of pallets of supplies (perhaps anesthesia) at the airport when I landed.
Now, I'm not writing this to disparage her or the agency she works with. I know that their hearts were in the right place but with a little education and some experience with the people on the ground in the country, their heads could have been in the right place as well. I'm not going to bash all the big NGOs (though some I would like to) who raised $1.4 billion after the earthquake in Haiti. As a matter of fact, I have met some real bad-asses working on the ground in the organization referred to above who have figured out ways to cut the bureaucracy to get the money as soon as possible to the Haitian people. What I will say is that throughout my time spent there this year, I have seen more work done by micro-NGOs and regular Haitian folks living in shacks with little to no funding than most of the big organizations.
My friend, the activist Barbara Guillaume, started an IDP camp in Cite Soleil for 5,000 people and a women's health and education center one week after the quake with no NGO helping her and NO funding. Within two months just after the disaster, Father Rick Frechette, who Artists for Peace and Justice supports, built a school for the deaf and blind, an adult hospital, and a children's village. Three weeks after, 23-year-old Nerline, living under a sheet in one of the largest camps after losing her mother and brother in the quake, rallied young women to go from shelter to shelter and write down what specific health needs were for the women and inspired us to start a women's clinic which she oversees with a kind donation from a friend of $5,000.
Last week I was in Haiti for the opening of the Cite Soleil women's clinic for our newly founded organization, WE ADVANCE. Sitting in the mayor's office in the poorest slum in the Western Hemisphere, 30 people (most of whom live on less than one dollar a day) explained the incredible projects they were doing and how either their funding was pulled or they had no funding at all.
Nicole had a small sewing shop for four women who had been victims of gender based violence but didn't have the $500 she needed to continue. Olga ran a women's clinic in the area that was destroyed but didn't know how to get the money to rebuild. After the meeting we asked for a list of their projects and their projected budgets. The smallest one was for $50 (to buy three chickens to start an egg stand that would employ four women), the highest was $10,000 to pay teachers in a school in Cite Soleil who had not been paid in a year.
So to all of the big NGOs out there who have spent millions on offices and staffing in Haiti but are still not sure how to actually get it to the people who need it, I have some ideas for you:
Forget proposals you must submit for funding, that even I can't fill out because they are so dense. Instead do a one sheet and hold community meetings to find out from the people in the communities what THEY need and what they will do with the funds. Some of the fiercest women I've met in Haiti don't know how to write but someone in your agency must.
Instead of fighting for contracts and funding, have a central agency that can create and submit proposals for projects under $10,000 run by Haitians in camps and the most disadvantaged areas. And get the money to them immediately. This is what we are doing at WE ADVANCE for gender based violence and women's issues and it's working.
Work with the Diaspora and the educated, elite Haitian population who, in my experience, WANT to be brought into the fold to help but have been marginalized by international NGOs in many cases.
Cut the bureaucracy. Like my dear pal said when he landed in Haiti with very little money and not a clue where to begin but is now doing more in Haiti than anyone I know, "If you want something done, do it yourself".
Finally, for all of you big NGOs who are doing your best to deliver the services you have promised, help to empower the Haitian people who CAN and WANT to do it themselves. You have the money, just please someone stand up and spend it NOW. All they need is your cash.
And you have plenty of it...
Support HuffPost
The Stakes Have Never Been Higher
Related
Popular in the Community