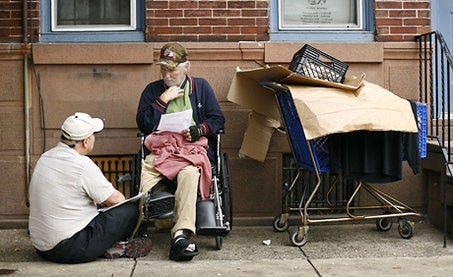 It's estimated that approximately 3.5 million people in the United States, 1.35 million of them children (nearly 40%), are likely to experience homelessness this year. In addition, incidence of homelessness has increased dramatically (by a factor of two to three) over the past 20 years, and these numbers are only going to get larger as time goes on when economic pressure, job loss, and the rising cost of living are factored in. People experiencing homelessness need a voice. That voice is us.
Educate yourself about the basics (you'd be surprised how much there is to know), like the following:
•Why people become homeless
•Facts about homeless veterans, who make up an estimated 23% of the homeless population, and 33% of homeless men nationwide.
•Put a face on homelessness: spend time in shelters talking with people experiencing homelessness first-hand. Read books like Breakfast at Sally's by Richard Lemieux or Rachel and Her Children by Jonathan Kozol.
CONNECT WITH A LOCAL COALITION
There is power in numbers. The National Coalition for the Homeless has directories of local advocacy and service coalitions in every state as well as a national directory. Offer to serve on advocacy boards and participate in your local coalition.
FIND OUT WHAT ADVOCATES ARE DOING IN OTHER CITIES
You can get great ideas from seeing what works in other cities. Some examples:
•Eric Sheptock is an advocate for the homeless who is himself without a home. He blogs, keeps a Facebook page and a Twitter account to stay connected and keep others informed. Sheptock is fighting the closure of Washington D.C. shelters.
•Cathy ten Broeke, Coordinator to End Homelessness for Hennepin County (Minneapolis), is gathering funds from a variety of sources to create and maintain permanent homes for the city's homeless population, allowing city shelters to function as they were designed--as temporary, emergency shelter for people in transition.
•Randle Loeb is a Denver advocate who suffers from bi-polar disorder and was homeless for six years.
Once you know what's going on in your community and you've spent time talking to those who know (both people experiencing homelessness and service providers and other experts in the field), you can determine the needs in your community. Enlist the aid of your local coalition and other local homeless advocates in creating your plan of action.
ENGAGE YOUR LOCAL ELECTED OFFICIALS
Most of the funding for homeless programs comes from federal "block grants" that are administered by the states. Local governments then ultimately decide how that money is spent. By bringing awareness to your local leaders, you can help influence where this money goes.
•Testify at local planning and budget hearings.
•Attend neighborhood and public meetings and speak up in favor of low-income housing, group homes, shelters, and homelessness prevention programs.
•Solicit the support of local care providers, the faith community, and civic and veterans groups.
•Follow up with continuing correspondence and personal meetings with the local decision-makers.
PERSONALLY MEETING WITH YOUR LEGISLATOR
The personal touch is crucial, and brings a face to your issues as well as provides education where it's needed.
•If meeting as a group, bring no more than 4-5 people. Any more feels like a mob.
•Be respectful, not antagonistic. Educate yourself beforehand about your legislator's previous actions or statements on homelessness.
•Stay focused on your issue.
•Be specific about what action you are asking for.
•Leave a position paper or fact sheet for later reference.
•Follow up with a written thank you, even if there was no agreement reached in your meeting.
Media attention can have a huge positive impact in creating awareness and promoting your cause.
•Be clear about who you are and what you are trying to accomplish.
•Call or write local newspapers, TV and radio stations.
•Write and submit editorials when important issues related to homelessness arise in your community.
•When media groups do express an interest, make sure they know it is appreciated and offer them the resources and support they need to cover your campaign well.
GET INVOLVED WITH A LOCAL STREET NEWSPAPER
Street newspapers educate the general public about homelessness while providing people experiencing homelessness with an empowering, creative outlet to have their articles, photos, artwork, and poetry published. Street newspapers also post employment opportunities and create a much-needed sense of community. Find out about your local street newspaper or how to start one in your area.
REGISTER PEOPLE EXPERIENCING HOMELESSNESS TO VOTE
You don't need a home in order to have a voice in local and national affairs, and there has been a variety of legislation over the past 20 years helping bring voice and empowerment to people experiencing homelessness. To obtain the voting rights registration manual and poster, contact Michael Stoops at (202) 462-4822 or mstoops@nationalhomeless.org.
ENCOURAGE ADVOCACY WHERE IT COUNTS
Who better to help advocate than those most directly involved: people experiencing homelessness, and
the people who work to assist them?
•Take advantage of high-participation events like holiday meals at shelters to encourage advocacy; provide paper, pens, stamped envelopes, and sample messages at every meeting and event.
•Have a "Call In Day." Offer several cellular phones at shelters or meal programs to get people experiencing homelessness, volunteers, and staff to call the Governor (Mayor, Council Member...) asking them to stop future cuts in essential services or to help provide essential services.
•"Reverse Panhandle." Get people experiencing homelessness and other volunteers to hand out quarters and ask people to call their legislators.
Remember, even the smallest action has an impact. Be the change.
Related
Popular in the Community