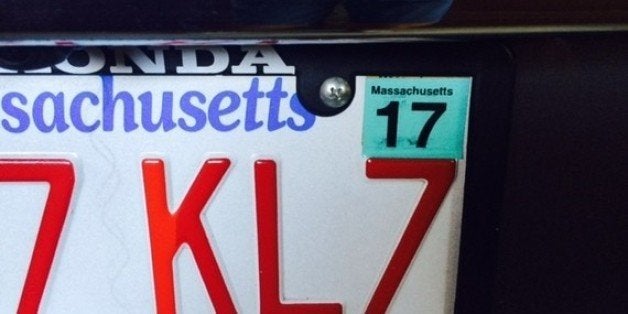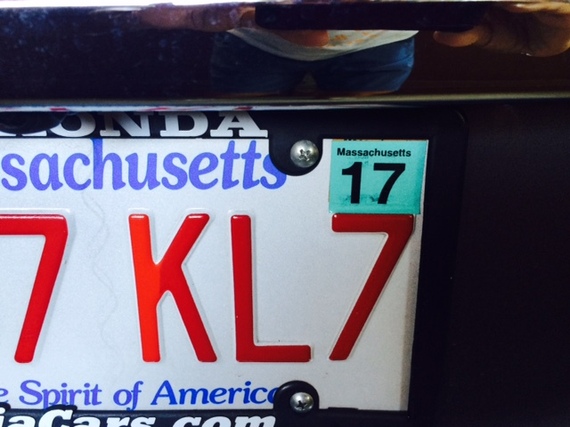 Was life always filled with so many details, so much minutiae? I'm tempted to blame this on the Internet. But I know that we are simply in the middle of the forever march of technology that continually changes our lives and forces us to adapt -- or at least read the instructions.
My partner, from a Latin American culture, and many of my European friends find our need for directions amusing. Why can't Americans figure out how to open a bag of chips without being instructed to "tear here"?
Case in point, a small thing on today's to-do list: putting on the 2017 decal from the Massachusetts Department of Motor Vehicles. It was affixed to a neon-yellow post card. Under "Application Instructions," was a warning in all caps:
NOTE: DO NOT MOISTEN STICKER.
This was followed by the actual instructions: Letter A reassured me that "it is not necessary to remove previous sticker, if any." Still, I must "thoroughly clean" my "number plate."
B directed me to "gently" peel the sticker. I'm old enough to own a car, but the DMV isn't sure that I know how to peel a sticker: " ...by slightly bending sticker score line and peeling paper from back."
(If I'd never peeled a sticker or if English was my second language, I might not have known what a "sticker score line" is. Clearly, the DMV needs an editor.)
C instructed me on where to "place" the sticker. The assumption, I guess, is that after (much) more than a half century of driving, I've never noticed or couldn't figure out that the new sticker belongs in "corner to the right of the legend MASSACHUSETTS [their caps, not mine] on rear number plate."
D concluded with excellent but obvious advice: "Firmly rub sticker and edge down with thumb."
At the bottom left of the card, more advice: "For best results bring decal to room temperature before affixing to plate." Important to know, especially if I happened to open my mail outside, as opposed to at my desk which is room temperature all year long.
And just in case I don't take them seriously, the lettered directions conclude with this:
Please note: For law enforcement purposes, the expiration decal is required to be placed in the top right corner ONLY. Do not place decal anywhere else on the plate.
Yes, it took all of five minutes. I admit I'm a little testy. I am back from vacation and resent having to deal with real life.
Now let's see...what's next?
REAL LIFE. REAL NEWS. REAL VOICES.
Help us tell more of the stories that matter from voices that too often remain unheard.