Do you put it on before or after your foundation? Should it match the color of your skin, or be slightly lighter or darker? Is there a certain way to apply it that's better than others? The list of questions goes on and on.
HuffPost talked to Marc Reagan, the director of global artistry at Bobbi Brown, and Emily Kate Warren, a makeup artist in Los Angeles, to figure out the best tips and tricks for buying the perfect product and applying concealer correctly and evenly.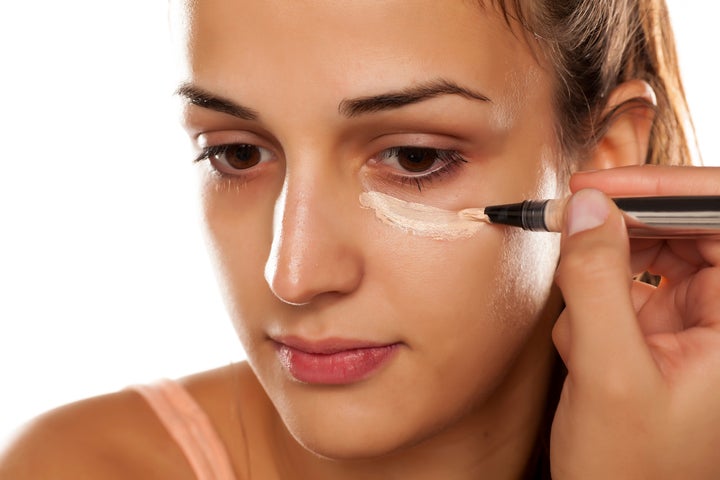 There are two major mistakes most people make when wearing concealer.
"The biggest mistake is that they don't prep their eye with a hydrating eye cream," Reagan told HuffPost. "If your skin isn't properly hydrated, concealer won't lay down naturally and seamlessly. When applying concealer, people often miss the inner corner of the eye, where a lot of darkness or discoloration is found."
According to Warren, the problem most people have with concealer is the color.
"People choose a color that is too light," she said. "You think light covers dark circles, but actually you need [something] close to the rest of your skin color for the base coverage, then possibly you would add a brightener on top."
Pick a concealer in person and test out a bunch of shades.
"Always swatch the undereye with a few different concealer shades to check and make sure the color looks bright and that it also is skin tone correct," Reagan recommended. "Check it on the outer corner of the under eye and reference the brow bone. If the concealer is brighter than your brow bone, then it may be too light and bright, as the brow bone should be the lightest part of the face to help lift the eyes open."
Warren added, "If possible, test [concealers] out in person. If you have dry skin you may like a more liquid or creamy version. If you have very oily skin, a dense, drier cream or creme-to-powder will work well."
Apply concealer before or after foundation ― the choice is up to you.
"Often times if you apply concealer first, you'll find that you need less foundation afterwards," Reagan said. "A lot of the discoloration and darkness in the face is under the eye. When you take that darkness away, you'll be able to see where you need foundation throughout the rest of the face more easily. Typically, foundation is needed in the center of the face where there is usually discoloration or redness."
Warren, who said she prefers to apply concealer after foundation, also agrees it's a "preference thing."
"You may be able to cover your darkness with foundation alone," she said. "Or maybe you don't wear foundation at all, then you just apply directly as needed."
The best way to make concealer look natural is to apply it with a brush.
"I like to use a fluffy eye shadow brush, but sometimes when packing it on over very dark circles I like to use fingers," Warren said.
Reagan agrees, adding, "I always recommend that my clients apply it with a brush and make sure that the skin is prepped and hydrated first—this will prevent a dry or cakey finish under the eye."
Above all, remember ― less is more.
"Concealer is essential to adding to adding brightness to the face—our Instant Full Cover Concealer helps eliminate dark circles for a wide-awake and fresh look," Regean told HuffPost, throwing in a Bobbi Brown recommendation. But as Warren cautioned makeup lovers, less is more!
"Use only as needed for darkness, redness or pimples and imperfections," Warren said. "It shouldn't be spread all over your whole face."
The HuffPost Lifestyle newsletter will make you happier and healthier, one email at a time. Sign up here.