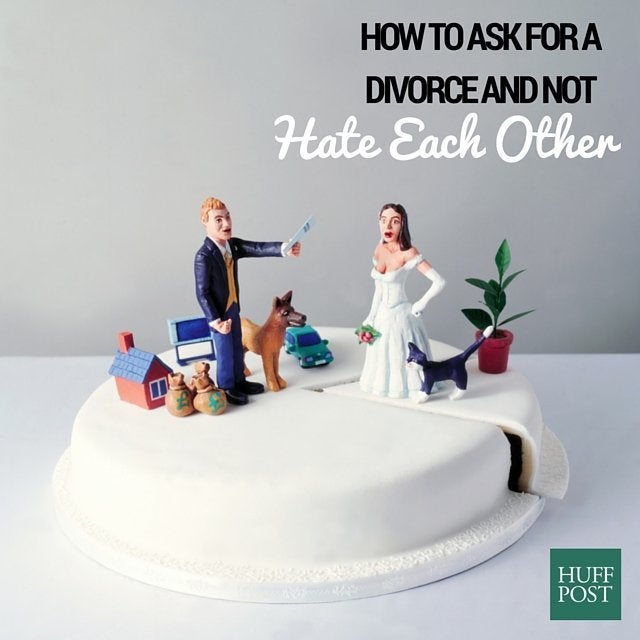 "Just a little information about the start of the process can go a long way in establishing that you are using the divorce process as a tool, not a weapon," she told HuffPost.
Below, Richardson and other divorce and co-parenting experts share their best advice for divorcing and co-parenting like grown-ups.
1. Tell your spouse that you're considering divorce.
You can't "ghost" your way out of a marriage. At some point -- hopefully sooner than later -- you need to reveal to your spouse the internal debate you've been having about your relationship, Richardson said.
"Most people are uncomfortable with conflict but you cannot afford to be that way when you have kids and property to divide," she said. "If you haven't told your spouse you are unhappy, the news of a divorce will be even more devastating to them."
To take some of the sting out of that difficult conversation, talk about it gradually, Richardson recommended. "Set aside several times to talk about your unhappiness and thoughts before you hand out the divorce papers," she said.
2. If your spouse wants to go to therapy, go.
You owe it to your spouse, your marriage and your kids to pursue every last option -- including couples therapy -- before filing for divorce, said Lori S. Rubenstein, a divorce recovery coach and mediator based in Arizona.
"Assuming you're not in an abusive situation, if your spouse wants to go to counseling, go and give it your all," she said. "Give your spouse time to come to the same conclusion, that it's time for a divorce. Often a coach or counselor can help you break up in a loving way and figure out what is best for your children in the long run."
A therapist can also help you hash out and rehearse how the two of you will tell the children, Rubenstein added.
3. Quit arguing about the past.
If you do choose to move forward with the divorce, keep overblown arguments about the past to a minimum, said Richardson. At this stage, what's the point?
"These past problems may be the reasons you are getting divorced and if you couldn't solve them during the marriage, you won't solve them at the end of it," she said.
4. Assure the kids that it's not their fault.
Divorce in and of itself doesn't harm kids, but how adults choose to break the news and handle the process definitely does, Rubenstein said.
"Assure the kids that you are not divorcing them and that it is not their fault," she said. "Then follow through and never put the children in the middle of adult matters or use them as leverage."
5. Discuss the logistics of your divorce before filing the paperwork.
Again, if you're the one proposing divorce, your spouse will likely be a whole lot less prepared than you to move forward. Give your partner ample time to absorb the news, then make sure to discuss the next legal steps, Richardson said.
"Having someone jump out of the bushes to slap [divorce] papers in their hands -- or worse, having them served in front of their work friends -- can create extra conflict and stress," she added.
6. Never badmouth your ex around the kids.
It doesn't matter if your ex cheated with the nanny or blew through your family's savings; as far as your kids are concerned, you still think the world of their other parent, said Rosalind Sedacca, a divorce and parenting coach and the author of How Do I Tell the Kids about the Divorce?
"Don't badmouth your ex, no matter how justified you may feel. Kids are hurt and feel guilty when the parent they love is put down by their other parent," she told HuffPost. "It also closes the door to communication with them and robs them of the innocence of childhood. Put downs are never a part of respectful co-parenting."
7. Remember who really suffers in a high-conflict divorce.
Try to remember who the real victims will be if you resort to low blows during the divorce process: your kids.
"If parents don't handle conflict well, this becomes a child's perspective of 'normalcy,'" said Florida-based family law attorney Eddie Stephens. "This is why we often see histrionic tendencies from children exposed to a high-conflict divorce. If divorced parties approach co-parenting collaboratively, the child has a much better example to mimic."
8. Don't rush to date.
This may be a tall order, but it will do your co-parenting relationship wonders if you wait to date until after the divorce, said Rubenstein.
"Don't give your spouse a reason to be jealous or resentful," she said. "Take some time before dating and let go of regrets and hurts. Your children's future depends on it."
9. Always offer your ex extra time with the kids.
Whether it's a weekend soccer tournament or pre-prom photos, try to remember to extend an invitation to your ex, regardless of whose weekend it is, Sedacca said.
"That's a sign of respect that likely will generate even more respect and cooperation from your co-parent." she said. "And definitely prioritize Mom and Dad being together for special occasions when possible -- birthdays, graduations, holidays and other significant events."
In the end, you simply have to "have the maturity to be able to spend two hours in the same room" with your ex to make your kids happy, Sedacca added.
Related
Before You Go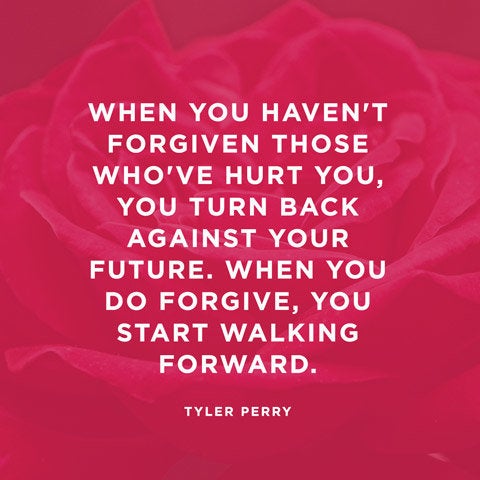 Quotes About Moving On