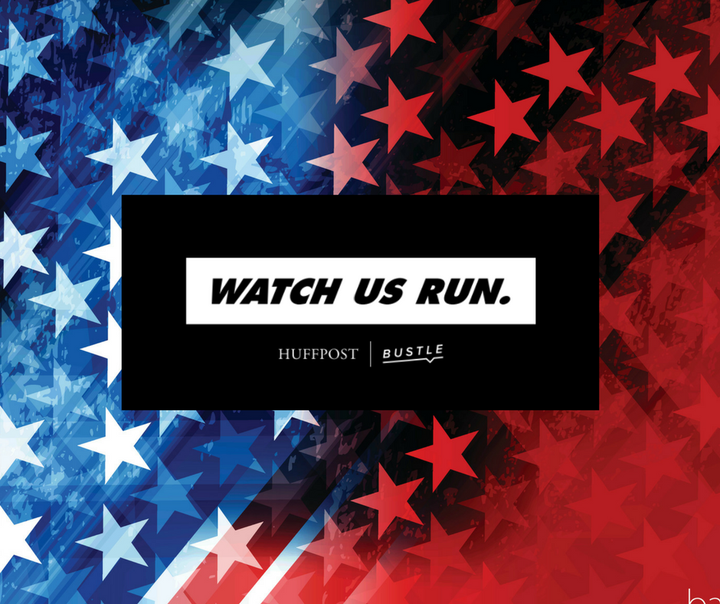 There's no time like the present to get inspired, to get involved, and to elevate diverse voices. That's why HuffPost and Bustle, in partnership with Bold, are turning Inauguration Day into a non-partisan platform for action. Our event is called Watch Us Run, and will take place in Washington, D.C. on Jan. 20 from 9:00 a.m. to 5:00 p.m.
Watch Us Run is a non-partisan event hosted by HuffPost and Bustle, in partnership with Bold, that joins some of the most influential figures in politics, media, the arts, and activism for a day of sharing, learning, a little bit of eating and drinking, and a lot of organizing for change.
Confirmed panelists include actor and Humanitarian, PhD student Ashley Judd, Oscar Award-winning filmmaker Michael Moore, actor Amber Tamblyn, former Independent presidential candidate Evan McMullin, "The Daily Show" co-creator Lizz Winstead, comedian Phoebe Robinson, Women's March co-chair Bob Bland, Mothers of the Movement's Lucia McBath, and HuffPost's new Editor-in-Chief Lydia Polgreen.
And hopefully, you'll be there, too.
Watch Us Run will take place in Washington, D.C., on Jan. 20 from 9:00 a.m. to 5:00 p.m. at the The National Press Club, 529 14th St. NW, 13th Floor, Washington, D.C. 20045. The panels will take place in the First Amendment Lounge; auxiliary programming, and the happy hour, will take place in the Holeman Lounge.
Sure did. In addition to our panels (more info on that under the "Day's Schedule" section), we'll have other gratis food, drink, and programing to keep you energized and engaged. (Watch Us Also Have Fun, if you will.) In the Holeman Lounge, there will be:
Snacks, lunch, and a complimentary happy hour from 3:30 p.m. to 5:00 p.m.

Supplies to make signs and posters for the Women's March on Saturday

A phone-banking station (with script prompts!) from which you can call your representatives

An interactive art project where attendees can come together to symbolize a united passion for making a difference

A Giphy booth for fun photo opps

Our friends from Tattly giving you temporary tattoos

A pen pal program, to help you connect with women across the country, who share and don't share your beliefs

Acclaimed artist Jamie Peterson, live-painting the event

And more!
Nope! The entire day (entrance, art supplies, food, drink, everything) is free!
Guys, you really do need to register. It only takes a couple seconds, so just click the link and register already. Then send the link to your friends. All are welcome (and that includes men, obviously); this event is family-friendly. There will also be space where mothers can pump.
Doors open at 9:00 a.m., and you can arrive or leave whenever you please.
Due to security measures around D.C., please leave ample travel time. Heavy delays are expected and road closures will be in place. To get to the National Press Club using public transportation...
Take Metro to Metro Center.

Use the 13th Street Exit, take escalator to 13th Street; you should be at the corner of 13th and G Streets.

Walk one block south to F Street.

Turn right (West) and walk one block to 14th Street

Turn left and walk downhill to the National Press Building lobby

Enter and take the elevators to the 13th Floor
Check out our outline for the day's events. It's subject to change and this post will be updated when or if it does.
9:15 a.m: Opening Remarks
9:30 a.m. - 10:20 a.m: Panel 1: Watch Us Get Elected: What Does It Take To Run For Office?
Panelists: Aisha Moodie-Mills, president and CEO, the Victory Fund and Institute; Christine Quinn, president and chief executive officer, Win; Evan McMullin, former independent presidential candidate; Erin Cutraro, Co-Founder & CEO of She Should Run;Marilinda Garcia, national spokesperson for LIBRE Initiative and former state representative, New Hampshire; and Sandra Fluke, American attorney and women's rights activist. Moderator: Carrie Sheffield, Founder, Bold.
Panel description: The non-profit organization SheShouldRun, which focuses on helping women seek elected office, has seen a 4,000 percent increase in women joining their programs since the election. It's especially crucial right now that women, LGBTQ individuals, and people of color gain representation in government. But how do you translate the idea of running for office into action and actually execute a campaign?
Our panel of experienced political masterminds, who have run for high-profile offices themselves — and who have been a part of campaigns focused on improving diversity in our nation's politics — will answer questions to get you ready to run and win. Like, what the heck is an exploratory campaign? How does fundraising actually work? What should you be prepared for when thrusting yourself into the public eye?
10:30 a.m. - 11:20 p.m: Panel 2: Watch Us Lead The Conversation: The Role Of The Media
Panelists: Panelists: Hadas Gold, media reporter at Politico; Keli Goff, columnist, The Daily Beast; Lori Leibovich, digital director of women's content, Time Inc.; Noor Tagouri, journalist, Newsy; and Zainab Salbi, host of HuffPost's The Zainab Salbi Project and Editor at Large Women In The World Moderator: Lydia Polgreen, Editor-in-Chief, HuffPost.
Panel description: After an election cycle plagued by fake news and faulty polling, trust in the mainstream media is at an all-time low. At no time in our history has the there been easier access to news, more media destinations to choose from, or more questions about the role media plays in our politics. So how do we drive the conversation forward in a fair, critical, and accurate manner?
Our panelists of journalists and commentators will discuss what it means to cover such an untraditional and deeply media-adverse president, how the media can work to reestablish trust, and how we can effectively speak to such a divided nation about the topics that matter to them.
11:30 p.m. - 12:00 p.m: Michael Moore's Keynote
12:00 p.m. - 1:00 p.m: Lunch
1:00 p.m. - 1:50 p.m: Panel 3: Watch Us Get Organized: How To Build Grassroots Momentum
Panelists: Bob Bland, co-chair, Women's March; Lizz Winstead, founder, Lady Parts Justice and co-creator of "The Daily Show"; Lucia McBath, activist, Mothers of the Movement; Winnie Wong co-founder People for Bernie and creator #FeelTheBern; and Rina Shah, Republican strategist and commentator and spokeswomen, Evan McMullin's campaign. Moderator: Julie Alvin, Executive Editor, Bustle.
Panel description: The 2016 election was unlike any other in terms of the outrage and passion it inspired in voters. The results brought out the inner activist in many of us, with people asking themselves what they could do to affect concrete change at a time when our country is so divided and the rights of marginalized people are at such great risk. Our panelists are pros at tapping into the zeitgeist and elevating voices in their communities to push towards progress.
So, at a time when the mainstream media no longer has a monopoly on what we read, watch, and listen to, what's the best way to gain grassroots momentum? How do you get your communities excited? What tools do you use to get your message out there? What is it like to be the face of a movement?
1:50 p.m. - 2:15 p.m: Break
2:15 p.m. - 3:05 p.m: Panel 4: Watch Us Create: What It Means To Be An Artist Now
Panelists: Erin Darke, actor, "Good Girls Revolt"; Phoebe Robinson, comedian and actor, 2 Dope Queens; Amber Tamblyn, actor; Jackie Cruz, actor, "Orange Is The New Black"; and Sophia Wallace, artist, Cliteracy. Moderator: Emma Gray, Executive Women's Editor, HuffPost.
Panel description: Art is the highest expression of human emotion, and has long been an important tool in responding to and protesting our politicians. In the age of Trump, how can creators and artists convey our human experience with compassion and empathy? How can we use art to drive out the divisiveness of the 2016 campaign cycle?
As Carrie Fisher said, "Take your broken heart, make it into art." Our panel of creators will discuss how they plan to use their crafts to respond to the current political climate. They'll talk about the role of art in moving society toward a place of light, unity and transcendence.
3:15 p.m. - 4:00 p.m: Fireside chat between actor and humanitarian Ashley Judd and Rep. Barbara Lee
4:00 p.m. - 5:00 p.m: Cocktails in the Holeman Lounge
A time to network, a time to talk, a time to toast. Awww yeah.
See you on Friday, January 20!
Related
Popular in the Community