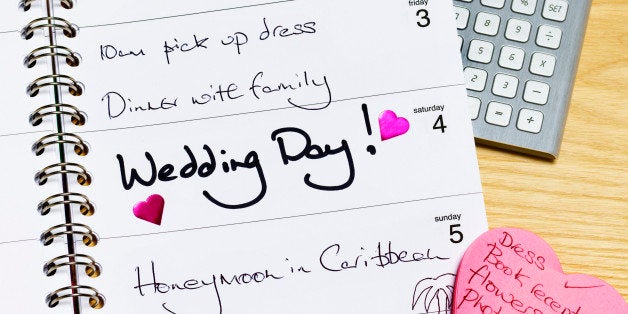 Ah, wedding planning. The unique time in your life during which you and your beloved -- who likely have little previous event planning experience -- need to pull together a grand occasion for everyone you love most. Oh, and you're also getting married. No pressure, right?

So many issues -- big and little -- crop up during this special (and stressful) time. To the point that you may find yourself wondering why in the heck you didn't just elope. But, do not fear: Wedding freak-outs happen to the best of us (er, all of us).

As a fellow bride-to-be who has had many a moment of worry during this process, I'm here to help you handle some of the common problems that crop up. Here are eight issues that are probably more typical than you'd think.

The issue: Your parents demand to "approve" the seating chart -- and both sides request conflicting changes.

The solution: If each side gives a litany of requests regarding who must sit where, ask them to distill their demands into a "top five" list. That way, you'll know what's most important to each side (seating the grandparents at the head table, making sure your weird uncle Al isn't sitting near great aunt Minnie, who can't stand him, and so on). Honor at least two or so requests from each side -- then let the rest go. The wedding won't be "ruined" because two people had to sit near each other for an hour.

The issue: One of your vendors is totally MIA.

The solution: First, check your contract. It may stipulate that your vendor can only answer X number of emails for the fee you paid or give a timeline of how long it make take him or her to respond. Next, talk to whoever referred you to this vendor to find out what's typical as far as response times go. Nothing? Send a brief, respectful but firm email expressing your frustration. If you still don't get anything back, and it seems like you may never hear from the person again, you may need to find another vendor -- and have a lawyer draft up a breach of contract letter so you can recoup your deposit.

The issue: You're over budget and can't figure out what to cut.

The solution: Often, this is more of an issue of not wanting to cut something than it is not being able to. Clearly, you need to have a venue, rentals (plates for people to eat off of and chairs for them to sit in), and something for people to eat. However, making small adjustments (like choosing a silverware pattern that's 10 cents cheaper than the one you picked out) won't make a big difference. So, it comes down to priority: Determine what's not as important to you and find a less expensive option. For example, if having a cinematic rendition of your Big Day isn't crucial, having some kind of video account of your wedding is, consider DIY-ing your wedding videographer (by having friends agree to wear GoPros) rather than pay a pro, which can be thousands of dollars. If having a photobooth is important but you don't care if the photos print out, use an app and an iPad to create your own set-up (and then make the photos available online post-wedding) instead of renting a full-scale set-up. Instead of buying a new veil, borrow a friend's. You get the idea.

The issue: You sent a save-the-date to someone in haste... and now you really don't want to invite him/her. (Awk-ward.)

The solution: If you had a falling out with this person and having him or her at your wedding would ruin your day, send an email to the effect of, "Given how our relationship has changed since we sent out our save the dates, I feel uncomfortable extending you an invitation to our wedding." But, if this person is simply someone whom you've grown to dislike over the months that have passed since save-the-dates went out (and he or she is none the wiser), you'll have to suck it up and send the invite. A good lesson: Don't invite people you don't know very well to your wedding if you can help it.

The issue: You're second-guessing the favors you bought six months ago (on sale).

The solution: It's hard to resist an opportunity to save money while wedding planning, but if you end up hating what you bought on the cheap and need to replace it, you end up losing more than you save. In this situation, option number one is, of course, get over it. Many guests will forget their favors at your venue, lose them on the way home, or toss them within a year. But if whatever you chose really bothers you and you absolutely can't see yourself using them, put them up on Craigslist or RuffledBlog.com so another couple can buy them from you and use them for their wedding. If you recoup your costs, you can more easily justify getting something else.
The issue: You just found out that a close friend decided to go on vacation instead of attend your wedding.

The solution: Ouch. If there is one thing that planning a wedding taught me, it's that you really learn who your friends are -- and who they aren't. The best advice I can give here is to try not to take this situation personally: Your friend's decision more likely has little to do with you and your relationship and is more about his or her priorities (and perhaps how important he or she believes marriage and weddings are). If it will make you feel better to express your disappointment, however, you should do so. Your friend may have no clue how his or her decision makes you feel.

The issue: You're worried that your wedding details don't reflect you both as a couple.

The solution: Now that we have Pinterest, as well as endless wedding blogs, showing off bespoke details of all types, there's a ton of pressure on couples to create a day that perfectly reflects them down to the last monogrammed, hand-dip-dyed napkin. And, honestly, for most of us, this kind of uber-personalization is not possible -- money-wise, time-wise, and sanity-wise. Focus on what aspects do represent both of you: Perhaps your first dance song, your vows, your choice of venue, the city you're choosing to get married in, or even the type of flowers you decided on for your bouquet. I'm sure that, for every detail that might not seem "you" enough, you'll find two that truly represent your relationship.

The issue: You think you have cold feet.

The solution: Call it off! Just kidding. Now, I'm not a premarital counselor, so please take this advice with a proverbial grain of salt. But remember that every person getting married has some degree of doubt. To not wonder -- at least once -- if you're making the right decision about spending the next 50 years sleeping next to the same person night after night (after night!) would be, well, weird. In those moments, identify the concrete thing that's causing you anxiety about sealing the deal: Is your fiancé making that annoying sound with his throat again? Or, is he belittling you in front of your friends? Clearly, the former is harmless and the latter is so not okay. Determine if you doubts are legit or just a case of pre-wedding jitters before stressing out about them.