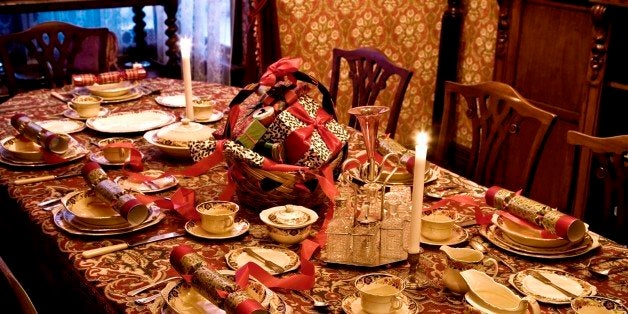 You'll never believe what I'm doing this holiday season. I'm leaving my kids. Not entirely and not without first ensuring their proper care and happiness, of course. While my three kids and their father share a turkey and quality time with my husband's parents, I'll be celebrating Thanksgiving by sipping mint tea in Marrakech with an old friend who is also leaving her children to take this trip. For ten languorous days, the two of us will explore and relax like our pre-kids' selves. I'll have a fabulous time if I can manage the mom guilt that has a way of weaseling its way into my head.
No matter how we choose to celebrate the winter holidays, many of us feel guilty about it being not quite right. We feel guilty that we're not doing enough or that we're doing, eating or buying too much. Guilt is especially strong for moms -- whom our culture holds accountable for ensuring the most marvelous holiday for all -- and during the season when neither a mom's calendar nor her weary self can handle another load. Here's how to stop pesky holiday guilt before it zaps the spirit right out you:
•Remember that taking time for you can be beneficial for everyone. For instance, I'm not the only one to benefit from my trip to Morocco. My kids get time alone with their dad and their grandparents get to enjoy all of them without having to share the holiday with the other side of the family. And I hope that I come back energized and ready to share the December holiday season with them.
•Be rational. Being a good parent, spouse, employee, daughter, and friend isn't measured by what you do from late November to early January. It's what you do all the other days of the years.
•Eat well. Holiday indulgences -- pumpkin pie, gingerbread lattes, heavy hors d'oeuvres and cocktails--are delicious and hard to resist, but they leave you feeling less than celebratory. Keep your kitchen stocked with healthy choices that keep you energized -- think simple protein and anti-oxidant rich foods like berries, leafy greens, and legumes -- and you'll be less tempted to cave to guilt-inducing treats.
•Recharge. Your mental health is top priority. Without it, you can't be all you need to be for everyone who is counting on you. Schedule time to yourself -- be it the chance to shop without distraction, catch a catnap, or spend a day alone in your own home.
•Opt out. We feel obligated to spend time with families and friends during the holidays, but if you're trying to squeeze time for all into an already packed daily schedule, it's just not fun. Don't be afraid to decline invitations. Your loved ones will understand if you schedule time together after the holidays.
•Outsource. Decide what you do well, and more importantly what you like to do. If it's important to you to establish a cookie baking tradition with your kids, make time for it. Balance it by picking up take-out for dinner with your visiting in-laws. Hiring a babysitter to entertain my kids and even wait in line with them for the obligatory photo with Santa allows me to run errands without kids in tow and without feeling guilty that I've missed a memorable photo opp.
•Plan ahead. Many work projects fall due at the end of the year, often forcing you to decide between leaving your co-workers in a lurch or disappointing your kids when you can't show up for the school party. Email teachers well in advance so you can put key events on the calendar and plan accordingly--staying late when your spouse can be home to cover you and scooting out early on the night of your first-grader's holiday pageant.
•Remember, it doesn't have to be perfect to be great. Orchestrating a picture-perfect family holiday outing or cooking up a meal that Martha Stewart would be in awe of is admirable. But, when your youngest decides to have a meltdown or your chocolate soufflés are a flop, try not to feel badly about it. Chances are your family still enjoyed themselves. When they think back years from now, they will remember all that was great.
With clear intentions and a bit of planning, you can put holiday guilt in check. Forget about creating a perfect holiday for your family. It's far better for everyone if you aim for joyful.
Related