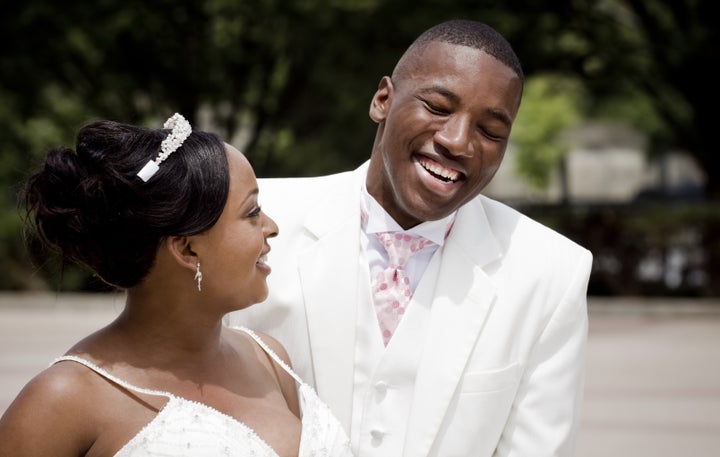 Weddings are ultimately a celebration of the love and commitment between two people. If a couple chooses to get married in a huge church with all the pomp and circumstance, in a Vegas chapel by an Elvis impersonator, or dressed as Daenerys Targaryen and Khal Drogo ("Game of Thrones" fan anyone?), then have at it. This isn't about a new, cool wedding trend you must try. What best fits her dreams, budget and happiness, is what each bride should choose. However, there are some things to consider during the planning of a wedding that will keep brides cool -- as in calm and collected, and focused on creating an event that not only expresses who you are as a couple, but a fun, memorable night for your guests.
1. Remove the Words 'Perfect' and 'Princess' from Your Vocabulary
Those two words do more to undermine a bride and drive her insane than almost any other. Instead of thinking, "My wedding day will be perfect" try, "My wedding day will be special." Instead of, "It's my day to be a princess" try thinking, "It's my day to feel absolutely beautiful." Replacing those words will alleviate some of the stress of the day and help stop the bride from quickly becoming a Bridezilla. Why? No wedding is perfect, and all the ball gown-style wedding dresses and fake tiaras a woman may wear will never turn her into a princess. These words just create an unrealistic and unreachable goal for women. Amongst other things, weddings are a massive lesson in learning to roll with the punches. Sorry brides, but something will not go to plan on your wedding day. Mostly likely 99 percent of the plans will go smoothly, but having this absolute perfection looming in your mind will cause some insignificant slip up to turn her into a crying mess. It will probably be something small and manageable, but if brides set the bar unreachably high, they can't roll with the punches and enjoy their incredible day.
Brides excitedly discuss the 'theme' of their wedding, however one viewing of TLC's "Four Weddings" shows that a wedding "theme" can easily turn kitschy. Resist the urge to match everything (think Shelby's blush and bashful speech in "Steel Magnolias"). While a clear idea is a great way to influence a bride's color scheme and decisions, it's wise to steer clear of overdoing a theme. A nautical theme sounds great but before you know it, there are sailboat-shaped party favors, a blue and white striped cake, blue and white striped bridesmaids dresses, blue and white striped chair covers, blue and white table runners, a blue belt on the bride's dress, and a dog walking down the aisle holding the rings in a mini sailboat -- you get the idea. Use a theme (be it a garden party, old Hollywood, the beach, etc.) to help guide the feel of the day but not overwhelm the overall look. In the words of "Project Runway" star Nina Garcia, learn to edit.
3. Treat Your Bridesmaids Like the Wonderful, Beautiful Friends They Are
The tradition of bridesmaids dates back to Roman law when they needed 10 witnesses to fool evil spirits. Bridesmaids and groomsmen dressed identically to the bride and groom so the evil spirits wouldn't know who was getting married. We have come a long way from warding off evil spirits. Today a bridal party represents the friends and family who have had a major impact in the lives of the bride and groom. In essence, the bridesmaids represent the bride. So let them look good. Yes, bridesmaid dresses can be difficult. They are most often expensive, in a fabric most women rarely wear, and must fit different body types. No woman over the age of five wants to buy a full pink taffeta dress. So yes, choosing bridesmaid dresses has inherent challenges, but there are ways to let each bridesmaid be the unique woman she is. If one looks great with a blowout while another bridesmaid would rather wear an updo, that's cool. Making your friends look identical not only isn't it flattering, it's not modern. Your pictures aren't about capturing a blur of identical women; it is about capturing the women who have shaped your life. Matching lipstick, shoes, hair, etc. erases their individuality. There are no evil spirits out to sabotage weddings so there is no need to make the bridal party into identical-looking robots next to the bride. Individuality is always a cool element in a wedding.
4. It's a "We" Day, Not a "Me" Day
Since the bride does the majority of the planning and decision making for her wedding, it's understandable to take some ownership of that day. However, there wouldn't be a marriage without a couple. Every bride needs a groom (or another bride!), so remember to include your spouse-to-be and use the "we" pronoun. Not only is it inclusive of the person you will vow to love and honor for the rest of your life, it's also healthy and keeps the Bridezilla-spiral at bay.
5. Ask Yourself -- Will Anyone Remember This?
Here's a little test. During your wedding planning process, ask your fiancé about the last wedding you attended together. Ask him what he thought of the chair covers, favors, centerpieces, escort cards, cake topper, etc. Most times, he won't remember any of these details, even if the bride spent hours selecting each one. Ask yourself, "Will anyone remember this?" It is a good barometer if you're stuck with a tough decision or something is going to cost much more than you originally budgeted. No one is suggesting you completely ignore the small details, but asking yourself about its overall importance helps when the caterer tries upselling colored napkins or chair covers. It also puts things in perspective if some of the details are driving you crazy.
Losing weight for the wedding is on almost every bride's agenda. However, skipping meals on the day of your wedding is a mistake. You won't really lose any more weight on the big day, so go ahead and eat some carbs. Even a big bowl of pasta at the rehearsal dinner is nothing a pair of Spanx can't handle on the wedding day. In fact, it's so easy to forget to eat on the wedding day that you should make sure to schedule in lunch. Delegate someone (like mom or a bridesmaid) to be in charge of making the bride eat. Brides need their stamina. Most likely they'll be in their dress and camera-ready hours before the wedding even starts. The adrenaline surging through her on that day makes food fuel, and an absolute necessity. If brides expect to make it through the day and the endless glasses of champagne that she'll be holding most of the night, a hearty meal early on is key. If you're nervous about your stomach looking bloated in the satin, sheath, bias-cut dress, then drink some healthy smoothies or load up on protein and veggies. Whatever you do, eat. No one wants to see a fainting bride, a drunken bride, or a bride crying so much because her nerves are so frayed -- all of which happen more easily on an empty stomach.