How do women measure success? Is it by mothering and having a career? How do they carry out both forms of work to their satisfaction? What helps? What hurts?

This is a weekly series about successful women who participate in the workforce in a range of ways building their careers while mothering. These women fly under the radar of the media but need to be heard. They are silently successful and warrant recognition. They are compassionate, persistently hardworking women who deserve our admiration and offer advice to new mothers. Each week I will spotlight a different remarkable woman.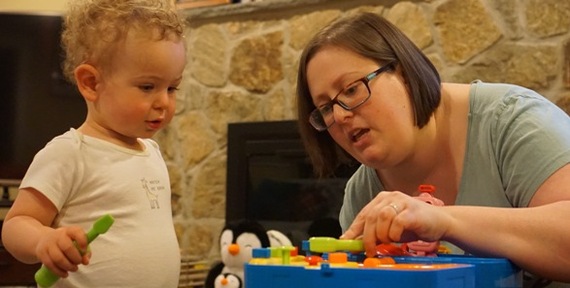 Marisa Siegel, Managing Editor of The Rumpus and mother of her 19 month old son describes her conflicted, eventual decision to become a full-time working mother. Her decision was not her original plan when she became pregnant, it just grew!

I didn't make a decision to be a full-time working mother, at least not before getting pregnant! My original "plan" was to be a stay-at-home mom, for the first year at least, who had a mix of steady and occasional freelance work. I was working for The Rumpus on a very part-time basis, and that commitment grew. In April 2014 I was asked to step into the Managing Editor role. I was 5 ½ months pregnant at the time, and we estimated the time commitment of the role to be about 30 hours/week. As I oriented myself in the new position, I quickly realized that for me, the time commitment was much closer to 40 hours/week. I'm just not capable of doing anything halfway, and to do the job properly and make the site the best I can make it, it's a full-time position.
I re-make the decision to be a working mom perpetually. Every time a nanny quits, or an editor leaves and I have to fill the spot and temporarily take on extra work, or my son crosses into a new level of awareness, I have to recommit to staying on in this position. I think about leaving a lot; I'd be lying if I said otherwise. I think about how much easier it would make, well, everything. How I might have time to read a book. To go the gym. To take a shower that is longer than five minutes.But I don't quit, because I love the job. I love the community that exists around The Rumpus; I love working with my editors and bloggers and volunteers and contributors. I love the thrill of getting a note in my inbox from a writer who I really admire. I love helping to shape and put out writing that is, I believe, beautiful and different and important. And, while sometimes it feels like between my son and The Rumpus I have no time left for myself, ultimately, choosing to stay at The Rumpus is about me. It keeps me in touch with the writing community, and my writer self, at a time when I otherwise might not be.
Being a new mother, it's hard to harness both baby and job for Marisa. She explains with great emotion her trials and tribulations:
Thus far, it has been an uphill battle to continue in my work and to be available to my son. It was easiest when he was an infant, and slept for a significant amount of the day, and is hardest now that he is a walking, talking toddler. We have also had a very difficult time with childcare, and each juncture where we find ourselves without it, I consider quitting my job. I realized quickly that having a baby and a full-time job without any assistance wasn't possible, and we found a part-time nanny. She was with us about six weeks, and then left due to medical reasons. We went through a long, exhausting search and found a wonderful replacement, and she was with us from the time my son was two months old through his eight-month birthday.But about three months in, she let us know she was going to be moving back to her home state in the summer. We had plenty of notice, but it didn't make finding her replacement any easier. I had grown very attached to her, and so had my son, although luckily he was still young enough that his attachment wasn't too troubling. We went through a series of nannies after she moved--one fell asleep on the job, literally; one claimed to have experience with children my son's age but took three weeks to figure out how to change a diaper; and so on.
Eventually, we brought back that first nanny, whose medical issues had resolved. I thought my problems were solved! But it turns out that what I needed and wanted in a caregiver when my son was a month old and I was recovering from a C-section was very different than what I needed and wanted a year later. The relationship grew strained, and she quit via a one-sentence email sent at 11:45 p.m. on a Monday evening. My son was now old enough to have a significant attachment to her, and she didn't afford him any opportunity to say goodbye or process her departure in a healthy way. We have found a replacement, and she seems promising, but I'm very wary of caregivers at this point.

My reality right now is diapers, nannies, copyediting while making fire truck noises, staying up too late to finish my editorial schedule, etc. I'm not going out to parties or to the movies or even out to dinner; I'm figuring out how to be a human being while also being a mom and a Managing Editor.

Aside from childcare, the most difficult moments thus far have involved traveling. Last year, my son was too young to really know I was gone, and so all the anxiety and sadness was my own. This year, he will be old enough to understand my absence fully, and I'm terrified. I'm also excited to go to Los Angeles, a city I love, and to have some (forced) time to myself--it's the only way I can really disconnect from being a mom and fully immerse myself in being an employee and a writer.
There is nothing I would go back and do differently. I've thought about a hundred ways and a zillion times and I'd still make the decision to accept the Managing Editor role, and I'd still choose to keep my son at home rather than put him in daycare outside the home. Even though being a full-time work-from-home mom is quite often the worst of both worlds, I wouldn't change my mind about doing it. I'm doing what I believe is best for me and what is best for my son, and at the end of each day, I make the situation work for both of us. I hope that when he is older, he will be proud that we survived the juggling act that is our life right now.

Marisa speaks honestly about her difficult choice to be a mother:
I was never sure I wanted to be a mother. I never look at babies and "feel my ovaries tingle" or whatever those women who were born with that maternal instinct feel. And even when I decided to have a child, my body rebelled, and the road to having my son was long and difficult. I suffered two miscarriages and was about to start fertility treatments, after being told I likely couldn't conceive naturally, before getting pregnant with my son. And none of this surprised me, because I never felt like I was necessarily meant to carry a child. Throughout my pregnancy, I worried that my body would decide, Nope, this isn't for us. Further, I would have been as happy to adopt as to have my own child. I still truly believe that.

I don't believe that someone is "family" simply because of shared DNA. I don't believe that a parent is a parent simply because he or she participated in intercourse that led to a successful pregnancy. I believe that what makes me a mother is my ongoing commitment to give my son the best of myself, to be my best self, for me, so that I can be my best self for him, and to make sure, for as long as I'm able, that he is surrounded by loving, healthy people and isn't forced to deal with situations that aren't conducive to his development. Or, more simply, I will make it my job to make sure my son has a childhood. That he is able to explore the world around him, and his own thoughts and feelings, without external pressures that a child shouldn't face. That is my role as his mother--to make him feel safe, and loved, and to teach him that this is what a family does.

How does Marisa measure her successes of which she has many?
I am the walking embodiment of Imposter Syndrome. It has always been difficult for me to process my successes, large or small. I can know, logically, that I've achieved something, but I only enjoy the achievement for a moment before I begin to question it.
For instance, when I received my first acceptance letter back in grad school for a poem I'd sent to a journal, I was over the moon. For three seconds. Then, I was wondering whether they'd made a mistake. Or whether my first acceptance would be my only acceptance. Or whether the journal was noteworthy enough to feel this was a true accomplishment. I've spent a lot of time (and money) working on this in therapy, but it's somewhat inherent to who I am. While it's frustrating not to feel successful, my drive to reach higher, succeed more, and continue toward my larger goals comes from the same place as my inability to enjoy success. I'd venture to guess that many successful people, particularly women, share this problem.

Marisa's advice for new mothers comes from the wisdom she's gained from her experiences:
The piece of advice I'd offer, and it's one that's been offered to me again and again, is to ask for help. Lean on your partner, or parents, or siblings, or friends, or daycare center, or nanny, or whomever your support network consists of. Use this help to make time for what is important to you, aside from your baby. If you are passionate about what you are doing, the rest works itself out. Or it doesn't, but you get through the day anyhow, knowing that you are doing the best you can. I do enjoy motherhood, though. While it is, of course, exhausting and challenging and sometimes terrifying, there are moments of pure joy spent with my son, too. These moments are not qualified, the way I qualify my personal successes. I'd add this to the list of reasons that I continue to balance being home with my son and a full-time job--each brings its own hardships, and its own rewards.

Please give Marisa the kudos she desedrves by leaving your comments as she embarks on balancing career and home. She offers an honest appraisal of her short experience as a new mother that many can identify with compared to the glorified image offered all too often in the media.
If you would like to participate in this series, please contact Laurie and she will be glad to include you and hear your story that will help so many other women.
Related
Popular in the Community