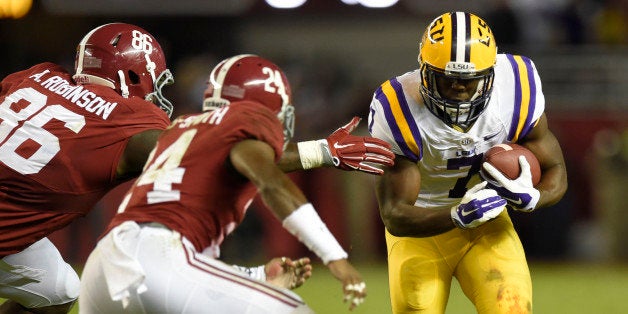 In 1989, Oklahoma State RB Barry Sanders petitioned the NFL to allow him to enter the regular NFL Draft even though he had just finished his Junior year. The NFL made an exception and allowed him to be drafted. The rationale--his college coach was leaving, he had won the Heisman Trophy, he had economic family need--was so contorted that a new rule was adopted in 1990. If three years had passed from a players' High School graduation, the new rule allowed him to enter the NFL Draft with no explanation needed.
Since 1990, scores of Juniors or Redshirt Sophomores have entered the draft. Last year a record 107 Juniors declared for the draft. 28 percent of them went undrafted but players like QB Jared Goff and DE Joey Bosa were picked at the top of the draft. When an underclassman enters the draft and is not drafted in a high round, there is a hue and cry from the colleges and public that he should have stayed in school. On what basis do underclassman decide whether to stay or go?
My advice to parents and players has been consistent since representing Junior Jeff George in 1990 who was selected as the first pick in the first round. I ask players to take an introspective look regarding what their values and priorities are. If they feel another year will enhance their game and draft status -- Go back to school. If team awards like a bowl game appearance or an individual award like the Heisman or Outland Trophy is compelling -- Go back to school. If graduation is important and another year makes that easier -- Go back to school. If another year of campus life is critical -- Go back to school. If the player has achieved what he came to do in college football and is ready for the next challenge, the next question is to project a probable draft range for the next draft as compared with where he would be picked a year later.
Players looking for input can ask the NFL for a projection as to how high that player might be picked. The League will evaluate a player and tell him he is a first round pick, a second pick, or advise him to go back to school. These evaluations tend to be very conservative, and virtually every Junior I have represented was drafted higher than the projection. The NFL knows it has a massive developmental benefit from college football, which it does not pay for. Notre Dame Coach Lou Holtz was so angry about junior entry that he banned scouts from campus the first year. Agents interact with teams and also get projections. The stereotype of unprincipled agents luring players out of school with overoptimistic draft projections is overblown. I would always rather represent a player in the year he has the best chance to be a high draft pick. Ultimately however, it is the player's choice.
Many college athletes only are on the campus as a way station to the pros. As much as we wish that they would all appreciate the benefits of a college degree, they are only there because the professional Leagues will not allow them entry. We all bemoan the example of the athlete who comes out of school prematurely, doesn't make it in the pros, and then is left to face a life without a college degree. But most of those athletes had no desire or ability to graduate no matter how many years they were in school. The graduation rates for athletes who stay on campus four or five years are still abysmal. Many athletes come from families with economic need. They feel the pressure to earn as soon as possible.
The declaration date to enter the pros this year is January 18th. This presents families and players with a dilemma. The real answer as to how an athlete would fare in an upcoming draft lies in his performance in the "second season" of scouting which occurs after a player's college season is over. Performance in All-Star games, at the Scouting Combine, at Pro Scouting Days on campus, and in one-on-one visits with teams can dramatically alter a player's draft status. None of this has occurred prior to decision date.
A responsible agent presents the best information and projections to a player and his family as is possible. Sugarcoating and providing unrealistic information to endear oneself to an athlete is not doing a service. Insuring that the athlete has done an internal inventory as to which priorities in the world are most critical to him and helping to provide a comprehensive decision process is the best way to help.
REAL LIFE. REAL NEWS. REAL VOICES.
Help us tell more of the stories that matter from voices that too often remain unheard.