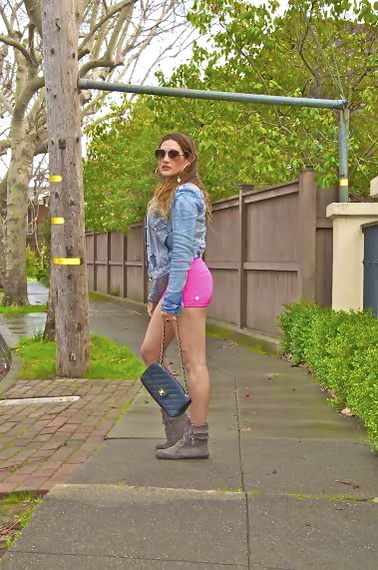 Many of you love to poke fun of mostly mothers who wear workout clothing all day, and begin to look like one another. Look, we all are squeezing a lot in our days, and showering and/or changing is asking a lot, isn't it? Or is it more the thought of someone seeming like all they do is workout, and having the luxury of such choice... we can discuss that in another forum.
Do you know how many books have been written in yoga pants? I don't either, but I imagine many. It's interesting what our eyes can do, for me I don't feel like i'm trapped in a sea of Lululemon donning people. I am constantly and I mean obsessively observing style, and I see such individuality. But then again, I hang out at donut shops where exercisers aren't really present.
I get that this post may seem a bit trivial, and I agree, but I do want to point out ways to be stylish in workout clothing, post workout. I used to wear huge gold hoops while I was working out, until one earring flew off my ear, hitting a a fellow spinner in the head, only slightly breaking his skin... men and their shaved heads.
After I work out, and need the day to be accomplished, here are some tips to maintain individual style and break away from the Lululemon flock:
Buy Cool Kicks: Have you seen the selection of sneakers for women? I had to buy a new pair of sneakers and the selection is horrifying. The women's sneakers are as big as boats and come in a scary array of colors, which look frighteningly similar to those cheesy toddler shoes that light up. I needed a new pair as my Helly Hansen all black, non-descript kicks are no longer in production. Not only are the color choices hot pink or purple on a pure white canvas, but they are really pricey. It makes no sense that I have an issue with spending money on sneakers, but the real reason is they only have a strictly utilitarian purpose, and who wants to spend money on shoes you only wear to workout? I am still a fan of the New Balance old school sneakers in grey... they kind of remind me of the 1980s station wagon in the below photo, classic, preppy and funky. I am wearing a pair of sneakers by a Japanese company. I picked them based on pure style... not sure how well they are working for me, so maybe skip my advice and put comfort first...
Hygiene: Obviously wash up as much as you can, wipes, safe deodorant, cream/oil for skin and a lot of blush, cream is better .I love Nars Orgasm. A gym with a shower is pretty awesome. I used rubber gloves on my feet when I forgot my flip flops, they had them out and I assumed it was for that reason. The housekeeper did look at me strangely when I stepped out with water filled rubber gloves on my feet. Change your shoes. I love my grey Minnetonka Moccasins. Boots like moccasins create a funky, bohemian vibe... which I adore.
Bottoms: I leave on my booty shorts or yoga pants from Lululemon, even though I kind of hate to admit that. I do go to dance stores and discount stores like TJ Maxx to get cool looking leggings with a little color and attitude -- the only issue is you have to wear underwear. Believe me, another incident I will refrain from discussing. If you are wearing leggings only for style, you can't expect added protection.
Tops: For hygiene purposes, switch into another bra and throw on a tank top. I usually wearing a white tank or my repeater Trunk Blondie tank. And then one of my many jackets, usually my acid wash jean jacket or my vintage army jacket. If it's cold, I throw on a pea coat or my new Uniqulo jacket. The thing is the "outdoor" jackets are just not stylish, if you must wear them, go for green or something outside the box, if not it tends to look like everyone else. You can walk into any used clothing store and get an amazingly cool and unique jacket or if that's unappealing, go to a "regular" store and find a jacket that works.
Accessories: This is where you can have a lot of fun. I wear huge earrings, like the ones I created using gold hoops and arrows designed by Shandi Levy Jewelry. I am also wearing a wide cuff from Turchin Jewelry in Miami. Big rings adorn my hands, a chunky one with a large brown stone from Paris my mother purchased in the 1980s, and the other has a cool ram on the front of the ring. Handbag or "pocketbook" (my favorite term) can be a fun way to provide lots of individualism to your overall after gym look. I am holding a classic black Chanel handbag in the first photo and an enormous Grey Miu Miu bag in the second. All the bags have gold hardware, as that's what looks best on my skin. Sunglasses are important, especially if you want to hide your post-workout face... these are Chanel Gladiators.
Hair: A braid always looks groovy, I have an issue wearing my hair totally back. Let's just say one of my brothers told me I look ugly with my hair back, I still believe him... siblings! But if you are without weird childhood image issues, a bun or a full braid looks so sweet.
I hope this was helpful to create some individual workout style... you guys can rock it... I know you can!