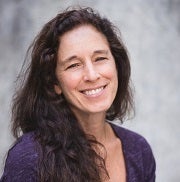 C.S. Lakin's latest book, Crank It Out: The Surefire Way to Become a Super-Productive Writer, comes out March 28, but you don't have to wait to discover some of her best productivity secrets. In fact, you'll find quite a few tips in this interview to tide you over until the book is released. (Of course, you'll want the book, too—we couldn't cover everything in this interview!)
I can tell you that Crank It Out has upped my game and, in particular, has inspired me to shift a few of my own habits in the interest of my writing. And some of these new habits are rather surprising—not something I've ever read anywhere else. Read on and please comment on any steps you plan to implement to up your writing productivity. Or share a productivity tip of your own.
Lisa: I'm so excited about Crank It Out, because, even though I teach how to write a self-help or how-to book in a matter of weeks (8-12 weeks for a first draft)—help people do that all the time and have done it myself—I'm not cranking my own books out right now. It's a bit embarrassing.
Right now I'm, as you put it, "The biggest thing in my own way."
Most of your other books about writing are specific to fiction writing. Did you intentionally wish to reach a broader audience or did you just see a need in your niche that extends beyond it? Susanne: Thanks, Lisa. So glad this book resonates with you. And that's at the heart of why I researched this topic and wrote the book. I'd sent out a survey to my blog readers and writers on my mailing list. In the survey I asked what their biggest struggles were when it came to writing, and I was stunned by the overwhelming comments of "I can't find time to write," "I procrastinate and make excuses," and "I'm so distracted and can't focus." Hundreds of responders to my survey begged me to please help them be productive and finish the books they were writing.
Lisa: What interesting facts did your research into these topics uncover?
Susanne: I thought I would find the "same old" bits of advice, but I was happily surprised to learn a lot of things I had no idea about. For instance, how blue light waves stimulate your brain, so working on a computer or just about any electronic device right before bedtime interferes with being able to fall asleep. And that failure to get enough sleep wreaks way more havoc on our bodies that I realized. Since most of us have limited time for writing, learning hacks through bad habits and attitudes, as well as how to optimize prime focus time, helped me fine-tune my own daily routine to be even more productive.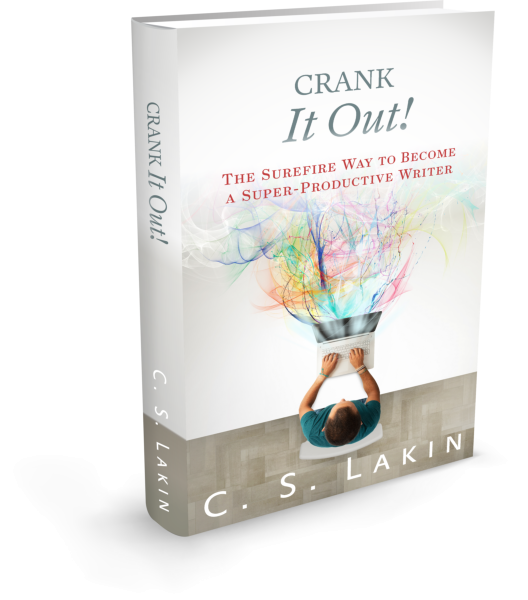 Lisa: I, too, found the habits you expose and the "hacks" you propose to be surprising at times. I like that you're clear up front that "cranking it out" does not mean sacrificing quality. You go on to say that being productive doesn't simply correlate with how much time we write. "Time does not equal productivity."
One of the greatest messages of Crank It Out is that we have to know ourselves and our personalities. This isn't a shallow inquiry but going deep within to explore what we believe, how we speak to ourselves. It's the kind of thing I think I've done, but then I tried it again and got some deeper clarity. So, thank you for that. Do you have specific questions you would suggest our readers ask themselves to determine how they are getting in their own way?
Susanne: That really takes us deep into Psych 101! Yes, when we get ready to write and start hearing ourselves make excuses, we can stop and ask what's really going on. Sure, a lot of excuses are valid. We have a dentist appointment and we have to jet out the door and get there. But a whole lot of our excuses simmer under the surface. Some writers are afraid their writing is no good, that readers will hate their book, that they're just not prepared enough to tackle writing that chapter or scene.
If we can get to the heart of what we're really saying to ourselves, we can face those fears or objections and find ways to change the self-talk into something more positive, something that will hack through the resistance. In my book I give suggestions on how to do that.
Lisa: You talk about using gratitude as fuel, and I agree wholeheartedly—it's one of my favorite tools as well. I often teach it as step 5 in a 5 step system for writing in the zone, because feeling appreciative and grateful does such a great job of setting us up for writing in the zone the next time we sit down. Eventually, as you might guess, a participant in one of my classes asked, "Why wait until the end of the writing? Why not start with gratitude?!"
Susanne: I see gratitude as the best perspective to have in life, in general. Maybe it's because while growing up (baby boomer thing), my mother would always pressure me to eat my vegetables by saying, "Think of the starving people in India." I think this was so drilled into me that every day I look at all I have—food, clean water, a comfy bed to sleep in, a warm house—and I'm so grateful. On top of that, I live in a place in the world in which I have the freedom to write whatever I want. I have editing clients in places like Iran, who don't have such freedom. We do take our freedoms for granted, but if we stop and "count our blessings," we'll value our writing time and stop complaining.
Lisa: Do you see gratitude as a general way of being or also as something that can even jump-start the writing? Do you ever use it as fuel at the start of a writing session in order to create some positive energy to start?
Susanne: It can be useful to hack through initial resistance to writing. If we look at authors who overcame huge health issues—H. M. Ward, for example—and cranked out books, it can help shift our attitude as we sit down to write. When I started making myself run two miles a day on my treadmill (which I really don't enjoy), I would think of Joni Eareckson Tada, an inspiring woman who is a quadriplegic, and think what she'd give to be able to do what I took for granted, that's all it took for me to get moving.
Lisa: WOW! You have readers do a fair amount of data collection: figuring out productive times of day, for instance. Are you a fairly analytical by nature, or how did you come about analyzing your activities, food intake, etc., to discover what impacted your writing? For those of us who are not so disciplined, any suggestions for how to become more disciplined about our habits?
Susanne: I am very analytical. And it's important to do the analyzing. How will you ever change an entrenched habit if you don't identify it and what it's doing to you? It doesn't take much time or effort, for example, to jot down each hour how you're feeling or track what you eat and drink on a given day. The payoff for doing the analysis is big. If you realize your big lunch makes you too tired to get your writing done in the afternoon, or you can't seem to concentrate well first thing in the morning, those bits of self-understanding will help you make better choices regarding when you sit down to write and how much you eat and when.
Lisa: So, some of it comes down to taking your writing seriously and viewing it as a career, whether you are doing it full time or not. And from that, it seems to me, much of your advice is about peak functioning. I think of top athletes and the kind of conditioning they do. You invite readers to take their conditioning seriously too. You mention giving up caffeine and sugar. I'm impressed and curious, because I've tried at times to give up sugar and chocolate. Not easy.
In your own personal experience, how much does giving those things up impact your energy levels? How much more productive do you think you are without those substances?
Susanne: Agh, I would never tell writers to give up sugar! I would die. No, seriously, our brains need sugar or glucose, and while it's not a great idea to cram candy into our mouths all day long, once we understand our own unique biology, we can make smart choices and eat chocolate in limited amounts and at the best times for our productivity (yes, chocolate is good for us!). Same thing with caffeine. We need to understand what it does to our bodies, how long it lingers, how it might impact our sleep, etc. Then we, now informed, can make the best choices about when to ingest caffeine.
Lisa: Well that's a relief because I just bought a dark chocolate with almonds candy bar at Trader Joe's today. When you write nonfiction, do you write fiction at the same time or do you take a pause to get the nonfiction book done? Do the two kinds of writing support each other or compete?
Susanne: Good question! I'm always writing nonfiction because I'm writing blog posts and email blasts weekly. My fiction projects are done more in intensive chunks. Since writing a novel is a huge undertaking and requires so much time and effort, and since I work full-time editing and critiquing and blogging, I have to ramp up my schedule to do both. That might mean setting aside a few days a week for some months to work on my novel to the exclusion of other projects. Or, as I'm doing now with my new novel, I assign specific hours of the day to getting a scene done, and do all my other nonfiction writing during other hours.
Lisa: Any other advice you have for our writer-readers?
Susanne: It's so easy to procrastinate and find excuses not to write. But if you really do want to be a writer, and you want to publish your books, then it's worth taking the time to optimize your writing time and, as a result, experience that joy in being productive. Everything you learn in Crank It Out! can be applied to every aspect of life. So while this is a book for writers, it really contains lessons for life in general.
C. S. Lakin is an award-winning blogger and author of more than twenty books (fiction and nonfiction). She loves helping writers be super productive and spends most of her time writing, for which she is very grateful. Her new release, Crank It Out! The Surefire Way to Become a Super-Productive Writer is available in ebook and print on Amazon HERE. Lakin works as a book copyeditor and writing coach, and she does more than 200 manuscript critiques a year. Check out her blog Live Write Thrive to learn how to write successfully for life!
Related
Popular in the Community