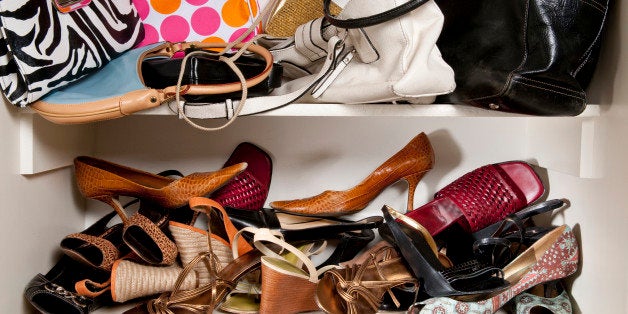 Have you ever thought about how the contents of your wardrobe harm the environment? Top clothing designer Eileen Fisher has, declaring the apparel industry to be one of the top polluters in the world. Between pesticides used on cotton farms to the amount of waste generated by discarded clothing, today's shoppers not only need to worry about their budget when choosing fashion, but also about the planet, too.
While inexpensive clothing may keep your spending in check, it leads to massive waste and is a problem for our environment. Luckily, you can effectively manage your budget and keep our planet clean with these eight Earth and fashion-friendly shopping tips.
1. Break the "retail therapy" habit.
The buzz we feel after making a new purchase is the underlying factor contributing to overstuffed closets and dwindling bank accounts. While retail therapy may seem like a great solution to a hard day, it only benefits the bottom lines of stores and does nothing for you. Swap this habit for an activity that improves your mood long-term, like exercise or venting to a friend.
2. Focus on full-use and quality.
After reading about the waste and pollution created by our obsession with cheap clothes, you may feel compelled to empty your closet of everything not made in America. However, this in itself is wasteful. Instead of feeling bad about past purchasing decisions, focus on using the garments you own to their fullest and stick to quality threads that will last. Select classic colors and pieces that will transition through the seasons and can be worn different ways to maximize use. If you fall into a style slump, search for outfit ideas based on garments you already own using Pinterest.
3. Consider a capsule wardrobe.
Capsule wardrobes, or curated closets featuring your favorite looks for the season, are a big trend in the minimalist movement and represent a great way to save money. As fashion lovers know well, the excitement of acquiring something new often fades after the first wear (and results in misspent funds). In most cases, we gravitate towards those styles that make us feel our most confident and authentic. Capsule wardrobes help hone personal styles and demonstrate how little clothing we actually need to showcase our personalities.
4. Purchase second-hand.
Shopping second-hand isn't what it used to be; you're no longer relegated to the poorly-organized shelves of your local thrift shop. Websites like TheRealReal offer previously-owned designer garments from the likes of Burberry, Chanel, Tory Burch, Oscar de la Renta and more. Bargain fashionistas will like Poshmark, where you shop the closets of other fashion-minded consumers, or ThredUp, which offers top styles for up to 90 percent off. Seek out promo codes from sites like Coupon Sherpa for even more savings, like up to 40 percent off your order with ThredUp.
5. Recycle old clothes for savings.
Fast-fashion retailer H&M is upping their 15 percent discount to shoppers who recycle unwanted clothes to 30 percent during Earth Day week. Similarly, athleisure retailer Lorna Jane provides a 15 percent off coupon when shoppers bring in three exercise garments to recycle. Ask other retailers about their policies and remember consignment shops will always accept gently-used threads in exchange for cash or store credit.
6. Rent instead of buy.
When it comes to wear-once clothing and accessories for special occasions, you're better off renting styles for a fraction of the purchase price. Not only will this ensure you stick to the cause of reusing and reducing waste, but it will save you money, too! At sites like Rent the Runway, you can find popular brands like Monique Lhuillier, Nicole Miller, Calvin Klein and more for as little as $70. Plus, you can create an account for $25 off your first rental. There's also Bag, Borrow or Steal, which feeds your high-end designer handbag fix at lower rental rates.
7. Start swapping.
There's nothing wrong with occasionally borrowing garments from a fashion-forward friend or family member, but making it a regular habit becomes bothersome. Setting up a swap among family and friends or coworkers provides equal opportunity to trade. Otherwise, head online to sites like Swapdom.com which enable you to pay for items you want with items you already own and no longer use. If you're looking for a new leather handbag, for example, browse the site's many options for one that fits your style. Then offer up items you no longer want, and Swapdom takes care of the complicated process of making an equitable trade of your goods for the handbag.
8. Repurpose your threads.
The DIY game is strong these days as creative consumers learn alternative ways to repurpose unwanted items. Cut up a pretty patterned shirt you no longer wear to use as a journal cover, wrapping paper or even as a print to frame in your home. Turn a tee shirt into a festival-ready crop top, or learn how to create the perfect cutoffs with your denim castoffs. The possibilities are endless and don't require polluting the Earth with those cheap garments that didn't last a season.