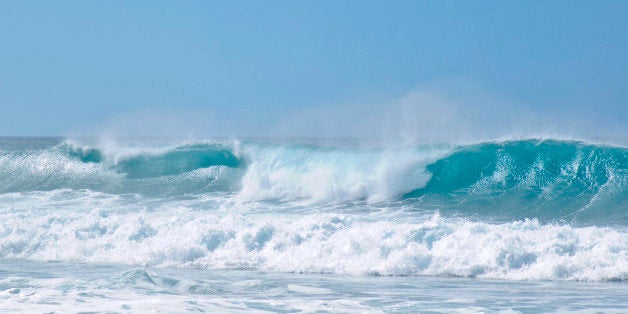 The waves of life are inevitable.
There are days where the waters are calm, you get out the door easily, friends and family are kind and joyful, you are nourished and inspired, and it is enjoyable to float along. And, as well all know, there are days that bring you to your knees, that challenge your inner strength, that drain you to your core.
I grew up learning to always look for calmer waters -- to steer away from the waves and unknowns. The funny thing is, it didn't matter where I went, or how I built my life -- the waves always come. And so does the calm.
I've had the immense privilege of meeting expert life surfers who've imparted their wisdom on how to make this entire journey of ups and downs, way more manageable and enjoyable. Here are three top tips on how to be an expert surfer.
1. Remember the big picture.
Answer this question, "How do I want to meet the moments?" Think about the foundation of how you want to meet each moment in your life. Is it with openness? Acceptance? Curiosity? Care? Love? Once you know the base of how you want to meet the moments, practice holding that front and center when the waves rise.
2. Put together a plan.
Much like an emergency drill, it's helpful to know what you need before something goes awry. Take time to think about your plan. When the water is getting choppy, what do you need to feel safe and secure? When the waves are rising, what do you need to feel steady and clear? When the waves are crashing, what do you need to stay afloat - or better yet, to surf? Take the time when things are placid to think about what would serve you. Then write the ideas down, share them with your partner, kids, friends, and family.
3. Stay connected to your emotional self.

Small Strategies - Practice the 90 second rule. When feelings are evoked and you are having an emotional response, stop what you are doing, set a timer for 90 seconds (or just count to 90) and hang out with the feeling. Just be there, without putting a story to it, and see what happens. Allow your awareness to watch the feeling come and go.
Medium Strategies - Check in with your sweet self. Set a timer to go off every hour and when you hear the alarm check in with how you are feeling. No judgment, just pure acknowledgment of what is, in that moment. See how it feels to connect with your emotional self regularly throughout the day. What do you notice?
Large Strategies - Take yourself on an emotional date. Carve some time to take yourself somewhere private and quiet and just invite your emotional self out. Be with yourself unconditionally. You may want to take a journal to help you get the ball rolling. Just ask yourself, what am I feeling? And start writing. See what comes through. Once you've done some writing. Sit. Be still. Just allow the feelings to be there.
The waves of life are inevitable. And, they are only daunting until you learn how to surf. Then it gets really fun. Anything and everything can be weathered with grace if you choose to meet the moment with presence, compassion and love. For yourself, first and foremost. Then for what is. Because it is. And then for the others around you.
Today, be intentional about how you want to feel in the midst of real life.
You don't get to control all of the situations, especially when other people are involved, but you do get to practice your surf moves.