Even before I had kids, I was always into planning and staying on top of everything. Then the kids came along and it was all thrown into a little bit of chaos! However I've since found some ways how to be an organised Mum that work for me.
I manage to alleviate some of the chaos so thought I'd share my tips with you now: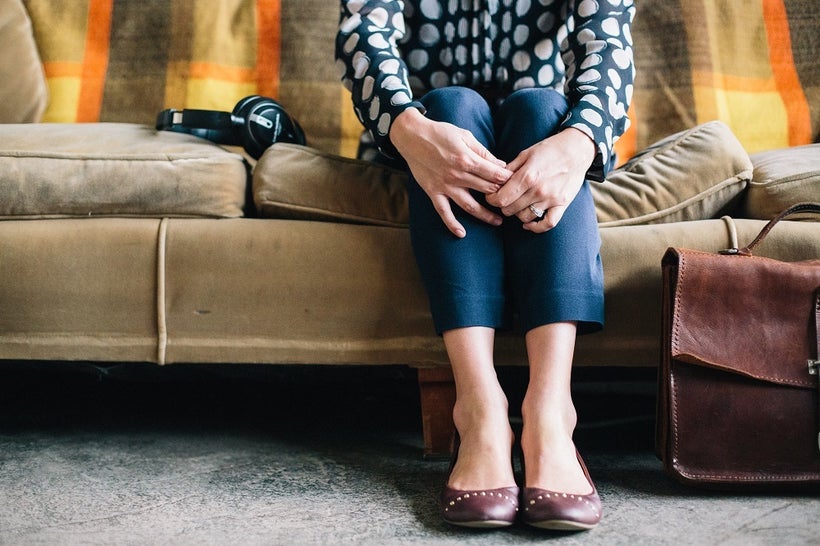 How to be an Organised Mum
If you can find a method of planning that works for you, it could change your life.
For me, I find 20 minutes or so to myself on a Sunday morning, grab my planner and list everything that I need to get done in the week ahead. I list everything from the big tasks to the small.
This will include family appointments, household chores, my work tasks and my personal To Do list.
For some, writing down plans isn't practical, especially if you're on the go taking the kids to appointments, doing school runs and errands. You might find that using your smartphone calendar is a better method for you.
I find that if I don't plan ahead, I miss events. I just cannot remember everything. Planning ensures nothing gets missed and that I go to bed on a Sunday evening feeling relaxed about the week ahead.
To keep your whole family on track with plans, invest in (or make) a weekly or monthly wall planner. This is a great way to schedule in family appointments, events and plans that the whole family can see.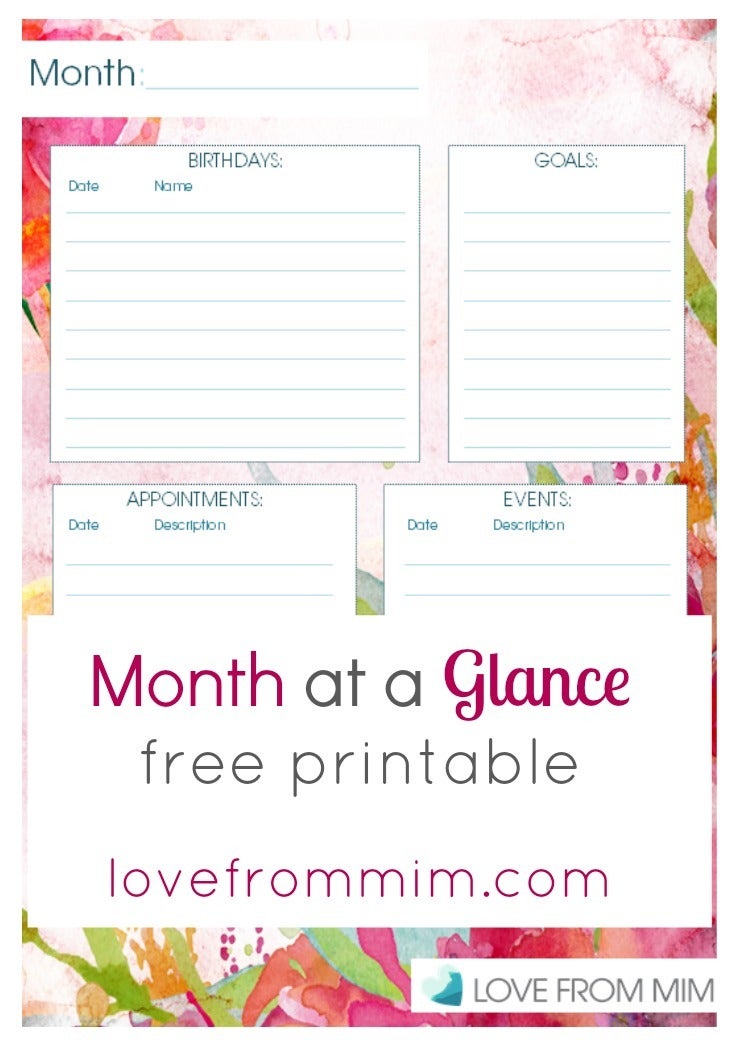 Download my free Month at a Glance Monthly Planner!
2.  Get a good nights sleep
Sleep is restorative and healing too and when I go to bed, whatever I'm concerned about always feels a little less daunting the next day. Same for you?
You might be like me and sometimes find it difficult to wind down before bed. If so, get an early night when you can to give yourself the best chance to get that sleep.
When you wake up refreshed and well rested, you'll be able to tackle Mum life with so much more energy and resilience!
3.  Make, bake and pack ahead
If you're in charge of making the kids lunches or packing their school bags, do it as soon as your kids have gone to bed when it's quiet.
Don't be tempted to put it off until later or even first thing in the morning! You will run the risk of forgetting to do it and just being stressed out at the last minute.
On the subject of planning ahead, consider making some freezer meals. The easiest way to do this is when you're cooking dinner one night, make double the amount you need and then freeze the rest. That way on nights where you're running late or just want an easy dinner, it's already waiting for you to reheat!
Occasionally I'll spend a few hours cooking solely for the purpose of freezer meals and stocking up. It stops the temptation of getting takeaways too so good for the budget!
4.  Save for unexpected events
A lot of Mums will know the stress that an unexpected event, school trip or birthday present expense can have.
Try to have a little money saved so that when these things pop up, you have a kitty to dip into.
Every year, I do the 52 Week Money Saving Challenge and it helps me to save for specific things like this. It means I have a decent amount saved throughout the year for unexpected expenses but the amount I save each week doesn't have a big impact on my bank balance.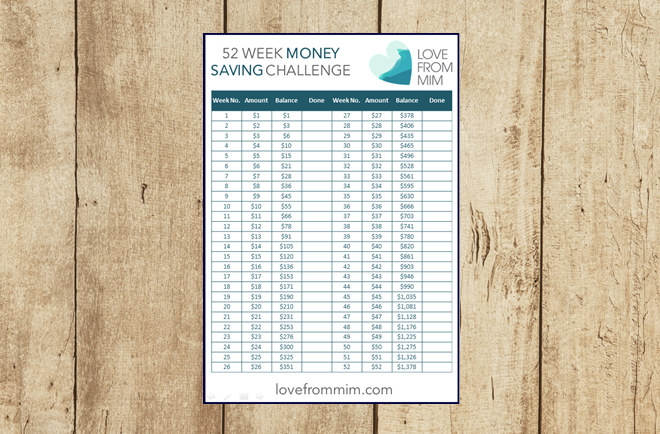 Note: you can start this challenge at any time in the year!
Sometimes it's easy for a parents (it doesn't have to be the Mum!) to do so much for others that you feel a little neglected yourself.
Parenthood is a fantastic challenge but it's hard work and exhausting at times. Whilst it may not be easy, try to find some 'me time' to recharge your batteries.
Whether it's ten minutes reading your favourite book, doing your favourite hobby or having that early night mentioned above. Having some time to yourself to relax will refuel you and leave you feeling much more refreshed and ready for anything. Sort of, anything!
What are your tips on how to be an organised Mum or Dad?
Mim is a busy Mum of of two small children. A self-confessed planning-obsessed Mum who thrives on being as organised and productive as she can be! Read more organisation tips and hacks at lovefrommim.com
REAL LIFE. REAL NEWS. REAL VOICES.
Help us tell more of the stories that matter from voices that too often remain unheard.
This post was published on the now-closed HuffPost Contributor platform. Contributors control their own work and posted freely to our site. If you need to flag this entry as abusive,
send us an email
.