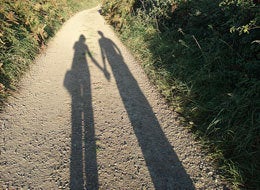 I'm working on my Happiness Project, and you could have one, too! Everyone's project will look different, but it's the rare person who can't benefit. Join in -- no need to catch up, just jump in right now. Each Friday's post will help you think about your own happiness project.
A while back, my husband and I noticed a characteristic we shared - neither of us did a particularly good job of staying connected with our past. It was true of us as a couple, too, once we got married. In each stage of life, we'd have good friends, but when we moved to the next stage, we found it difficult to stay connected to the people to whom we'd earlier been close. I'm not sure I would have remarked on this fact if I hadn't seen the contrast to my younger sister - she does an outstanding job of staying close to friends from every stage of her life.
Philosophers and scientists agree: if there is one element that is the key to happiness, it's having strong relationships with other people. Many of my happiness-project resolutions are aimed at helping me build or strengthen friendships: Show up, Make three friends, Join or start a group. (Here are some other tips for making new friends).
Also, remembering happy times in the past is a great way to boost happiness in the present.
My resolution to "Stay connected to my past" is meant to address both these sources of happiness. As a consequence of this resolution, I sign up for high-school, college, and law-school reunions without hesitation. I don't begrudge the time I spend on Facebook. I make a big effort to keep my friends' contact information up-to-date. I keep a one-sentence journal. I look for reasons to visit my old neighborhoods.
I went to Washington, D.C., this week to give a talk to the Yale Law School Association about "Blogging the Pursuit of Happiness." (Trying to be strategic, I asked to come in January after my book comes out, but they don't do book talks.) This trip made me happy for many reasons. I saw some of my blogland pals from that area. I visited the Slate offices and imbibed the heady Slate-y atmosphere. I cruised around Washington, which is a beautiful city, especially when everything is blooming.
But one of the things that made me happiest was the opportunity to "Connect with my past." I loved being around a bunch of people from my law school. It was funny - I hadn't realized just how much alums have in common, how many references, interests, and inside jokes we shared. Also, a bunch of friends from law school showed up, so that was especially fun.
Sometimes it makes me sad that I've left behind my lawyerly identity - there were many things I enjoyed about that time. Staying connected to that part of my past makes me happier - and so does staying connected to other parts of my past.
Of course, this resolution applies to aspects of your past that actually were happy. You might well choose deliberately to disengage with unhappy parts of your past.
Have you found any good strategies to stay connected to your (happy) past?
Josh Landis and Mitch Butler over at cbsnews.com did a provocative video piece on happiness myths. It's about happiness, and there's a lot of interesting information in it -- and it also gave me flashbacks to my book Power Money Fame Sex: A User's Guide.
Another thing that made me very HAPPY about my talk in Washington was that I met my very first super-fan in person! I see that people have signed up, of course, and that's thrilling, but I was astounded actually to meet a super-fan face-to-face. It was great to meet you, Natalie!
Note to Super-Fans: hang in there; the new website is practically ready for you to see! (I think.)
Want to volunteer as a super-fan -- to help with the pre-launch of my soon-to-be-unveiled fabulous new happiness-related website, and/or other various things? I'd be thrilled to hear from you. You can click here or email me at gretchenrubin1 [at] gmail [dot com]. Just write "super-fan" in the subject line.
Related