"Do you have a pen?" my friend asked.
"Yeah sure, just go into my purse," I said.
But what my friend found wasn't a pen, but approximately 5 handfuls of receipts, a small notebook and 4 lipsticks/lip glosses. There was at pen, at some point, in this fashionable garbage pail that I call a purse. And even worse, I had actually downsized from a larger satchel to the smallest purse I could get without it being a clutch, because I had noticed that the former just attracted stuff like a junkyard magnet.
Let's be honest: We put lots and lots of stuff in our purses, without even thinking about it. My most vivid memory of my friend Adrienne isn't the time we tried to find the best burger in Manhattan, but the time she upended her tote en route to a lovely restaurant in an effort to find her wallet. There, on a perfectly smooth marble step, she went through 3 (hardcover) books, a makeup bag, two journals, packs of gum and a water bottle. I had to ask her how it all happened.
"I'm not really sure..." she said.
And that's another thing. A messy purse isn't a time capsule of the day you decided to throw in the contents of your junk drawer. It's a work in progress. A teeny tiny taxi receipt, tossed into a purse, will soon become...well, five handfuls.
Though I know I wasn't alone in this, I had to see just how much I was carrying on an ordinary day. Out came the scale. Then, I made all the Stylelist, Huffington Post Style and Stylelist Home editors around me weigh their bags. And then I made them show me everything that was in there.
How did everyone fare? See the slideshow below.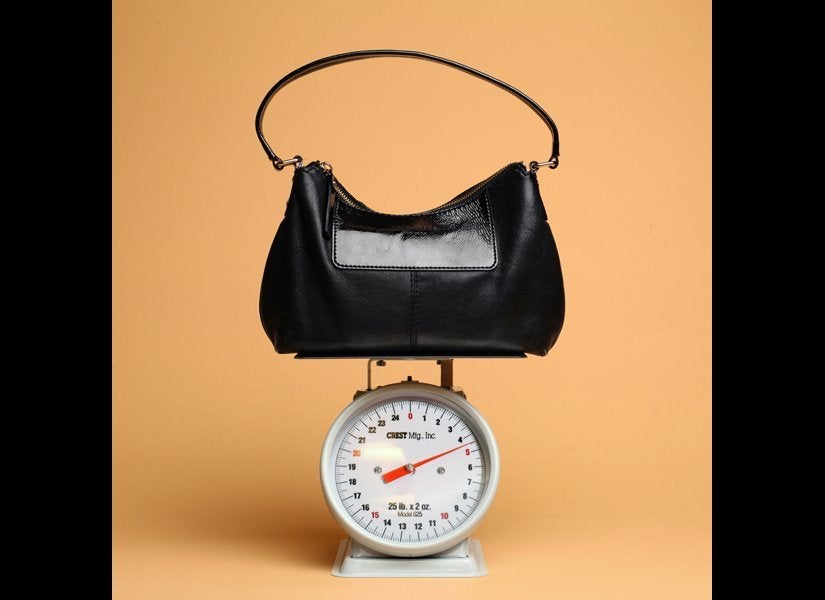 How Much Do Our Handbags Weigh?
TOTAL: 56.5 lbs
Average: 6.27 lbs
Altogether, our bags weighed 56.5 lbs. But the average purse (around Huffington Post Style, Stylelist and Stylelist Home) weighs about 6.27 lbs. This weight did not include the laptops that normally went into many of these handbags. And even though many editors pared down the contents of their purses, there was still room for improvement. While one can argue the need for a few lipsticks, it's harder to argue the need for an empty pack of gum. Or a two-month-old jury summons.
So how can we lighten the load? "I make a point of tossing those anything made of paper every morning before I leave my house, keeping important receipts and notes in my wallet or in my notebook," says Stylelist intern Jada Wong, who had the most well-organized bag in the bunch.
Rather than haphazardly tossing things into your handbag, take an extra minute to put cash or change in your wallet, receipts in their designated place, or a colleague's business card in your planner or notebook. Aim to have nothing floating at the bottom of your bag except larger items like your wallet, eyeglass case, or planner.
From looking at everyone's stuff, I could see that the better organized bags had a few things in common. Such as:
- They tended to have light-colored linings. This made random junk easier to see than a chaotic pattern.
- They definitely did not contain a book or magazine. Having a book or magazine just seems to invite more junk inside.
- It was a paper-free place. No business cards, no tissues, no receipts. If necessary, they went inside a checkbook.
- Their wallets were larger...in size. My small wallet (given to me by my late grandmother) can't hold a dollar inside unless I fold them twice. Which I never had time to do, so any currency ended up tossed inside the bag. A check-sized wallet neatly holds cash without an origami time-out.
Now, what about me and my messy purse? Truth is, I was pretty tired of carrying around my 4.5 lb bag. So I completely started from scratch, filing away important receipts and throwing out everything else. I only carry my phone, wallet (with cash inside) and a lipstick. OK, two lipsticks. But only because red lipstick is really important this season. I also keep a small (very small) envelope as a temporary holding spot for receipts.
So far, this minimalist approach has worked. My purse hasn't gained a pound since.
For extra credit, check out these great organizing articles:
Popular in the Community