272 pages
Published by Doubleday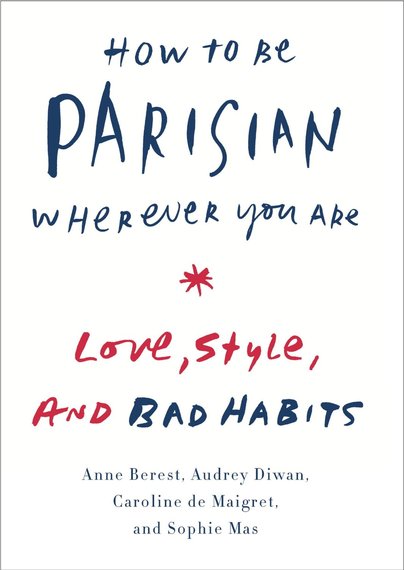 How to Be a Parisian Wherever You Are is a little guidebook - not to the sites of Paris--but rather, with a wink and a nod and la bise, to the interiors of a modern chic Parisian woman's sophisticated pysche. Life lessons from the Three Simones: Simone de Beauvoir, Simone Veils, and Simone Signoret, and under whose Simone category all Parisians are divided punctuates the authoresses' psychology. They share wisdom of the salon, bistro and boudoir according to Love, Style, and Bad Habits. Unlike other comprehensive "How to be French" guides, this primer doesn't present an idealized portrayal of a superior French woman, but embraces the panoply of La Parisienne most recognizable by her attitude. The book itself is a skillful collection of anecdotes and advice as colorful as the spring Chanel Collection.
The impressionistic blur of pithy anecdotes, rolling lists, advice, recipes, profiles, history, and poetry is punctuated by colorful photographs and sketches, deliberately placed to give the impression that they were an afterthought, thrown together at the last minute- much like the seemingly effortless, casual style of the archetypal Parisian woman.
Four longtime friends, "stunning and accomplished Frenchwomen," have collaborated to produce a uniquely entertaining volume, each bringing her own experiences to the table. Anne Berest is a novelist, dramatist, and writer for television and film; Audrey Diwan, a scriptwriter and magazine editor; Caroline de Maigret a model and music label founder; and Sophie Mas a film producer. The four women harness their collective creative power to capture the heart of the quintessential Parisienne.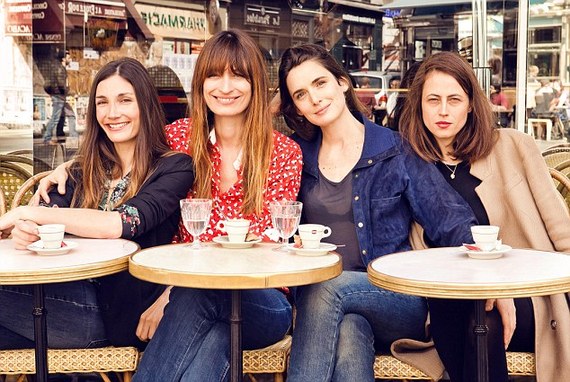 Whereas the tone may vary by section, the voice nonetheless remains steady, reinforcing the notion that the commonalities in attitude shared among Parisians are, in fact, authentic. From love, sex and feminism to interior decorating and cooking, these women cover a wide range of themes, boldly contradicting themselves at every turn, and humbly acknowledging this, even embracing it. And while some of their declarations are outrageously nontraditional (such as the idea that cheating is good for a relationship), they serve as great conversation starters. And in any given discussion, Parisians love to snobbishly hold exactly the opposite opinion of yours.
Though largely tongue-in-cheek fun, the book is also peppered with truly timeless advice: Never ask a guest at a party what he or she does for a living. Invest in yourself by fostering in private your favorite attractive qualities. Avoid logos on your clothing. "Always be fuckable." A list of essential words-to-know and an address book by locals who know the city best lay out a roadmap for visitors to experience Paris like the natives. Sometimes poignant, other times outrageous, but always entertaining, How to Be a Parisian Wherever You Are is a staple for the bookshelf. Enjoy it in one sitting or pick it up when you seek a moment of inspiration.
A closing thought for those trying to adopt an authentic Parisian attitude: while the book makes it clear that Parisians love their technology (one reason that visiting the rural countryside is, for them, more of a romantic notion than an enjoyable one) it will also be evident by its closing pages that this book, or any, is best enjoyed as a hardback edition. After all, "there are many books on a Parisienne's bookshelf," because "taken together, [they] form intangible proof that you are well read."
Related
Popular in the Community