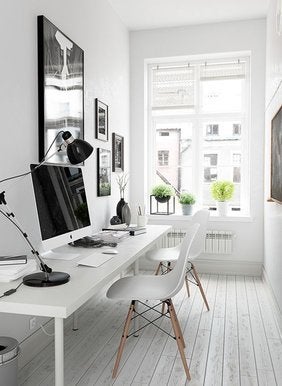 Like millions of others globally, I work from home. I have a phone and a laptop and I do what can be done within my own four walls, within my own four walls. Replacing the incommodious commute with a gentle roll out of bed is understandably a work experience coveted by many. In reality, for those whose workplace is their home, staying focussed and productive becomes a daily challenge.
Frequent distractions are something that I've had to grapple with since I began working from home. Whilst I've managed to escape that colleague's office tomfoolery, or "banter" (yawn!), their replacement is a cacophony of internal distractions that have sometimes succeeded in taking me off my productivity trail.
By internal distractions, what I really mean is life stuff. Oftentimes life just gets in the way of work and it's easier for that to happen when you're working from home with no one to watch over your shoulder. I found that in the very beginning, time apportioned to "life admin" was increasing which led to a much needed reengineering of my priorities.
Over the past few months, I've developed a sense of what helps keep me focussed and productive. Here are some of the things I found:
1. Routine – Have one. It sounds pretty elementary but routine can sometimes be skewed when the boundaries between home and work life are blurred. Whether working from home, hot-desking or in a coffee shop, I find that having a similar routine to that of my bygone 9-5 days really helps me stay focussed and provides me with a similar sense of worth. In an attempt to feel proper, I also make believe I'm off to my old office by waking at the same time and popping on some smart(ish) garb. There are, unsurprisingly, many productivity secrets hidden in the pockets of your smart work attire.
2. Divide and conquer – Divide up your time and set your own manageable targets to hit throughout the day and then review. Targets of course, are a key indication of how well you're performing and are essential, so if you're your own boss set them for yourself. I have to be a lot more self disciplined now I'm working alone so I set pretty stringent deadlines, but the bucket loads of passion I have for my business and work make even the toughest deadlines easier to achieve.
3. Email rain check – Having your own space in which to work can mean that you're more prone to feeding your distractions – simply because you can. A key distractor is your email inbox. I check my emails at the start of the working day, at lunch and late afternoon. There may be days when living in your inbox is a requisite – you may have to deal with suppliers or clients – but if you have the option, designated times allow you to focus on your work and not be distracted by that game of email Ping Pong you're playing with a telecoms company you have beef with. Yup, been there.
4. Take a break – Don't underestimate the need for a timeout, especially if working to you is synonymous with spending most of your day in front of a laptop. Besides the fact that sitting down in front of a screen without a break or without any type of movement is just bad, not breaking will impact your productivity and quite possibly send you insane. Ever heard the term 'burnout'? Well, that. You are at work and you do need a break.
5. A good night's sleep – Sleep experts say the amount of shut-eye we get is directly correlated with how productive we are. Recent research by The Sleep School (yes, a real school) highlighted that a single bad night's sleep can reduce productivity by up to 57 percent. During the night, our minds work super hard at diffusing and managing stress and negativity. Without a decent kip the mind can't cleanse itself properly, so we bring thought baggage with us into the next day – effectively slowing us down. If you're working on a new business, the many hats you'll wear and roles you will undertake mean your mind needs to to be razor sharp in order to manage the workload.
6. Daily reports – Whilst it can seem counterintuitive to add yet another 'to-do' to your day that could hamper your productivity, I've found that it's a tiny time investment that pays dividends. Completing a daily report or a summary of what I've achieved, helps me reflect on whether I'm making effective use of my time. My daily report updates include: tasks completed, a to-do list for the following day and any meetings or events planned. Pre planning the next day really keeps me focussed, even in the likely event of surprises. I tend to keep these updates, or daily report in Google Calendar.
7. Compartmentalised workspace - For some, working from home means that they no longer have to conform to the rigidity of sitting at the same desk in the same office, so they may disagree with defining a specific area as a work area. Whilst I do enjoy the freedom of being able to go to a coffee shop or collective workspace, having designated work areas within the home really clarifies those home/work boundaries and helps me flex that self discipline muscle. There is a corner of my apartment which houses a simple, uncluttered desk which is bright and light and has all the office caboodle I need. More importantly, it's a space reserved only for me.
REAL LIFE. REAL NEWS. REAL VOICES.
Help us tell more of the stories that matter from voices that too often remain unheard.
This post was published on the now-closed HuffPost Contributor platform. Contributors control their own work and posted freely to our site. If you need to flag this entry as abusive,
send us an email
.